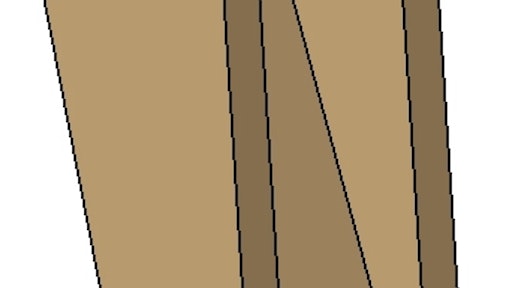 What is your primary industry of focus for 2012, and why?
Overall moving into 2012, GS Engineering's primary focus will be transitioning the organization from supporting our core military programs to application of progressive skill sets and technologies developed under these efforts to emerging commercial markets. With the similarities between off-highway design programs and our wheeled and tracked vehicle markets, we are able to add significant value to commercially focused organizations that have been forced to lean down their internal engineering teams.
We primarily are focusing on wheeled vehicle markets (mining, earth moving, material handling and aerial platform) because of our established in-house expertise in these particular areas, combined with our extensive knowledge base and reputation in defense industry markets. By leveraging our employee's skill sets concurrently with developing technologies and processes from our support of military programs, we are able to provide value added engineering and testing services across a diversified customer base.
Which would you consider to be your strongest market?
Since the foundation of our business is mechanical design supported by finite element analysis (FEA), our strongest markets are those that have been forced to undergo significant internal workforce reductions in these areas. GS Engineering also has significant experience in weight savings initiatives and lightweight technologies that we have developed in recent years. The unique design and analysis skill sets we offer, as well as proficiency in a variety of fabrication, manufacturing, and assembly technologies, contribute to efficient use of materials in a strong, yet lightweight, fashion. With this specialized experience, significant cost reductions can be achieved not only in raw material utilization, but incorporating DFM (design for manufacturing) into the initial conceptual design.
Our targeted growth industries must react to changing market needs by supporting and investing in new product development. By utilizing an outsourced labor business model, a manufacturing company can delay significant long-term investment into their internal labor force, as well as related infrastructure (technology costs) until confidence fully returns to their particular market. By interjecting a legacy employee from the manufacturer who has the required tribal knowledge of key design parameters, our team effectively becomes a force multiplier to support the internal engineering team of that particular organization. When fully utilized, the cost savings realized by outsourcing engineering services is significant, in that the manufacturer is able to manage their direct costs effectively at an individual program level while delaying long-term investments until the cash flow from new product is fully realized.
Where have you expanded internationally? Future plans? Which emerging markets are you keeping your eye on for future growth potential?
GS Engineering has seen international demands for off-highway products driving our customer's actions, through the need to modify current products for a specialty requirement, or just the overall demand in the particular geographic area / industry. Particularly, South American and Asian market rebounds have driven product demand, requiring additional engineering resources. We also have seen a trend by manufacturers to differentiate their product during final negotiations, and sales staff have had to provide additional options or features found on competitive products to secure a sale. The integration of these additional features is often not considered in the advertised delivery time, therefore requiring engineering teams to fulfill the final specification of the particular product in the historical lead-time. Often, current product lines do not have the electrical or mechanical infrastructure to support the additional features, again requiring engineering time to maintain the brand reputation by mitigating risks of a last minute design change.
How do you see your company, supplementary engineering teams and your role in equipment development changing in the next 5-10 years?
GS Engineering, having supported the military market over the past 10 years, has garnered significant design optimization experience with a variety of structures. Through this real world experience, we are able to insert similar technology into our commercial client programs. In the coming 5 to 10 years, the role of interactive analytical design focused on optimization will become the norm for product development efforts. We currently support these activities, but only for our customers who are able to fully utilize all of the technology insertion in an efficient manner. The second technology area we see a significant shift in is 2D drawings migrating towards a fully parametric model that also contains the required manufacturing data. This enables end-product designs that can be directly manufactured from 3D CAD data.
Our current design efforts focus on the utilization of Altair OptiStruct software and our in-house expertise. At the initial onset of a conceptual design, we are able to optimize the stiffness of a structure given an allowable space claim. Our engineers then generate 3D solid model CAD data based upon this optimized shape and create a validation model to verify the optimization results. With this CAD model we then analyze the structure utilizing linear, and when required, nonlinear load cases. Once these analyses are performed, we tune the design via free-shape optimization algorithms, which modify local nodal positions to achieve a balanced stress profile. With this particular technique, we are able to gain significant fatigue life. Once the overall structural design is at a reasonable maturity level, we then focus additional resources on predicting fatigue life utilizing the strain-life method. In the future, we foresee more advanced approaches to fatigue-life prediction, including fracture mechanics and critical-plane theories for multi-axial fatigue, becoming more commonplace. We are looking to focus resources in these areas to develop design tools to support our customer's needs.
The stages of these tools are illustrated in the carousel through the life cycle of the design.
In what ways have the Tier emissions regulations affected your company and its products?
Tier emission regulations have increased interest in GS Engineering's capabilities and services, as manufacturers are reaching out for additional support of their engineering teams to address the internal need for expanded engineering bandwidth. As complications arise from integration of enhanced emissions systems and components into legacy vehicles, their impact on stability (CG height), thermal module performance requirements, as well as recirculation related to exhaust system modifications, OEM's have required additional engineering resources in order to overcome these challenges. We face similar challenges as our customers attempt to package these systems into legacy vehicles which have already seen several repower efforts, reducing the available packaging space, and impacting the overall vehicle center of gravity, which affects stability performance.
Have you had any dramatic changes in design or technology demands from the customer? What do you think has spurred these requests?
Our customers traditionally involve us in consideration of design and technology challenges, as we serve and function as a collaborative partner in their product development teams. We see an emerging trend to do more with less at a faster pace so that any tangible investments made result in increased sales revenue in a shorter period of time. Overall we have seen a significant decrease in the amount of time available to develop a product, and a lack of funding to perform significant risk reduction testing. This philosophy places increased importance on accurate and validated simulations, as well as incorporation of lean design processes through the product life cycle.
Economic areas of interest for GS Engineering?
As highlighted in the press release in OEM Off-Highway (Click to read the full release), only 13% of manufacturers are confident in the U.S. Economy. Also shown in the same article is the potentially forecasted continued downsizing of the organizations to scale their size to the forecasted workload. Through the utilization of outsourced labor, organizations can scale their available resources in the short term to accomplish their particular engineering efforts, without fully committing the true realized cost of adding additional engineers (and all of the associated costs with hiring, IT infrastructure as well as facility impacts). By leveraging a skilled engineering service company as a force multiplier into resource planning, organizations are able to scale down while maintaining the needed tribal knowledge. The engineering service company is relied upon to assist and facilitate maintaining this knowledge in the event additional downsizing is required. When an organization is teamed with an engineering service company such as GS Engineering, they gain a partner who has a vested interest in their success. This allows for a productive and efficient product development program with many hidden value-added inputs throughout the life cycle of the product.
Companies in this article