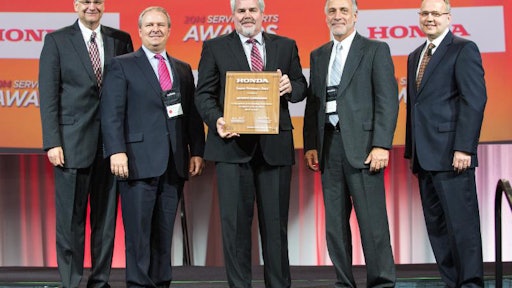 MetoKote Corporation's Huber Heights, OH, facility was among the top service suppliers honored at the 16th annual American Honda Supplier Conference recently held in Toronto, Canada. Forty nine of the 300+ suppliers in attendance were recognized for outstanding key performance measures for service parts suppliers. American Honda evaluates suppliers monthly in the areas of quality, value and on-time delivery and annually recognizes those with outstanding performance on the combined performance in all three categories. 
Frank Zack, Plant Manager MetoKote Huber Heights, was thrilled with the achievement. "We have worked diligently the past two years to align our service with the expectations of Honda. We always concentrated on delivering a quality coated part but we did not realize the essence of the supplier performance score card. Once we engaged our team in the expectations of Honda, our overall scores took a giant leap."
MetoKote, Huber Heights has supplied American Honda with service sheet metal parts including bulk heads and bumper assemblies for over 20 years. Many of the parts require specialized labeling and packaging and are sent directly to the Honda distribution warehouse. Serving over 60+ customers around the greater Dayton area and across the US, the Huber Heights facility has two Electrocoating (e-coat) monorail systems and one liquid paint line. Minor subassembly, custom packaging, bar coding and hem seal operations are also performed on finished parts.
Companies in this article