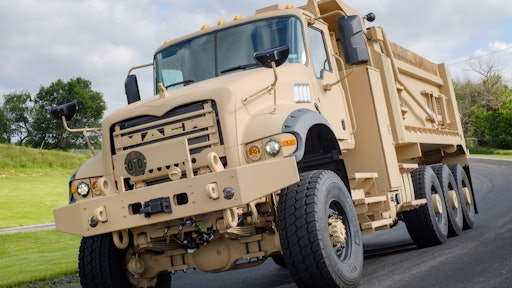 Mack Defense and Sherwin-Williams General Industrial Coatings have partnered to implement multiple solutions for applying Chemical Agent Resistant Coatings (CARC) for use on the Mack Defense M917A3 heavy dump truck (HDT) model. These coating solutions are designed to meet the demanding requirements of the U.S. Department of Defense's CARC process specifications MIL-DTL-53072F.
"Sherwin-Williams was the clear choice to work with on the CARC application," says Wayne Vaupel, Supplier Quality Engineer, Mack Defense. "They are a trusted supplier of military grade coatings, and we knew we could count on their expertise and knowledge for the specialized requirements of the M917A3 HDT."
The CARC applications used on the M917A3 HDT are designed to protect the vehicle from corrosion, wartime chemical and biological weapons, provide specific camouflage properties for added protection for the operator and extend the vehicle's life cycle in the field.
"Like Mack Defense, Sherwin-Williams is proud of our current and past support of our armed forces," says Craig Morris, Marketing Manager, Sherwin-Williams Industrial Defense Coatings. "We have built a thorough understanding of the MIL-DTL-53072F specification for the CARC application process, and we were able to provide both product and technical support to Mack Defense."
The M917A3 program is currently on track and proceeding in accordance with all activities required by the U.S. Army. The contract to supply these vehicles to the military extends through May of 2025.
Companies in this article