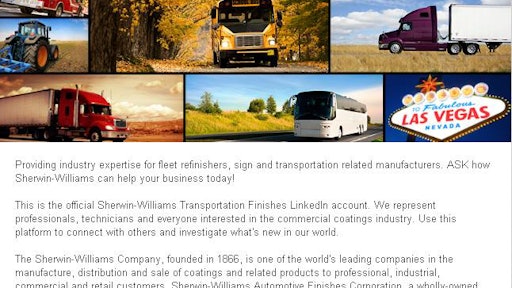 Sherwin-Williams Automotive Finishes recently added new social media platforms to facilitate discussion in Fleet Refinish, Transportation Related Manufacturing, and Sign Manufacturing Markets. With the creation of new Facebook and LinkedIn accounts, as well as a YouTube playlist, Sherwin-Williams is extending their reach to commercial industries by targeting key decision makers with relevant content. 
New Platforms with Industry Specific Content
The new accounts are portals for conversations related, but not limited to paint. The purpose of Sherwin-Williams' posts are to educate users on application tips and share relevant content to help improve their business. 
The company created the new accounts after considerable research on industry trends, customer needs, and determining the best way social media would complement its customer-base in a business-to-business setting. 

Click on the links below to learn more about Sherwin-Williams on each social media outlet.