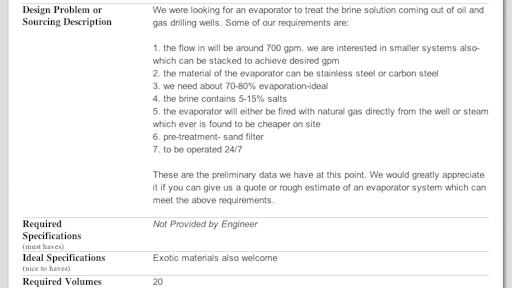 Social networks began as ways to bring together high-school friends and peers into subdivided groupings of commonality. They have since evolved from student-oriented, friend network programs to become powerful tools to connect businesses to clients, customers to products, and employees to industry.
Published books and guides help businessmen and women navigate Facebook, Twitter, LinkedIn and the like, to learn how to utilize social media to increase web traffic, grow profits and streamline practices.
T. Brian Jones, president, co-founder and former manufacturing engineer, has done just that: streamlined the engineering product development process through a manufacturing network called Industrial Interface, Inc., based in San Diego, CA.
The site (www.industrialinterface.com) allows engineers and sourcing professionals to post projects, problems, or sourcing needs to the website. The posts include project details, technical specs, supplier requirements and other important information related to the specific solution needed. Once a post is submitted, the company's software identifies and contacts dozens—or sometimes hundreds of relevant suppliers who can review it, pass it along to the appropriate person and then pay to offer a solution to the engineer. All the while the engineer remains anonymous until a solution provider pays for his information to ensure only credible solutions are offered for the project.
The Aha! moment
The idea for Industrial Interface came about while Jones was working as a design engineer for a sporting goods manufacturer and received word from the factory floor that the grip tape the company was using was failing on their product. It was Jones' job to find a new adhesive to solve the problem. "It seemed pretty simple," he notes. "I started contacting suppliers; I went through all of the standard listings, looked at websites, went through current suppliers, and couldn't find anything that could meet all of the specs we had. I ended up contacting probably 100 companies all over the world, explaining my project over and over again, and every tape we were testing was failing."
Later, as Jones was discussing his adhesive problem with friend and former industrial sales engineer (and now co-founder of Industrial Interface) Chris Powell, "[Chris] looked at me and said, 'How do you not know that I design, manufacture and sell custom adhesive tape?'" It was then that Jones and Powell realized there was a need to improve, simplify and streamline the approach to finding solutions for manufacturing projects.
The system
Jones says, "Our technology combines human experience with an increasingly intelligent matching system. We've seen suppliers and engineers interacting minutes after projects have been posted to our site. A process that currently can take weeks and dozens of phone calls is now happening in a few hours on our site."
While the system will work for any manufacturing industry (the five co-founders have worked with engineers in industries such as medical, aerospace, electronics, and automotive), the team would like to focus on electro-mechanical design, which happens to be some of the founders' backgrounds.
"We are extremely familiar with [electro-mechanical manufacturing] projects," explains Jones. "It's our ideal market because every time an OEM does something, even if they are buying or designing similar systems or products, they're always tweaking them and needing custom products and solutions. That's where our system becomes really valuable because you can share all of those custom technical specs and get unique solutions from suppliers."
The system will work for simply quoting off-the-shelf products, but Jones and his team are building it for the original research and development (R&D) engineer. "Being engineers ourselves, we really wanted to help with that initial research effort by the engineer, because you're lost in a sea of suppliers. You may have never worked on a project before, but what we're realizing is there are suppliers who have solved the exact problem you're trying to solve before, for another company, and they are ready to jump in and say, 'Here's the solution we've offered in the past, let's see how it works for you.'"
In relation to a company's bottom line, Jones feels that the R&D process is when engineers have the most opportunity to save money. If the right supplier can get the right parts to engineers early in the design phase, down the road the purchasing department doesn't have to find another option and retest, redesign or remanufacture.
The future
The Industrial Interface team is working to expand the site to include basic project collaboration and management. "Right now we're seeing users sharing projects with their purchasing agents and managers, collaborating that way. But we want to build it out so it's more formal in the system, and members can comment on each other's projects, collaborate on them, update them and use our system all the way through the manufacturing process," Jones says.
"We're really excited about what we're building and think that we're going to fundamentally change the way engineers do R&D in the manufacturing industry."
Companies in this article