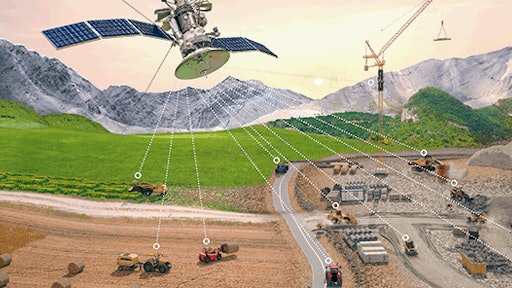 An industry leader in the industrial automation market, B&R Automation has been working to apply its years of technological development to the mobile vehicle market. "Industrial automation has gone a lot further in software development to automate machinery," says John Kowal, Director, Business Development, B&R Industrial Automation.
"As we continue to see more electrification, automation and robotic functions on heavy-duty mobile equipment like construction and agricultural machinery, we see our Industrial Automation software fitting in perfectly. So, we are bringing our proven techniques from factory automation to the mobile market," Kowal says.
B&R's Automation Studio development and programming software suite is a single tool able to be used for all tasks associated with programming a control solution. Whether the control solution is for an industrial machine or mobile vehicle, the single environment enables OEMs to handle all of the development, testing, commissioning, visualization, and diagnostics in one place.
Control coding made easier
Coding a controller for a piece of equipment is largely dependent on the individual programmer's style, how well the process is documented, and whether a new programmer would be able to look at the code and understand what the programmer was doing. The variability was an unnecessary challenge in an already lengthy process, so B&R began an 8-year endeavor developing a structured and modular programming software, called mapp (modular application) Technology.
In mapp Technology, recurring programming tasks are managed within preconfigured, tested and validated modular software components which can lead to software development time savings of up to two-thirds. "With mapp Technology, low-level programming tasks for basic functions of machine control are pre-coded and tested so developers can complete programming the machine functionality in a quicker time frame," explains Sean Grieve, Business Development Manager – Mobile Automation, B&R Industrial Automation. "And faster programming helps OEMs get machines to market faster."
Not only does mapp Technology enable faster development time, but it also facilitates seamless communication of the software components in the background. The various components can be quickly configured in the simple user interface. "You can configure software modules more and program less. And, since the modules are pretested, there is less time required for debugging," says Kowal.
Simply put, a programmer can enter the specific application parameters needed for a function, and the software figures out how best to execute the action in the most efficient way. "We have software components that do a lot of the work for programming hydraulic and electric actuators," explains Grieve. "But, with mapp Technology, you don't have to start from scratch. You instead start by saying, 'I have an actuator that needs to do X, Y and Z. The software figures the rest out."
Functions like machine health monitoring watch for key signs of wear, such as monitoring bearing frequencies to tell when a failure is imminent. This allows the machine to alert the operator or a fleet manager of a future maintenance need before a catastrophic downtime, saving time both from the avoided downtime, but also faster repair times with a forewarning of any replacement part ordering needs.
"It's all about using advanced software to make machines smarter, and it's all inside our Automation Studio software development environment," says Kowal.
Machine communication
Every controller from B&R comes standard with web server functionality built into it, including its mobile controller, the X90. The web server function means an operator or fleet manager doesn't have to have a dedicated display to see the visualization associated with a particular machine. "As long as you have web access, you can monitor that machine on a smart phone, tablet or any other web accessible device," says Grieve.
"That example demonstrates feeding information from a single machine, but we have a package that is used in the industrial machine industry called secure remote access that has an element associated with machine pool management to gain insights into a number of machines," Grieve says. "This is the kind of capability we will continue to migrate to our mobile equipment platform."
With redundant operation pathways, like can be found in mining with leader-follower machine connections, the tight synchronization of the vehicles in-line with one another would be the easiest transition application from the industrial segment to mobile application.
Open standards
But, when it comes to machine communication—from machine-to-device, machine-to-machine or machine to cloud —the current CANbus communication protocol does not have the bandwidth necessary for the next generation of communication needs, especially with the continuing development of the Industrial Internet of Things and growing device connectivity demands.
In the industrial automation space, OPC Unified Architecture (or OPC UA) is a communication protocol standard developed by the OPC Foundation, of which B&R is a member. The open network is not tied to any one operating system or programming language, allowing for cross-platform communication.
B&R is also involved with Time-Sensitive Networking (TSN) standards development. "TSN is a series of additions to the IEEE 802.1 working group which define mechanisms for the transmission of data over Ethernet networks," explains Kowal. "These additions are making the Ethernet more deterministic, which means the system will respond to a command when it is given."
In industrial automation and mobile vehicle environments in which closed-loop controls or safety functions are dependent on a quickly reacting Ethernet network, TSN development is essential. "We are heavily involved in the progress made with OPC UA and TSN with industry partners like ABB, Bosch, Cisco, GE and National Instruments," Grieve says. The group of companies, collaborating under the umbrella of the Industrial Internet Consortium (IIC) and the OPC Foundation, are aiming for an open, unified, standards-based and interoperable IIoT solution for deterministic and real-time peer-to-peer communication between industrial controllers and to the cloud. Grieve is involved in a mining industry task group within the IIC, and is working to expand beyond mining into other applications such as construction.
"The goal is to ensure that we don't end up with an industry filled with a dozen unique proprietary communication network protocols where mixed-machine communication development is double or triple the effort and any semblance of future benefits from successful machine-to-machine communication are delayed and difficult to achieve."
For industrial automation, the industry requires extremely precise synchronization, down to a couple hundred microseconds. Mobile vehicles likely won't need that precise of synchronization, but the industry needs more bandwidth and precision than what is available today.
"We think TSN is going to be picked up by the automotive industry, which means it's really only a matter of time before the off-road industry adopts it," says Kowal. One of the reasons automotive will likely adopt TSN protocol is for safety features like back-up cameras that eat up bandwidth and do require a certain level of determinism. "We aren't promoting this to gain a competitive advantage. We're sharing this with the industry so it can be adopted more readily."
Not everything will be able to transfer from industrial applications to mobile ones, but with comparable functions like articulated industrial robotic arms and excavator booms, there are similar mechanical designs and automation motions.
"As electrification becomes more widespread, there's likely to be more expertise to be pulled from the industrial automation sector, and I think B&R's expertise and products can help," says Grieve.