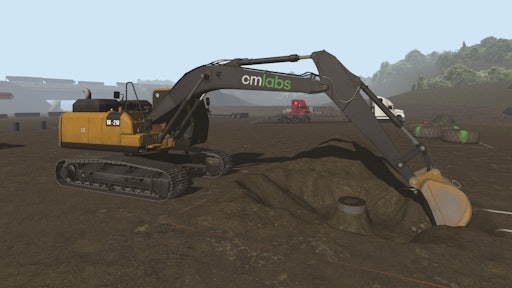 CM Labs
Off-highway equipment OEMs, like any manufacturer, are realizing that product success hinges - in large part - on the customers' emotional attachment to these new products. In the past, to develop a new product, customer requirements were collected, designers took their best shot, and manufacturers hoped for the best. Today, with Driver-in-the-Loop (DIL) simulation, manufacturers are capturing and leveraging operator feedback earlier in their process to ensure that new product designs and user expectations are aligned as soon as possible.
Fueled by today's technological trends, the global off-highway and construction landscape is changing. New levels of integration and artificial intelligence are automating worksites, maximizing operator effectiveness, boosting productivity, and advancing safety.
"For manufacturers it's no longer enough to deliver machinery; everything essentially has to work like a smartphone," explains Arnold Free, CM Labs co-founder and Chief Innovation Officer. "Electronics and control systems are becoming widely integrated with mechanical designs."
In the 2020's, three big challenges will set the agenda for the off-highway industry: improving safety, labor shortages and increasing productivity. Robotics, self-driving vehicles, autonomous machinery, and other smart systems are transforming work sites, heightening customer expectations, and ultimately changing how equipment manufacturers approach new product development.
Free comments, "Autonomous cars might be getting all the attention, but it is the off-highway sector that will lead deployment of smart and autonomous systems in the next decade." Autonomy and operator-assistance require OEMs to do more in human-factors research. Human-machine interaction is transforming and it is essential to understand that both in the cab and on the worksite.
As a result, the interaction between human and machine is now clearly at the center of design, with prototyping and design technologies, such as simulation and digital twins, driving decision making.
Simulation is king
Eager to capture market share, manufacturers have, for the most part, embraced proven product development processes, tools, and methodologies; with simulation already playing a leading role.
Through proof-of-concept testing, virtual product validation, and operator feedback, simulation, in all forms, has advanced product quality, performance, and innovation while allowing manufacturers to meet heightened customer expectations with compressed development cycles.
Engineering Analysis
While nearly all leading automotive, aerospace, and medical equipment manufacturers leverage multiple simulation methodologies in their design process, many off highway and industrial equipment manufacturers continue to rely on classic techniques such as field-prototyping as the primary methodology used to validate designs with their eventual user base.
However, attempting to validate new products or design changes in the field is too late and puts the design process, projects, and production/performance targets at risk. Generally, this limits innovation opportunities, drives cost overruns, and results in an inability to predictably meet customer expectations.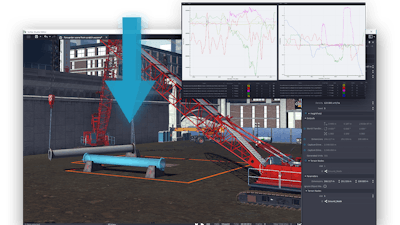 Driver in the Loop
Similarly, off-highway manufacturers have come to welcome the fact that they are living – and competing – in a digital world. Today, advanced engineering simulation tools are playing a critical role in product development as detailed computer models are methodically analyzed and evaluated against objective baseline data with painstaking precision.
While much attention has been paid to processes and tools, forward-thinking manufacturers are beginning to turn their attention to yet another computational and skilled resource – the operator in the machine, themselves. Leveraging this form of real-time operator feedback is known as Driver-in-the-Loop or DIL testing.
Critical to understanding and quantifiably measuring operator and machine performance, human factors in the cab, and functional safety, DIL testing is generally better controlled, more realistic, and more repeatable than field testing. What's more the simulation provides a means for testing edge cases that can be unsafe or impossible to test on proving grounds.
"As smart systems take over the workspace, user expectations are high for both the in-cab experience and on the worksite," says Free. "Considering the increasing complexity of today's equipment, putting people in contact with virtual designs is a key part to the successful engineering of heavy equipment. A driver-in-the-loop simulation is an effective way to accomplish this and should be done early and often in the design process."
Employing DIL simulators to put customers into direct contact with the new systems very early in the design cycle contributes to many development areas. From testing new cab designs and controls, to operator assistance systems, functional safety, systems for distracted or fatigued operators, ergonomics, and more, DIL feedback provides manufacturers with the data required to make informed design improvements and evaluate trade-offs.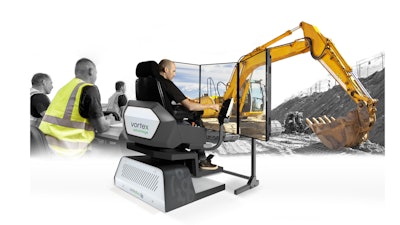 However, Free stresses the point that simulations must be realistic and detailed in order to allow for relevant feedback. High fidelity engineering-grade simulations elicit more realistic responses from operators. When it comes to equipment of this scale, there is simply no room for games.
"DIL simulation software must allow real-time, hands-on operations, be interactive, and provide detailed, accurate representation and interaction with the complete work site. In the case of heavy construction equipment, this includes the terrain, soil compaction, digging, tire to ground contact, and more including simulation of workers, traffic, weather conditions, and so on. Hardware should include components for visual and audio, motion seating, steering, and a mock-up of the controls."
Conclusion
Employing simulation up-front has become standard practice. However, to maintain an edge in a market defined by integrated AI, machine learning, and automation, it is crucial to re-think design processes. And for off-highway and industrial equipment designers/manufacturers this means embracing the human/machine relationship as early as possible.
By leveraging DIL simulation, manufacturers will place the interaction between humans and machines at the center of design. This will allow manufacturers to capture customer feedback, understand expectations, and confidently build those requirements into their next generation of products. Combined with digital twins, DIL will drive the next generation of simulation; and companies like CM Labs are leading the charge.
This article was contributed by CM Labs and written by Robert Farrell on behalf of the company.
Companies in this article