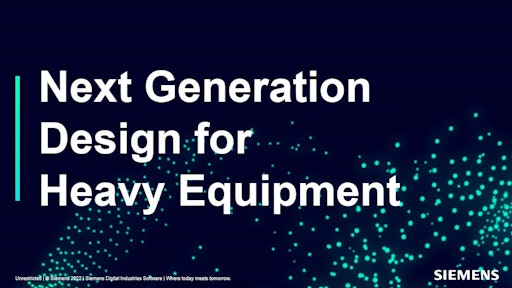 Siemens Digital Industries Software
During the live webinar on May 18, 2022, we discussed many aspects of how design software, specifically NX, integrates electrical and mechanical design with a modeling environment. NX enables generative design, additive manufacturing, and collaboration in an immersive design environment. Since we could not respond to all the questions, we have answered them in this Q&A.
Can you explain the difference between generative design, topology optimization, and convergent modeling?
Generative design is the umbrella term that covers topology optimization, convergent modeling and additive manufacturing. These three things are needed to perform true generative design.
Topology optimization is the process that generates a shape based on the parameters given. Additive manufacturing is what allows you to manufacture these unusual shapes.
Convergent modeling is the critical step in the middle. It enables you to modify the shape that you get from topology optimization. Convergent modeling is also what makes NX different from other systems that indicate that they do generative design.
Where do you see the future of generative design in the heavy-equipment industry?
Generative design will be tremendously important. There's increased pressure to reduce energy use. One of the critical ways to do this is reducing mass. This can sound counterintuitive when talking about heavy equipment. However, making machines lighter is still a priority.
Also, if individual components are lighter, you can use ballast to move the weight where needed to optimize performance. Finally, as material costs rise, creating robust designs with less material represents a significant cost savings.
Can you talk a bit more about electromechanical design in the context of reducing time to performing engineering change requests?
Currently, when a change request comes in for an electromechanical part or subsystem, one side (either electrical or mechanical) must make its changes. Then those changes need be translated so the other side can make its changes.
This process sometimes goes back and forth multiple times, all of which adds time and the possibility of errors. By working concurrently, like with NX and Capital, you eliminate all the passing back and forth and translation.
As a heavy-equipment company, why do I need to worry about model-based systems engineering (MBSE)?
MBSE is a critical tool for meeting requirements and quality standards. Requirements can be required by government agencies, company standards or even field data. The ability to trace those requirements right through to the computer-aided-design model simplifies the compliance of your designs.
Do you see the value of predicting equipment failure or including maintenance-integrating communication technologies into off-highway vehicles as a departure from simply using time to predict the need for equipment maintenance or part replacement?
Absolutely, yes. New machines have more sensors than ever. They can monitor the wear of subsystems and communicate the information to the owner and/or manufacturer automatically. This ensures that maintenance is proactive to avoid failures. However, it also means less time and cost spent on time-based maintenance that may not be necessary. In short, owners and operators can make better decisions about maintenance with better information.
Can design software play any role in the safety and maintenance of heavy machinery and equipment?
As stated in the previous question, there is absolutely a link between the next-generation process and maintenance. In addition, simulating the operation of the machine using integrated motion and computer-aided engineering is a major safety advantage. For instance, high noise, vibration and harshness (NVH) increase operator fatigue, which can lead to long-term injury. Finding and eliminating NVH early in the design cycle prevents this.
So, is there a tie off to the Service Lifecycle solution in Teamcenter?
Yes. The Service Lifecycle and Analytic solution in NX manages service requirements and physical asset configurations fully linked to the existing engineering design data.
The solution:
Defines a service view BOM (as part of Teamcenter) to capture all serviceability requirements
Creates service documentation that is linked and aligned to the existing design definition
Develops service requirements and instructions tied to engineering change processes
Creates and manages physical structures to accurately capture and manage the configuration of the machine in the field
This helps ensure compliance and quality with service plans and change management aligned with the design definition. It helps minimizing downtime, improve quality and reduce inventory costs through accurate service instructions and spare part information.
Tom Spangler is senior marketing manager, product engineering software, for Siemens Digital Industries Software.
Hendrik Lange is director heavy equipment for Siemens Digital Industries Software.