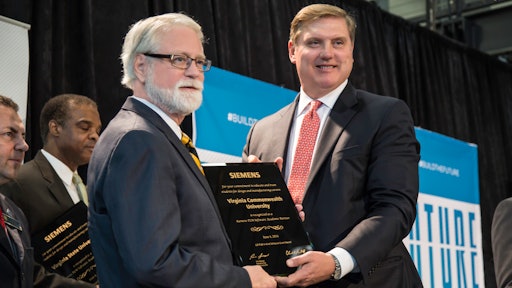 Virginia Commonwealth University (VCU) School of Engineering received an in-kind grant of software with a commercial value of $230.9 million from the Siemens Product Lifecycle Management (PLM) software business unit to help educate and train students in design, development, analysis, documentation and manufacturing systems.
The PLM software grant was announced on Wednesday, June 4, at "Building the Future: Manufacturing's Software Revolution," an event with The Atlantic and Siemens. The event was held at the Commonwealth Center for Advanced Manufacturing—commonly known as CCAM. VCU was one of seven schools in Virginia to receive a portion of approximately $2 billion in grants from Siemens for education and workforce development.
According to Siemens, over 77,000 customers use the PLM software worldwide; nearly 90 manufacturing companies in Virginia use the programs to design products and maintain their operations. Siemens' PLM software gives engineers the ability to keep up with an ever-evolving industry. This grant will ready VCU School of Engineering students for the challenges faced by manufacturers today and in the future.
The School of Engineering will use this network of integrated software to train students with practical skills widely used in industry. VCU students will use the PLM software for research, design, analysis and production of engineered devices. With this knowledge and hands-on experience, VCU Engineering graduates will become more valuable to employers—such as Newport News Shipbuilding, Canon, and Rolls Royce—as new career training periods will shorten immensely.
"This software gives us the ability to educate on a very practical level," says School of Engineering Dean Barbara D. Boyan, Ph.D. "By teaching with programs used in industry, our students will be even more prepared for the real world."
"As the rate of advancement in design and manufacturing technology increases, industry must frequently update its production tools, and must retain engineers with knowledge about new technology and processes," says L. Franklin Bost, Executive Associate Dean of the VCU School of Engineering. "We are grateful to Siemens for this opportunity."
Charles Cartin, Ph.D., Assistant Professor in the Department of Mechanical and Nuclear Engineering, is spearheading the training and implementation of the software with other professors and in classes.
"We want to make real engineers to combat the rising needs of practical manufacturing fields," Cartin says. "With this software we will be able to produce quality engineers that will have practical engineering backgrounds to enter the job market with a higher set of unique skills to quickly start in career in the engineering profession."
The School anticipates that, by this fall, students will begin using the PLM software throughout their undergraduate and graduate studies. The software will not only be for day-to-day engineering curriculum, but also for senior/capstone design projects. The application of the software will expand to thousands of students as they work toward their degrees. Moreover, the VCU School of Engineering will partner with the VCU School of Business in order to integrate PLM software into a manufacturing and logistics program, which has yet to be developed. Overall, PLM will improve students' industry knowledge and readiness, thereby better preparing them for leading positions in the field.
"The manufacturing industry in America is on the rise and is being transformed by a software revolution that is enhancing productivity, increasing efficiency and speeding time to market," says Chuck Grindstaff, President and CEO, Siemens PLM Software. "Here in Virginia where shipbuilding is core to the state's economy, it's important we equip students with the tools that will help them build the world's most complex ships for the U.S. Navy, such as the Gerald R. Ford class of aircraft carriers."

Companies in this article