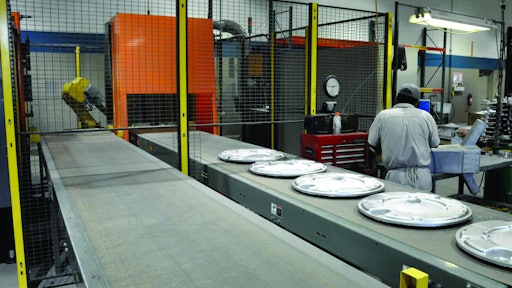 Premier Aluminum is an ISO 9001-2008 certified permanent mold aluminum casting and machine shop in Racine, WI with a reputation for partnering with its customers to find flexible and cost-effective solutions for a variety of products. The company serves the quantity casting market, from a few hundred castings per year to annual volumes of fifty thousand and more. Premier positions its capability in the market as a one-stop shop for finished machined, permanent mold aluminum castings.
Premier has invested in all necessary tools and facilities to enable full collaborative engineering with its customers. Its current goal is to achieve the desired casting quality by further reducing costs and decreasing time to market for its customers. This progressive approach to working with customers by utilizing advanced technical tools in an R&D facility will now be referenced as the Technology Center at Premier Aluminum.
The Technology Center will now be available to any Premier customer or potential customer who wishes to work closely with the Premier Engineering Team to quickly and accurately develop new products or re-engineer already existing ones. Its engineering team boasts 50+ years experience in metalcasting, plus the latest advancements in the aluminum foundry industry. To better serve its customers, Premier employs such advanced software as Solidworks, MAGMASOFT and other engineering tools to enhance customer confidence in tool life, product quality and efficient manufacturing processes, through a more predictive and trackable engineering protocol.
One of the company's most effective engineering tools is MAGMASOFT, provided by MAGMA Foundry Technologies, which is a software used to assist engineers, designers and buyers in the metalcasting industry. Premier's engineering group utilizes MAGMASOFT to optimize the casting design as well as to refine the casting process from the outset. MAGMASOFT blends science, technology and experience from diverse areas of the casting process to create a package that utilizes the complex physics of casting to simulate the results prior to creating the mold. This technology-based strategy, combined with years of experience serving the global foundry market, allows Premier to optimize its designs for castability, quality and overall lowest cost.
In today's environment, Premier is seeking all possible ways to be competitive and work together to find solutions that ultimately benefit the entire supply chain. Supply chain efficiency reduces time to market and engineering costs, emphasizes collaboration and yields sound manufacturing processes that will increase customer competitiveness. The company is committed to this technology-driven approach and seeks the opportunity to share it with current customers and prospects alike.
Premier's sales manager, Kevin Kelly, is currently inviting customers and prospects to send their product experts to the Technology Center for an opportunity to collaborate with the company's engineers on any new products or existing designs. During the visit, customer or prospect teams will be able to access the Internet, collaborate face-to-face with Premier's engineering staff, gain knowledge of the aluminum casting processes and utilize any of the technology tools, especially MAGMASOFT, to bring their product to market faster, more efficiently and at a lower overall cost.