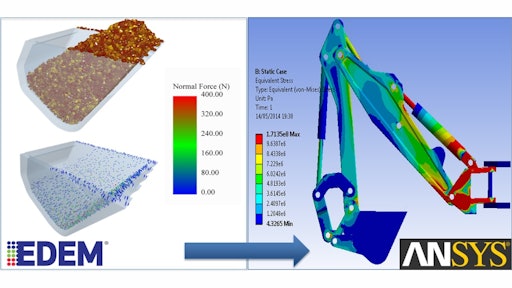 DEM Solutions, the Discrete Element Method specialist, has developed and launched a co-simulation capability that could revolutionize how engineers approach the design of equipment that handles bulk materials.
DEM Solutions has worked with ANSYS, a global leader and innovator of engineering simulation software, to develop a co-simulation capability enabling engineers to access EDEM bulk materials simulation data directly within ANSYS Workbench, allowing high-quality representations of bulk materials and their complex behavior to be included in Finite Element Analysis (FEA). The new 'EDEM Add-In for ANSYS Workbench' introduces a streamlined process to transfer material load data and will give equipment designers and manufacturers access to EDEM data in the familiar Workbench environment.
The major benefit of the new capability is that it removes any guesswork by giving design engineers the data on the pressures and forces caused by the bulk materials acting on the equipment – this insight has previously not been available.
Manufacturers of equipment designed to handle bulk materials, such as bucket loaders, transfer chutes and truck bodies must take into consideration the behavior of materials such as coal, ores or soil. Previously, this has been complex and difficult to predict using traditional methods and estimating the effect of material loads on equipment can significantly impact the success of the product design.
To gain insight into the structural integrity of any proposed design, engineers routinely use CAE tools such as FEA. This approach can be relied upon to provide accurate analysis of the structure; however, the effect of interaction between the structure and bulk material which the equipment is designed to handle is a significant approximation which can only be confirmed by time-consuming and expensive physical prototype testing to ensure the design meets requirements.
Shane Moeykens, Senior Partnerships Manager of ANSYS says:
"This development will complete the picture for design engineers in providing a detailed understanding of the effect of materials on equipment design, allowing improved design accuracy and greater insight into equipment performance. In addition, the cost of expensive physical prototyping and days of reliance on assumption and guesswork will be reduced. By coupling EDEM with our ANSYS Workbench, equipment designers can access multiple tools in a quick and easy environment."
Richard LaRoche, DEM Solutions VP of Engineering & Software Development adds:
"This innovation has been driven by customer demand and streamlines the integration of the simulation data. DEM Solutions is delighted to work with ANSYS to bring this innovative software development to the international CAE community. In line with our collaborative approach, we wish to work with partners to create and enhance co-simulation solutions to allow equipment design engineers to be more productive and create better designs. The new EDEM-ANSYS co-simulation will allow the design and delivery of equipment with renewed confidence and certainty."