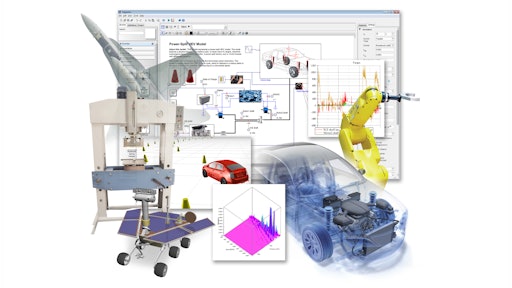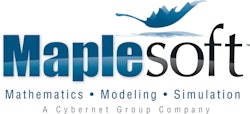 Maplesoft has announced a new release of MapleSim, the advanced system-level modeling and simulation platform. This release makes it substantially easier to explore and validate designs, create and manage libraries of custom components, and use MapleSim models within the engineering toolchain.
MapleSim offers a modern approach to physical modeling and simulation, dramatically reducing model development and analysis time while producing fast, high-fidelity simulations. In MapleSim 7, a new results manager provides greater flexibility when investigating simulation results and exploring designs. It is now possible to compare multiple simulation runs at the click of a button, including simulations of a single model and simulations of different models. Engineers can instantly plot the behavior of any variable, including variables that were not explicitly probed during the simulation. Other tools available through the results manager include the ability to easily visualize the correspondence between the 2D plot results and the 3D visualization of the model during simulation.
To support model creation, MapleSim 7 also makes it significantly easier to create, manage and share libraries of custom components. MapleSim 7 also expands the support of the Modelica language so that more Modelica definitions can be used directly inside MapleSim.
The MapleSim Connector for FMI, which allows engineers to share very efficient, high-fidelity models created in MapleSim with other modeling tools, has also been updated with this release. FMI (Functional Mockup Interface) is an industry standard for defining models to facilitate the sharing of models across different tool sets. For MapleSim 7, the MapleSim Connector for FMI supports more export options for co-simulation and model exchange.
"MapleSim allows engineers to reduce their development time and develop better designs, whether on their own or working with experts in the Maplesoft Engineering Solutions group," says Dr. Laurent Bernardin, Executive Vice President and Chief Scientist at Maplesoft. "With MapleSim 7, our customers will benefit from the new tools that help them analyze their models and improve their designs, while the enhanced support for FMI means even more integration options between MapleSim and the rest of their toolchain."
As part of the MapleSim 7 family of products, Maplesoft has also released a new component library. The MapleSim Battery Library, which is available as a separate add-on, allows engineers to incorporate physics-based predictive models of battery cells into their multidomain models so they can take battery behavior into account early in the design process.
MapleSim 7 is available in both English and Japanese.