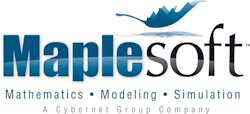 Maplesoft, a subsidiary of Cybernet Systems Co., Ltd. in Japan, is the leading provider of high-performance software tools for engineering, science, and mathematics. Its product suite reflects the philosophy that given great tools, people can do great things.
Maplesoft's core technologies include the world's most advanced symbolic computation engine and revolutionary physical modeling techniques. Combined together, these technologies enable the creation of cutting-edge tools for design, modeling, and high-performance simulation.
Maplesoft's products help to reduce errors, shorten design times, lower costs, and improve results. The Maplesoft product suite includes Maple™, the technical computing and documentation environment, and MapleSim™, the high-performance, multi-domain modeling and simulation tool for physical systems. 
Engineers, scientists, and mathematicians use Maplesoft products to enable them to work better, faster, and smarter. Maplesoft's customers include Ford, BMW, Bosch, Boeing, NASA, Canadian Space Agency, Canon, Motorola, Microsoft Research, Bloomberg, and DreamWorks, covering sectors such as automotive, aerospace, electronics, defense, energy, financial services, consumer products, and entertainment. With Toyota, Maplesoft founded the Plant Modeling Consortium to promote the development of new design techniques for automotive and related industries. 
Request More Information
Fill out the form below to request more information about
Maplesoft