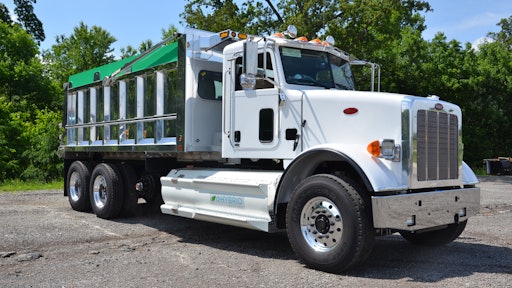 J&J Truck Bodies & Trailers–a leading manufacturer of dump bodies, trailers, oil and gas field equipment, and custom transportation solutions–announces the completion of 11 commercial tri-axle dump bodies that will be fueled by Compressed Natural Gas (CNG).
The owner of the trucks, Michael Forte of MJF Materials located in Lindenwold, NJ, purchased the Peterbilt trucks from Hunter Peterbilt and the CNG tanks from d-HYBRID Systems. J&J technicians assisted with the installation of the d-HYBRID fuel systems prior to mounting the J&J aluminum dump bodies onto the trucks. The trucks will be used to haul sand and stone from quarries to asphalt and concrete plants in New Jersey and Pennsylvania. Forte has built a state-of-art CNG station on his property that will support his fleet.
CNG powered trucks are becoming a viable solution for fleet managers who are looking for alternatives to costly diesel fuel, less reliance on foreign supplies and a need for cleaner, renewable and safer sources of fuel. Natural gas is readily available and plentiful in the United States, making it a cost-effective option for company fleets. The boom in natural gas drilling is also providing a boost to local economies and an increase in job creation. "We expect to see more and more of the CNG configured trucks come to our facility for fuel system and dump body installations," says Mike Riggs, Senior Vice President of J&J Truck Bodies & Trailers. "To meet that demand, J&J has invested in employee training and capital equipment to support the increasing popularity of the natural gas option."
J&J Truck Bodies & Trailers is inviting press and industry representatives to visit the company's facility to view several of the completed units. The Media Day event will take place on Tuesday, July 8, 2014 from 10:00 a.m. to 2:00 p.m., and lunch and refreshments will be provided. J&J is located at 10558 Somerset Pike in Somerset, PA.