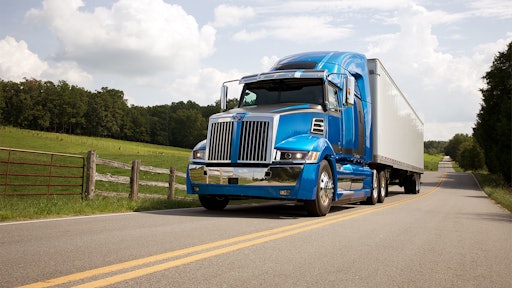 Western Star Truck Sales Inc. will feature its all-new 5700XE Class 8 highway tractor at the 2015 Mid-America Trucking Show (MATS) in Louisville, KY, March 26 to 28. There will be two models on display in the Western Star booth (#30185). For customers who want to experience the 5700XE first hand, one will be available for a ride & drive behind the South Wing loading docks.
The 5700XE features all-new aerodynamic innovations, powerful and efficient powertrain with the premium style, comfort and toughness expected from all Western Star trucks. The truck's distinctive aerodynamic design was tested and proven in the Daimler Trucks North America wind tunnel in Portland, OR. It features a four-piece aerodynamic bumper, new hood and projector beam headlights, a drag neutral visor, integrated LED turn signal and marker lights. Optimized roof and chassis fairing packages also provide increased aerodynamics and reduce drag.  
The 5700XE can be spec'd with Detroit DD13, DD15 or DD16 engines with power ranging from 350 to 600 hp and up to 2,050 lbs.-ft. of torque. For maximum efficiency, the 5700XE can be spec'd with the integrated Detroit Powertrain, which features the new downsped DD15 engine rated at 400 hp and 1,750 lbs.-ft. of torque, a direct drive Detroit DT12 automated manual transmission with Intelligent Powertrain Management, and matched Detroit front and rear axles.
"The 5700XE combines the classic style and toughness of a Western Star truck with innovative aerodynamic components – resulting in extreme efficiency and performance," says Ann Demitruk, Director of Marketing for Western Star. "There's no other truck available today that can offer the same bold efficiency as the 5700XE."
The 5700XE will be hand-built at Daimler's state-of-the-art Cleveland, NC, Truck Manufacturing Plant, with production beginning in the second quarter of 2015.