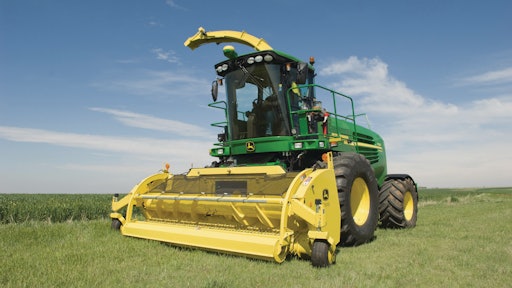 In the off-highway equipment world, man is often walking among mobile giants. But, there are self-propelled monoliths that dwarf even the common excavators and tractors. Driving these massive machines are high-horsepower engines capable of power outputs upwards of 500 hp.
These 500+ hp engines span across off-highway industries (construction, mining, military, agriculture, etc.) and are seen in heavy-duty on-highway trucks. "Customers in these applications have a need for high reliability and a high peak power at critical points during their work," says Clint Schroer, off-highway communications, Cummins Inc., Columbus, IN.
New Holland's Guinness World Record-setting CR9090 rotary combine (above) features a powerful turbo compound engine at 544 hp at rated engine speed with a maximum harvest power of 591 hp available.
The turbo compound technology allows for increased engine efficiency with a 5% fuel savings over similar horsepower engines. The turbo compound system uses a second turbine, downstream of the first, to recover energy from the engine exhaust gases that would otherwise be lost. The larger fuel tank at 306 gallons (1,160 liters) allows for longer work time and is fully compliant with 100% biodiesel.
Why one engine?
In an article by Chad Elmore in OEM Off-Highway's March 2008 issue, "It's not what you think," the value and efficiencies offered by installing two diesel engines are explored. While there are applications where utilizing the power of two engines is best, there are benefits to employing one massive powerhouse of an engine.
Schroer comments, "One engine is often more fuel efficient when integrated fully into the machine. The response and power from dual engines could produce the same power if installed correctly. Some customers don't like servicing dual engines, and sometimes dual engines cause some installation complexity with dual transmissions and so on."
In agriculture specifically, implements such as air seeders and tillage tools are growing in size to satisfy the demand for better efficiency on growing farms. "This growth continues to demand high horsepower tractors and the only practical and efficient way to do this is with one powerful engine," explains Cat's Industrial Engine team: Greg Flo, Caterpillar account manager for AGCO; and Brent Salverson, product definition marketing manager.
"Multiple engines in a tractor application would create integration challenges for the tractor manufacturer and increase the number of parts in the engine offering due to duplication, as well as increase overall machine length, width or both.
"Also, large engines are inherently more efficient—that is, they use less fuel per unit of work produced at higher loads—than smaller ones due to higher turbocharger efficiencies and relatively large inlet and exhaust ports which improve breathing and reduce restriction," says the Cat Industrial Engine team.
"The more sources of power you have, the more opportunity of energy loss you have. For example, if you have three engines generating a total of 2,000 hp versus one engine generating 2,000 hp, you have to add up the losses of those three engines. When you add that up you may have to actually generate more power out of the three engines to get the 2,000 hp than you would out of a single engine," explains Scott Woodruff, director of industrial sales and engineering, MTU Detroit Diesel Inc., Detroit, MI.
One engine also simplifies the control system complexity when integrating into the CAN bus system and other electronics on the machine. When you have multiple engines, the control complexity is much higher, and you have more opportunity for software problems and logic issues.
Some engine manufacturers have focused their attentions on high power density, light-weight engines. "What we try to do is optimize the viability of the single engine solution so the single engine is lighter than the twin-engine pack or even three engines. On top of that, the single engine can be more fuel efficient, easier to install and control," says Woodruff.
MTU's high-speed diesel engines, utilizing enhanced fuel systems and an efficient turbo system, have seen efficiencies supersede the power of three engines doing the same job (measured in terms of fuel consumption).
Where are these engines?
AGCO's Challenger equipment line features the MT975C tractor (above right) powered by Cat's C18 ACERT six-cylinder, 18.1 liter diesel engine (above left) able to generate more than 630 hp. "While Cat offers this same basic engine up to 800 hp in many heavy-duty industrial applications, this engine is specifically calibrated to maximize power to the ground in high horsepower agricultural applications and provide the best fuel economy in the operating zones where the tractor runs most.
"Per AGCO's specifications, the engine has torque performance parameters—42% torque rise and 8% powerbulge—which maximize power to the ground and help the tractor power tillage implements through hard spots for demanding tillage conditions," explains Cat's team.
The engines are equipped with Cat's MEUI (mechanically-actuated electrically-controlled unit injector) fuel delivery system which allows fuel injection rates to be tailored to specific operating conditions, lowering noise and emission levels, improving fuel economy and raising injection pressures.
The C18 ADEM 4 (advanced diesel management system) provides full electronic control of the engine and produces optimum performance with minimum fuel consumption.
The durable Cat TA22 4WD transmission in the Challenger MT975C tractor is enclosed in a heavy-duty cast-iron housing and requires high-capacity bearings and shafts to match the power behind the C18 ACERT engine. The ACERT electronic engine control system and the electronic transmission control work together to minimize shifting harshness and improve shift quality at any operating temperature, under all load conditions.
Cummins' 19 liter QSK19 engine is featured on John Deere's recently released 800-hp 7950 self-propelled forage harvester (SPFH), the largest and most powerful the company has ever built (above left).
"The 7950 SPFH is ideal for customers that require a large-capacity forage harvester for a dairy, beef or custom-harvest operation. In some cases, a single 7950 can replace two smaller forage harvesters. Customers that utilize one machine instead of two can significantly reduce machinery and operator cost," says Tim Meister, division manager of marketing, John Deere Ottumwa Works, Lenexa, KS.
"The QSK19 and all of the QSK family engines from 19 to 78 liters are uniquely designed for mining and construction equipment. Using an engine like the QSK19 and our experience in the high-horsepower agriculture market, Cummins was able to make calibrations and optimize a rating specifically for the John Deere forage harvester," adds Schroer.
Cummins also recently announced its 3,500-hp rated QSK78 mining engine to be displayed at the 2010 Bauma show in Munich, Germany, from April 19 to 25. The 78-liter high-power engine is used in large mining haul trucks and excavators.
The V-18 configuration QSK78 features a full-authority electronic management system, enabling engine parameters to be customized to precisely match the duty cycle of the equipment.
"The QSK78 continues to set standards in terms of life-to-overhaul and lowest cost-per-ton," says John Malina, executive director, Cummins Mining Business. QSK engines can handle high-hour and high engine load factors on a fuel-efficient basis and achieve uptime levels over 95%.
MTU Detroit Diesel has strong market presence in mining and construction involving relationships with OEMs such as Hitachi, Terex Mining, Liebherr and LeTourneau. Liebherr makes a T282 haul truck that has a 400-ton payload. The T282 B diesel electric mining truck transports with a top speed of 40 mph .
Liebherr designed the T282 B (below, opposite page) based on a concept of both efficient load management and lowest possible empty vehicle weight while maximizing payload. It takes MTU's 20-cylinder Series 4000 engine with power capabilities up to 4,000 hp. "That engine is typically used in high-efficiency mines for copper or gold," says Woodruff.
The MTU 20V4000 engine (below) features a common rail fuel injection, liquid-cooled exhaust and turbochargers, high output turbocharging with charge-air cooling system, dual circuit cooling system with a separate circuit for load air and engine cooling, and its ADEC (advanced diesel engine control) electronic engine management system. Developed and produced by MTU, ADEC was designed not only for unlimited control of the common rail technology of its engine Series 4000, but for the command over extreme load conditions and rapid load changes.
It features an engine-mounted and wired assembly, engine management with integrated control and monitoring system, an integrated safety system and self-test system, and a CAN bus interface power output module for starter and battery-charging generator control.
"As we look to Tier 4 final, we're using the opportunity to make engines more efficient by exercising development in turbocharger technology and next-generation fuel systems, so the efficiency is actually getting better even though we're making the engine do more," says Woodruff.