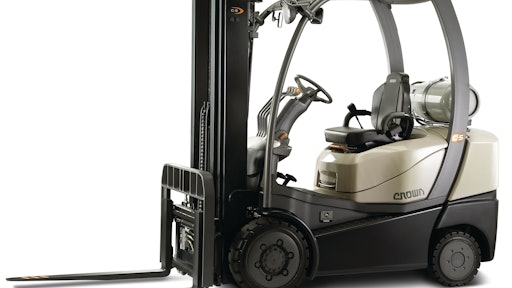 Crown Equipment Corp., New Bremen, OH, prides itself on manufacturing almost 85% of its forklift components in-house, giving them the freedom to innovate and to adjust products for a customer's specific application.
According to Don Luebrecht, senior vice president, Crown Equipment, customers were seeing problems with the current IC (internal combustion) fork trucks available in the market. Frequent overheating was occurring from clogged radiators due to poor filtration systems while operating in dirty environments.
Recently, Crown released its C-5 Series forklift, the company's first internal combustion forklift. Within the machine is featured Crown designed and manufactured components such as an optimized brake system, seat, and Crown's eSmart Accurate Fuel Tracking alert system. A dual open-core radiator with separate cooling systems for the engine and transmission enhances the package.
Driving this innovation bundle is an industrial engine that was jointly developed with John Deere Power Systems (JDPS). The 2.4L LPG engine includes a larger cast-iron engine head and block for increased durability and reduced warpage, internal oil cooler for extended oil and component life, and internal balancing for less vibration.
The six year design process includes two years of what Brian Brown, manager of worldwide marketing support, JDPS, describes as a 'feasibility study'. "From 2003 to some point in 2005 we put some lines on a piece of paper, refined engine parameters until we got the performance we thought we could achieve, put the engine on a few prototype vehicles, tested and verified." Both Crown and JDPS evaluated the status of the product, at which point they decided to go forward with a production program to produce an engine. The design refinement process was from 2005 to 2009.
The first machines were delivered in 2007 for field testing. "We had over 300,000 hours on the trucks at product release," says Andrew Smith, C-5 marketing product manager, Crown Equipment Corp. "We would put trucks out at different phases and let the customers use them. We'd stay in touch, monitor progress, service the vehicles, talk to operators to find their likes and dislikes, and talk to management."
The engine
According to Crown research, existing internal combustion forklifts that relied on automotive derivative engines were experiencing performance issues. With those engines, the gasoline fuel system would be taken off and converted to propane or natural gas for the application. "People generally don't drive their cars for eight to 16 hours a day, six days a week," says Smith. "In fact, running an automotive engine in a forklift for 2,500 hours is the equivalent of driving 100,000 miles at 40 mph in a car. Automotive engines aren't built to withstand the demands of many material handling environments."
Crown had also been paying attention to the equipment innovations in the agriculture and construction industries, including engine systems. "We found that John Deere's approach to development was a good mesh with Crown's, and that led to collaboration on engine development," says Smith. The two companies would work together to deliver an industrial engine for demanding applications in the materials handling marketplace.
The cooperative development project between JDPS and Crown integrated best practices from John Deere's diesel engines for rugged construction and agricultural equipment, along with Crown's 50 years of materials handling experience.
The in-line four-cylinder 4024 LPG Crown-exclusive engine provides 12% more low-end torque for improved performance while driving up ramps and accelerating with heavy loads, and avoiding engine stalling while using hydraulic functions. It has been tested for a 20,000 hour life, double other industry options.
The engine meets the emissions requirements put forth by LSI (large spark-ignited) regulations, explains Brown. There is a federal regulation that went into effect in 2007 and a CARB specific regulation that comes into effect in 2010. To meet those regulations, the 4024 LPG utilizes a three-way catalyst as its aftertreatment device. "We were able to leverage our aftertreament work internally. We have some development engineering resources that had an understanding of three-way catalyst and catalyst formation for use on an engine like this," says Brown.
Also leveraged during the development process at JDPS, the engine uses the same mechanics as Deere's diesel 2.4 liter engine, including the block, camshaft drive and crankshaft. While JDPS did bring in external resources as needed, it had knowledge of spark-ignited engines from its compressed natural gas on-highway engines, often used in buses.
"The basic architecture of the engine itself existed. We were starting from a diesel engine that we produce, used in tractors and skid steers. The heaviest components are a diesel derivative, so we weren't going to have a lot of opportunities to influence the weight, but the nice thing about the materials handling industry is if you don't have enough weight, you end up having to add ballasts to the back end of the vehicle," says Brown.
With the amount of dust, dirt, and debris found on warehouse floors, the radiators were frequently clogging causing inefficient cooling and thus engine overheating, and sometimes even transmission failure. "Our standard cooling system, the Open-Core radiator, was designed in-house to provide separate cooling for the engine and transmission. A ten blade fan increases air flow, and a custom venturi shroud efficiently directs air flow throughout the entire radiator surface," explains Smith.
"The optional On-Demand cooling system we found in the agricultural industry and brought over to the forklift world." It automatically clears debris each time a user starts the C-5 truck. The reversed fan direction blows away any elements clogging the radiator, which reduces radiator cleanings and increases performance and uptime.
Strong, reliable
An equipment's life and capabilities, as well as operator confidence, rely heavily (literally) on the strength and durability of the machine's framework. The heavy-duty ¾-in. steel frame allows the C-5 to handle tough applications and heavy loads while giving the operator confidence and security in the machine. The steering axle often gets the brunt of the abuse, so Crown reinforced it with a ¾-in. steel plate and 2.0-in. dia. cylinder rod.
Crown's C-5 utilizes I-beam stability as opposed to the common J-section style. The I-beam stability allows for significant strength in all three directions: longitudinal, lateral stiffness and torsional resistance.
Crown's PowerBrake system has a full circle design with 90% more friction area which translates into a longer life and more operator comfort. Compared to a typical drum brake, the additional friction surface area gives brake systems "three times longer life, 53% less pedal effort, and makes for more consistent braking for the truck life and from truck to truck," says Smith.
Integrated electronics
According to Brown, what separates the 2.4L LPG engine from others in the market is "the controls and the close integration between vehicle and engine that we can achieve by one controller to handle both functions. In conventional vehicles you'd find two controllers on the vehicle to execute that type of activity. In the C-5, all the vehicle control is provided by the engine control unit (ECU), so the vehicle functions and characteristics are embedded in the software that is in the controller that controls the engine."
Phoenix Intl., Fargo, ND, is a wholly owned subsidiary of John Deere that builds ECUs (the hardware) but the control software is handled by JDPS. Customization of that software for the Crown specific application was developed by JDPS in conjunction with Crown as to how they wanted the vehicle to operate. Operators can choose economy mode or productivity mode for the most efficient working platform.
The eSmart fuel tracking system uses a four LED light display which shows 16 minutes of remaining operating time. Crown's Access123 control system automatically collects data from the machine's systems, monitors component functions and controls the systems for optimal performance and productivity. The system display makes for easy diagnostics for a machine operator or technician. InfoPoint reference maps match display codes to support documentation to quickly get the machine up and running.
The C-5 IC fork truck combines ease of diagnostics and repair with Crown-developed technologies for increased operator comfort, power, performance, efficiency and savings. The 2.4L LPG Crown-exclusive engine created with JDPS gives the materials handling industry a tested and proven engine specifically for its unique market standards and applications.
Editorial Enhancements
www.oemoffhighway.com/video
Watch the Crown C-5 IC Fork Truck Intro and Overview videos to see the machine and its features in action! Click "Editorial Enhancements" on OEM's Video Network at www.oemoffhighway.com/video
Companies in this article