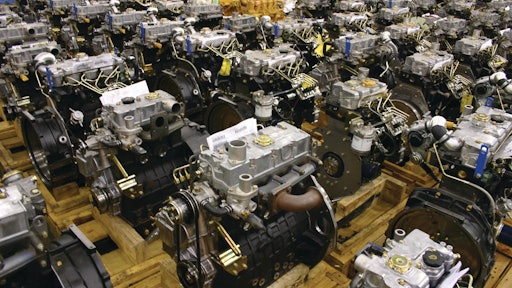 It's early morning in Franklin County, Georgia, and a large forklift named after a hen's traditional enemy effortlessly loads cages of broilers onto a semi trailer. Five thousand miles away, on a hillside vineyard near Asti, Italy, a compact tractor carrying the name of the company's founder works in the afternoon sun between neat rows of grapes.
It would appear the two machines have nothing in common. The Fox forklift — the only fox you want around your henhouse, its builder says — is specially built for the chicken industry by Master Craft in Tifton, GA. A hydrostatic drive moves its 18,000 lbs of steel around the poultry operation. A rear-steering axle helps position the two-wheel-drive Fox and its 144 in. mast.
The vineyard tractor, a hot red Italian number with the name of Antonio Carraro SN 6500, weighs just over 3,500 lbs. It steers through articulation and oscillates over undulating terrain. Power goes to the four wheels via a 24-speed (12 forward, 12 reverse) gearbox. The SN 6500, part of the company's Tigrone tractor series, is built in Campodarsego, north of Padua (Padova), in northeastern Italy.
Worlds apart they may be, but the two machines do have a few things in common. With one built in a part of the world where a lunch of pork barbecue and sweet tea are guaranteed, the other in a region where grappa accompanies fresh tortellini: both look to Perkins for their diesel engines.
The tractor and forklift are also both built by family-owned companies — something that seems to become more rare everyday. Antonio Carraro himself met us at the new-tractor demonstration in Italy, while Jackie Haswell, grandson of Master Craft's founder, helped give the factory tour in Tifton.
For Perkins Engine Co. Ltd., a company based in Peterborough, England, and owned by Caterpillar Inc., in Peoria, IL, keeping and winning customers around the world has meant making the distances shorter while working within the cultures of the regions where they are doing business.
Italy: tractor people
Antonio Carraro's selection of Perkins engines is a new development, and indicative of the fact that the tractor company is seriously interested in expanding its brand beyond Italy. It will be using Perkins' new Tier 3-certified 400D in its TN 6500 and SN 6500 V models of tractors and two of its unique tractor-based transporters, the Tigrecar 5500 and 6500.
"We have chosen this engine over many other brands," says Liliana Carraro, advertising director and Antonio's daughter. "The 400 Series is the right choice for our customers. Most of our operators are farmers who need engines with low vibration, noise, low fuel consumption."
The Antonio Carraro Tigrone tractor line is multifunctional, and in Italy can be found working steep mountainsides. They are marketed not only for agricultural applications, but in the civil sector, as well, where they maintain swimming beaches and golf courses. In 2005 it sold 5,700 tractors, which represents 25% of the Italian tractor market and 15% of the European.
"The tractors are employed in many different jobs," says Carraro. "That is one reason why we looked close at the assembly of the engine. The way it is assembled permits the operator to maintain the engine in as little time as possible."
Working from the Motori Perkins S.p.A. office in Italy, Stefano Meneghini helped put Perkins engines and Antonio Carraro tractors together. He could draw upon 15 years of experience on the application side, and as a representative based in Italy, he was closer to the customer and familiar with the culture.
Keeping lines of communication open helped keep surprises to a minimum. "I don't want to visit a customer and have them tell me something I am not aware of — that's not good," says Meneghini, sales manager. "I was there for every meeting. On the technical aspects we worked together closely. I was there with an engineer from Perkins, but could facilitate because of my background."
Stefano moved into sales a few years ago, and Antonio Carraro was the first customer he signed on by himself. "I invested a lot of time in it, but it worked out. The customer is very good. Carraro is a very good family, they want to grow and they want to partner."
Italy is home to a number of component suppliers, many of which are familiar to the North American off-highway industry. Italian manufacturers are proud of what their country is producing and strive to work with other Italian companies. Up to 70% of the parts used in Antonio Carraro's machines are from suppliers, most based in Italy.
Antonio Carraro's R&D department (which represents 60 of the company's 400 employees) looked closely at its engine choices, and came to the conclusion that to sell outside of Italy and to differentiate their tractors from their competitors they needed a brand that was known worldwide.
"We worked with Antonio Carraro's engineers for years, but they were not interested in considering another supplier," says Meneghini. "Then, suddenly, they called us. They wanted to work with another engine company, and we had an advantage — we have service almost everywhere."
Perkins engines are often customized per an OEM's specifications, creating a range of powerplants (worldwide, there are more than 200 different applications that use 400 Series engines). It can be tough to ensure a distributor will have all the parts for every engine variation on its shelf when a customer needs it.
When an OEM switches to a new engine line, the customer's first contact is when he needs a replacement part. If there's a problem with the engine and the parts aren't on hand, the relationship doesn't start right. By doing some work before the tractors hit the market, Perkins dealers were given the time to stock parts in advance.
Perkins sent information to its distributor network in Antonio Carraro's dealer territories to introduce the company and its products, notify them of the engines it is buying, and the parts they should have in-house. "We also gave them the address of their neighborhood Antonio Carraro dealer," says Meneghini, "and encouraged the Perkins people to visit them. Antonio Carraro had never seen an approach like this."
In North America, Antonio Carraro operates a distributor in California's Napa valley. It has been there five years, and business has been steadily increasing. The tractors are well-suited for small farms and specialty operations such as greenhouses and, of course, vineyards. The most popular model in North America has been the TGF 9400 with its streamlined, low-profile Protector cab.
"We want to increase our sales in the United States and feel we now have the right engine," says Carraro. "To expand our business outside of Europe we need people who can be pioneers with our product. There is really nothing similar to our tractors."
Innovative features on the tractors include the Reversible Guide System (RGS), which allows the operator to swing the entire control system — seat, gauges, pedals, everything — so it faces to the rear. The operator can head back down the row without ever turning the tractor, and it permits attachments such as mowers to be pushed.
The impression of the 400 Series engines at the OEM and with its dealers and customers has been positive. "When I visit the factory I talk openly with the sales manager," says Meneghini. "He told me customers are very happy. Engine noise is low, power is good. They can see a difference."
Japan/England: joint venture
The engine Antonio Carraro is installing in its tractors and transporters is the 400C. The latest Tier 3 400D installation is under development to reach the market during 2007.
The 400 Series is produced by Perkins Shibaura Engines Ltd., a joint venture that is owned by Perkins Engine Co. Ltd. (70%) and Ishikawajima Shibaura Machinery Co. Ltd. (ISM) in Japan. Perkins entered the joint venture 10 years ago to get into the compact engine arena and compete in what was at the time a fairly low-volume market. Today compact machines are hot, and little engines no longer represent a small part of the Perkins business.
ISM developed the engine's core design and Perkins took it from there. Perkins maintains customer relationships, sets product objectives, manages development programs, staffs marketing and sales groups, and has exclusive sales rights (with the exception of Japan).
Antonio Carraro's 400 Series engine is assembled at Perkins Shibaura's dedicated factory adjacent to Perkins' main operations in Peterborough, one of two Perkins facilities producing the engine.
Designed to meet emissions legislative requirements to 2013 for North American and Europe, the 400D engine was introduced at Intermat in Paris earlier this year. Tier 3 emissions regulations for the 400D's horsepower range will not become the rule until 2008.
"The launch of the Tier 3 engines provides OEMs with a clear line of sight in terms of their own equipment development," says Michael J. Wright, general manager, Perkins Shibaura Engines Ltd., Peterborough. The 400D Series provide a number of benefits to OEMs, including ease of changeover, greater choice with new model introductions to meet key power nodes, and a whole host of product refinements to ease OEM installation and to improve the user experience.
The 400D models do not differ in package size to their Tier 2 predecessors. Low operating costs are maintained with oil and filter changes set at 500 hours, a frugal specific fuel consumption (SFC) comparable to current Tier 2 products, and a two-year warranty.
Noise has been improved by up to 3 dBA with the option of lowering it by an additional 2 dBA if a low-noise fan is specified. Heat rejection is also improved by reworking the cooling path, enabling the specification of a smaller radiator.
Three new model introductions — lifting the basic 400 Series line to 10 — provide OEMs with a broad choice of ratings. Included in the introduction is the turbo, air-to-air charge cooled 2.2 liter, four-cylinder 404D-22TA which extends the range up to 66 hp.
"The customer's opinion is the most important thing that drives our product development," says Wright. "Early in the development process, four or five years ahead of intended production, we start working with customers and looking at market segments. We want to know how their business is evolving and how they want to make their machines competitive. That drives the way we think about our product development and the prioritization of our objectives."
Georgia: lifting to new heights
John Haswell introduced a purpose-built rough terrain forklift at a show in Chicago in 1976. Built around a Ford skid unit, it was said to be the first rough terrain forklift that didn't work or look like a farm tractor. Haswell's company had recently moved from Michigan to the heart of Georgia's peanut-growing region, and it was there that Master Craft Industrial Equipment Corp.'s business was soon lifting to new heights.
Master Craft is working toward a record sales year in 2006, after doubling its sales last year. Its rough terrain forklift product line has grown with its share of the marketplace, aided by a strong dealership network.
Master Craft's price leader is the American Eagle, which can be ordered with mast heights from 10 to 30 ft. and a maximum capacity of 8,000 lbs. Perkins' four-cylinder 1100 Series engines provides power to either two or all four wheels. Master Craft's C Series is considered its flagship machine; its drivetrain is sourced from Caterpillar's OEM Solutions.
"We work very closely with our component suppliers," says Dan Bryan, sales and marketing manager, Master Craft. The company buys its engines from Perkins Power Corp. (PPC), a Perkins Master Distributor based in Orange Park, just across the Georgia/Florida line near Jacksonville.
"Mike [Collins, OEM sales manager for PPC] has always been there for us," says Bryan, "as well as Caterpillar. They are always there to assist us with designs or supplying a part we need."
With the switch to Tier 3 engines, Master Craft has been working especially close with its engine suppliers. "The basic design of our forklifts will stay the same," says Darrell Lynch, chief designer, Master Craft. "There have been minor internal changes such as with the cooling system and the way the engine mounts."
Seventy percent of Master Craft's machines go to Mitsubishi Caterpillar Forklift Assoc. (MCFA) dealers, a program Master Craft has been involved with since 2000. "But our real growth has been rental stores in North and South America," says Bryan.
Being a relatively small, vertically integrated company (Master Craft makes its own masts, cuts and welds the steel for its frames, and builds its own non-powered rear-steer axles) allows Master Craft to take on specialized products. Every machine is built to order.
"As much as 50% of our business is niche market," says Jackie Haswell, vice president. "What we will do is build an 8,000 lb. loader and we can then mix and match from a choice of special features. We have 30 standard masts to choose from."
For the components that are not made in Tifton, it takes an accommodating supplier to fulfill crazy-sounding requests from customers. "One of the advantages with Perkins engines is that we have an enormous bunch of options," says PPC's Collins. "If they say we want to change this for this market, we can usually do it quickly."
Master Craft thrives in a competitive marketplace by listening to customers and staying flexible. "We are able to build machines to suite our customer's needs," says Bryan. "It doesn't cost us a million dollars to make a design change."
Georgia farmers produce 24.6 million pounds of chicken and 14 million eggs on an average day. To meet the unique demands of the $13.5 billion Georgia chicken industry, Master Craft developed the Fox, a hydrostatic forklift with a shortened 80 in. profile and red-lensed work lights so as to not disturb the chickens.
This willingness to take on unique projects keeps the engineering department's job interesting. "I'll have 10 windows open in CAD," says Lynch, "working on 10 different things, and someone will always come in with something else to look at."
One of Master Craft's more than 100 dealers is located in the heart of Pennsylvania's Amish country. "He has a good relationship with the Amish," says Bryan. "They make a lot of different items and can use lots of equipment." Different groups of the Amish live by different codes. Most of them don't believe in containing electricity, so for them to buy and use a forklift it couldn't have an alternator or battery.
Master Craft met this requirement by installing a compressed air container on the forklift. Pushing a button drives air into the cylinders to get the pistons moving, which fires up the diesel engine. As the engine runs, the air tank is filled for next time.
"It's not hard for us to shift on the go and make those changes," says Jackie Haswell. "We can build an Amish unit where we might do three or four a year."
One of their latest projects is a forklift designed for the sod industry, the request of a Master Craft dealer in Texas. Its customers wanted a bigger machine that would carry two pallets full of sod at once. Lynch's team designed a wider carriage and a heavy-duty mast.
Between its standard models and special projects, "we have so many products and have been so busy, it has been hard to push one model," says Bryan. "We have customers calling every day with specific requests."
North America by Southeast
To better serve North American customers, Perkins set up an assembly plant in Griffin, GA, in 2004. The Perkins Shibaura plant assembles the 400 Series; the 400D is expected to be at full production by early 2007.
With a clean floor to build on, the Griffin plant was designed as a model facility that paved the way for a facelift at the Perkins Shibaura plant in Peterborough, where updates were recently completed. Included in the changes in England was the installation of Six Sigma methodology and the movement from two assembly lines to one that has the flexibility to accommodate engine variations.
At the 55,000 sq. ft. facility in Griffin, the design has the capability of growing without the expense of adding on to the building. In 2005 Griffin got two more test beds, raising the total to eight. Each engine is tested to a number of parameters, including emissions, noise, torque, power and efficiency.
The Griffin location helps reduce lead times for North American Perkins distributors and OEM customers, who are primarily in the construction and turf care segments. Caterpillar skid steers built in Sanford, NC, get up to 40% of the plant's output.
A fair share of the 400 Series engines assembled in Georgia are shipped to Florida, to any of three Perkins Power Corp. (PPC) locations. Its newest location, opened in 1997, is located near Jacksonville, FL, in Orange Park. PPC has an eight-state territory in the Southeast and supports 34 engine dealers. The dealers handle single engine sales while PPC's Orange Park facility has 25 OEM accounts in a variety of industries.
Whether an OEM works with a distributor such as PPC or directly with the engine manufacturer depends on several factors. The first is volume. If it is a large account, Perkins will ship engines direct from its factory to the OEM's plant. Larger OEMs typically have their own engineering departments. After that, the decision comes down whether or not the OEM wants to have something added to the engine prior to installation, and whether it wants to store the inventory.
The salesmen work out the engine size and get components as close as possible to the specification, then PPC's engineering staff can take it from there. "When we throw in an engineering package, we have a program that appeals to small- and medium-sized OEMs," says OEM sales manager Mike Collins. "We can give smaller OEMs a plug-and-play engine. When they take delivery it goes right in the machine."
There are some challenges with the small accounts, says Collins. "We rely on them to give us accurate forecasting because of lead times on the engines. Forecasting can be a black art. We often rely on our own and might go out on a limb financially for these customers if there is a possibility we could drop the ball in the supply chain if the numbers aren't accurate."
"It requires a lot of good communication, says Joe Campbell, operations manager, PPC, "and we pride ourselves on staying up to speed with our OEM customers."
In supporting a new project the distributor, like the OEM, can never really be sure if it will take off or quietly disappear. A company in PPC's territory is developing a vehicle for border patrols. It could turn into a 2,000 engine account.
"Those are the gambles we take when we tie our engineering capabilities into it," says Campbell. "You never know where those projects will go."
"We love small accounts. From three or four engines a year to 20," says Collins. "Nine times out of 10 they are very specialized. They'll want something off-the-wall, and that is what we can do."
"You can't knock the success of some of these guys," says Campbell. "Some started by drawing on a dirt floor."
One of the features that has helped distinguish PPC from other distributors is being able to assist in the design process with its own engineering department. "The attraction for me with PPC was the variety of equipment the engines are in," says Jerry Rose, applications engineer. An engineer at an OEM for 17 years, his experience has proved invaluable.
The engineering department "is particularly valuable now," says Collins, "with the tier changes. OEMs are re-engineering products every two years. The demand on the engineering department is phenomenal. They view our ability to assist in that process as a tremendous asset."
They're not all scratching design changes into dirt floors. PPC works with sophisticated OEMs and receives complicated 3D models. The challenge continues, however, because while some may know one aspect of the machine, they don't understand the engine side.
"We have to return drawings and say there is no way on this Earth this is ever going to work," says Collins.
When PPC works on total packages, it is not interested in simply pushing engines out the door. "It is our job to tell them when they are wrong, or we will not sign off on it," says Campbell. "When we sign off a project, we accept a degree of responsibility for the installation, and that the engine will survive through the warranty." All new engine applications are reviewed by Caterpillar or Perkins before the OEM gets the green light.
"We prefer to put our best foot forward and not in our mouth," says Campbell. Part of that is ensuring that dealers and technicians who represent the Perkins brand know what they are selling and how to fix it. As the engines become more complex, training becomes more important. This year more than 200 students will take classes at PPC's Orange Park facility, two thirds from outside of its sales network (40% Perkins dealers, 40% OEMs and 20% distributors).
"My job is to make sure our dealers are trained, tooled and stay current, says Chuck Scott, dealer development manager, PPC. "To do that, I put our best foot forward. I have been with this company for 25 years in many departments, and am not the least bit shy asking Joe [d'Urgolo, service/warranty manager, PPC] to jump in for service, or Jerry for engineering. We have specialists here and I want to use them to the best of their ability."