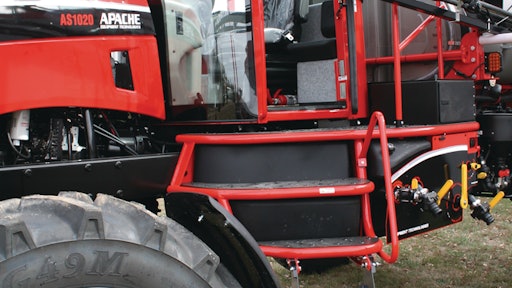 Years from now, farm equipment historians will likely write about the tightening diesel emissions regulations as an epoch, an event that helped usher in a new era of off-highway machinery.
As Tier 4 Interim deadlines arrive (and final regulations loom in the not-too-distant future) equipment dealers and buyers are being introduced to brand-new machines in nearly every segment of the off-highway industry. In many cases, redesigns are required in order to make room for the new emissions-fighting components. It's also an opportunity to make upgrades in non-related areas, such as styling and operator comfort.
"Several years ago we began discussing how we were going to adapt all the changes that would be required to meet emissions regulations into our sprayers," says Chad Ringer, lead engineer for Equipment Technologies (ET), Mooresville, IN.
This summer and fall, dealers and farmers were introduced to the results of that research, which have influenced all three models of ET's Apache mechanical-drive sprayers. "The 2011 model year sprayer represents the culmination of years of customer feedback and planning," says Paul Nielsen, national sales manager, ET, "It is truly rewarding to see all these changes come together without compromising what makes the Apache special -- the promise of efficiency and ROI. Our customer, the farmer who considers himself a business man, appreciates that."
While the styling for the AS720, AS1020 and AS1220 model sprayers is a significant departure from the previous series, Ringer says that the emissions requirements "molded the changes, but did not dictate them."
Because the previous sprayer series was introduced in 2005 and has been little changed since (at least in the view of passers-by), the team at ET felt it was time to make styling change while enhancing the functionality of the machine.
In so doing they sought ways to give more value to the customer. The operator's office -- the cab -- received a significant amount of attention. The three Apache models share the same cab, which is unique to ET. The cab is 12% larger and fulcrum-mounted at four-points (up from three in previous models). The additional support and wider stance reduces by more than 37% the jarring forces that had previously been transmitted to the operator. Wrap-around glass gives the operator a better view of the front wheels and the booms. Interior noise has also been reduced: by moving noise sources such as the engine farther from the operator, ET reduced in-cab noise by 9%.
Entering the cab and getting comfortable has been made easier with a rear-hinged door, larger catwalk, and the fact that HVAC adjustments can be performed from the steering column.
The product tank was also improved. A custom, roto-molded tank is contoured to the chassis and no longer utilizes a tank skid. This allows the tank to be lowered and contributes to better visibility of the booms, a lower center of gravity and a better ride.
One of the most significant changes required to the machine's design was widening the chassis to make way for the cooling capacity required by the new engines.
"In terms of challenges directly caused by Tier 4 Interim engine requirements," says Ringer, "we had to design for a 45% increase in required heat rejection, which meant we needed a larger cooling system." The Apache's frame was widened to facilitate that, and the right side of the engine was given more room for new exhaust aftertreatment devices.
Tier 4 Interim emissions regulations take effect Jan.1, 2011 for engines over 173 hp. Particulate matter will be reduced by 90% and oxides of nitrogen by almost 50%. Beginning Jan. 1, 2012, the Tier 4 Interim regulations will take effect for the 75-173 hp categories.
ET uses Cummins' QSB engine, rated for 163 hp (AS720), 173 hp (AS1020) and 215 hp (AS1220). Like many OEMs, ET's strategy for compliance is to take advantage of government certificates that will allow it to use Tier 3 engines for a period of time. Certificates will be used for the Apache 720 and 1220, while the 1020 sprayer, which makes up nearly 50% of the company's overall sales, will be transitioned to Cummins Tier 4 Interim QSB engine.
Most of the hard work for the transition to the new engines has been done with the new sprayer series. "It's still not as simple as just dropping the new engine in," says Ringer, "but we are not that far away."
Reliable drivetrain
Developed by a farmer and introduced to the market in 1997, the mechanical-drive Apache sprayer has earned a reputation for reliability and efficiency. Those are two of several features ET's engineering and marketing department wanted carry forward in the 2011 Apache sprayers, as "we knew what we were doing today would be essential building blocks for future machines," says Ringer.
While the AS720 can still be purchased with an ITL/JCB transmission, the introduction of a ZF transmission on the AS1020 and AS1220 models pushes the drive system to new levels of efficiency. The ZF transmissions feature a lock-up torque converter that allows for as much as a 26% increase in the ratio of power supplied to power used, when compared to the 2010 model year Apache. The result is more power to the ground, which gives the operator increased traction.
Another benefit of the Apache's re-engineered drivetrain is an increase in fuel economy. It is an estimated 9.3% on the AS1020 and 17.4% on the AS1220, while running at optimum spraying speeds of 12 to 16 mph.
ET tested transmission options for nearly three years. "There are a few transmissions out there to choose from," says Ringer, "but ZF ended up being the most efficient transmission for our horsepower ranges."
Doing one thing well
Operating from its 108,000 sq. ft. headquarters situated in a business park outside of Mooresville, ET is a small company that focuses on building and perfecting its mechanical drive sprayers. While much of the design is done in-house, on the factory floor ET is an assembly operation. ET outsources all of the components and much of the steel work to suppliers, working with more than 100 different companies.
"We might be able to integrate our manufacturing processes here," says Matt Hays, CEO, ET, but it would divert our focus from what we are good at, which is understanding our customers, assembly, and bringing innovative sprayers to the market."
Equipment Technologies doesn't have a "not invented here" mentality -- it can't. Mays sees little value in taking a project in-house that other firms can do just as well or better.
"The relationships we have with our suppliers is important," says Ringer. "For example, there are three major fabrication houses that we have had relationships with for a long time. We really rely on them for our subassemblies, so we can focus on the overall assembly process here."
ET's suppliers ranging from mom-and-pop shops right down the road to global giants headquartered in Germany. For Hays, working with suppliers is a fun part of the business of making sprayers. "We work with folks from all over," says Hays. "They have a good sense of our strategy and a vested interest in the long-term success of ET."
Engine expertise
For engine experience, ET looks to Cummins Inc. In September, the Columbus, IN-based diesel engine specialist started shipping EPA Tier 4 Interim and EU Stage IIIB certified engines and aftertreatment devices for early installation by off-highway equipment customers.
Cummins' new QSB6.7 (and QSL9) engines are built at the Cummins plant in Rocky Mount, NC, for customers in North America and East Asia, with the Darlington plant in the UK supplying European customers.
The QSB6.7 engine is certified to 300 hp, while the QSL9 is rated up to 400 hp. The 6.7-liter and the 9-liter engines have received EPA and EU emissions certification as integral systems with Cummins' particulate filter exhaust aftertreatment, enabling easy integration and packaging efficiency.
Cummins' Tier 4 Interim solution for its mid-range QSB6.7 to the heavy-duty QSX15 engine will utilize common Tier 4 subsystem architecture with cooled exhaust gas recirculation (EGR) and a particulate filter. The new engines get Cummins' Variable Geometry Turbocharger (VGT), replacing the wastegate turbocharger. The more efficient variable flow turbocharger drives the EGR system and optimizes boost across a wider engine speed.
Other changes include a new direct flow air filtration system and a crankcase ventilation system with a coalescing filter. All components are managed by a single electronic control module for an integrated system.
In the 75-173 hp range, the four- and six-cylinder QSB engines retain the proven 3.3-liter, 4.5-liter and 6.7-liter platforms and will be supplied with a fully integrated air-intake to exhaust aftertreatment system.
Before finalization of the engine, the QSB6.7 and QSL9 underwent an extensive series of test to validate performance and in-service reliability. Tests proved the engines achieved up to 5% improved fuel efficiency and faster engine response.
"With the production release of the QSB6.7 and QSL9 engines for 2011 emissions, Cummins builds on its Tier 4 development work, concept installation and field testing," says Hugh Foden, executive director, Cummins Off-Highway Business. "Although much of the Tier 4 emissions technology is new to the off-highway industry, it is not new to Cummins.
"With this proven technology base, we have been able to accelerate our Tier 4 Interim program and go beyond meeting stringent emissions levels to focus on performance deliverables. We have done what we said we would do by optimizing machine integration, improving fuel efficiency and enhancing engine response."
Companies in this article