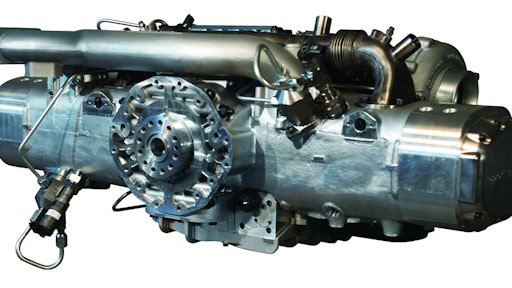 The internal combustion piston engine has been the primary means of automotive propulsion for more than a century. Today, thousands of engineers around the world are hard at work trying to improve this 19th century invention. As greater power density is achieved, a range of critically important attributes will result, including lower weight, fewer parts and thus lower material costs, higher fuel efficiency, lower emissions and heat rejection.
Navistar International Corp. announced it has reached a development agreement with EcoMotors International in support of the company's opposed-piston opposed-cylinder (OPOC) engine architecture.
EcoMotors International's first product targeted for commercial application is a turbo-diesel version of the innovative engine.
EcoMotors' patented engine design creates an internal combustion engine family architecture that will operate on a number of different fuels, including gasoline, diesel, natural gas and ethanol. The OPOC's direct gas exchange operation provides the emissions benefits of four-cycle engines, the simplicity benefits of two-cycle engines, the power density of the opposed piston engine, and the developments in electronics and combustion technology all tied together in a proprietary engine architecture.

"EcoMotors is proud to partner with Navistar to commercialize the OPOC engine," says Don Runkle, CEO, EcoMotors Intl. "Our engineers are working to effectively rejuvenate the internal combustion engine for the 21st century."

The OPOC engine comprises two opposing cylinders per module, with a crankshaft between them—each cylinder has two pistons moving in opposite directions. This innovative design configuration eliminates the cylinder head and valve train components of conventional engines, offering an efficient, compact and simple core engine structure. The result is an engine family that is lighter and more economical while achieving lower exhaust emissions.
With a straightforward assembly and 50% fewer parts, the engine runs like a fully balanced four-cylinder, four stroke engine. All engine forces counteract each other creating inherently low noise and vibration. The OPOC engine has a high power density of nearly one horsepower per pound.
For a given power level, the OPOC engine is 30% lighter, one-quarter the size, and achieves 50% better fuel economy compared with a state-of-the-art, conventional turbo-diesel engine.
This development in turbocharger technology incorporates an electric motor into the turbo assembly. In essence, it provides a supercharger, driven by the electric motor, as an adjunct to the exhaust-driven turbocharger. Boost pressure can be created by the electric motor, the turbocharger, or both. The electronically controlled turbocharger (ECT) effectively eliminates turbo lag because the electric motor provides much faster turbine response, and also provides boost when there is low energy from the exhaust flow. The motor is actuated by an electronic controller, which can be integrated with the engine control unit. When it is being spun by the turbocharger, the electric motor acts as a generator, producing electricity.
The development in clutch technology enables customers to take advantage of the engine's modular displacement capability. The clutch assembly is housed between two engine modules, and is engaged when vehicle power demands require both modules to deliver power. When the power of the second module is not needed, the clutch is disengaged, allowing the second engine to stop completely. This not only improves fuel economy dramatically by reducing parasitic losses, but also improves the efficiency of the primary module.
To meet a wide range of power output needs, these engines can be "teamed" in multiple modules, connected to each other via an electrically controlled clutch. This provides a variable displacement engine that offers significant fuel savings, optimized engine map performance and reduced emissions for real-world applications.
At this time, EcoMotors Intl. is developing two versions of the OPOC engine, named EM65 and the larger, more powerful EM100.