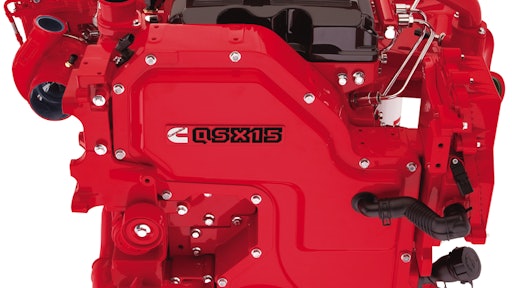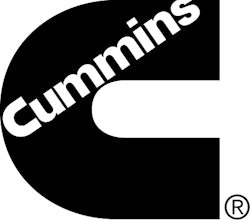 Cummins Inc. announces its QSX15 engine will move forward to meet near-zero emissions levels in 2014 with power output increased up to 675 hp (503 kW). The 15-liter heavy-duty engine was revealed at CONEXPO-CON/AGG to meet EPA Tier 4 Final and EU Stage IV emissions with an ultra-clean aftertreatment system combining the Cummins Particulate Filter with selective catalytic reduction (CPF-SCR).
The 675-hp top rating for the QSX15 takes the Tier 4 Final engine 75 hp (56 kW) above the Tier 4 Interim top rating of 600 hp (447 kW). The QSX11.9 engine also increases power output for Tier 4 Final with a new top rating of 525 hp (392 kW). The 11.9-liter QSX shares the same engine technology and CPF-SCR ultra-clean aftertreatment system as the QSX15. Engine power density for Tier 4 Final increases to 45 hp (34 kW) per liter for the QSX15 and 44 hp (33 kW) per liter for the QSX11.9. This offers a new level of power capability for premium-performance machines operating in the toughest construction, mining, agriculture and materials handling applications.
To meet Tier 4 Final in 2014, particulate matter (PM) reduces to 0.02 g/kW- hr, and oxides of nitrogen (NOx) reduce to 0.40 g/kW-hr. Compared to Tier 3 emissions levels, these figures represent a 90% reduction for both PM and NOx.
"The QSX15 and QSX11.9 not only meet the challenge of near-zero emissions, but they are able to achieve this with higher power output and lower fuel consumption," says Jennifer Rumsey, executive director, Cummins heavy-duty engineering.
"The CPF-SCR ultra-clean aftertreatment raises the threshold of what can be achieved in the trade-off between lower emissions and higher performance. This means we are able to realize the full power productivity of the QSX engines by precisely balancing emissions control between the aftertreatment and engine combustion with cooled Exhaust Gas Recirculation and XPI fuel injection. The emissions control logic driven by the engine ECM plays a key role in this.
"Cummins ability to design, integrate and manufacture all the key enabling engine technologies and aftertreatment as a single system gives us a unique advantage. For Tier 4 Final, our integration capability translates into significant packaging, performance and reliability benefits for our customers," adds Rumsey.
At Tier 4 Interim 2011 emissions levels, the QSX15 and QSX11.9 engines are capable of achieving up to 5% improved fuel efficiency compared to Tier 3, depending on duty cycle and machine optimization. Fuel efficiency will be further increased for Tier 4 Final 2014 by an additional 3% to 4%.
CPF-SCR Ultra-Clean Aftertreatment
The SCR system developed by Cummins for Tier 4 Final is a next-generation design that moves beyond the SCR technology currently in use for Tier 4 Interim.
The system incorporates a copper zeolite-based catalyst capable of up to 95% NOx conversion and able to operate more efficiently at lower temperatures. The system features advanced sensors to provide full closed-loop control. Diesel exhaust fluid (DEF) dosing levels are minimized with enhanced mixing in the decomposition pipe.
The Cummins Particulate Filter is retained from the Tier 4 Interim aftertreatment used by the QSX engines. The CPF incorporates both a diesel oxidation catalyst and the wall-flow filter, providing an additional margin of PM emissions control at the higher engine loads and power outputs of heavy-duty engines. With this higher PM filtration efficiency, the engine combustion can be formulated to increase power density and lower fuel consumption. The integration of SCR into the exhaust aftertreatment allows the CPF to reduce the frequency and duration of active regenerations below 1% of equipment operating time, creating a virtually full-time passive device.
Pre-Designed For Final
The Tier 4 Final QSX15 at CONEXPO-CON/AGG is showcased as a fully integrated power unit manufactured by Cummins Power Products. The self-contained unit carries forward the same packaging size from Tier 3 to Tier 4 Interim and Tier 4 Final.
This package-proof capability is enabled as the QSX15 and QSX11.9 engines for Tier 4 Final 2014 will be almost identical to the QSX engines introduced to meet Tier 4 Interim in 2011. This ability to move forward to meet the near-zero emissions standards is pre-designed into the existing engine platform, with no significant change to engine system architecture. The QSX engines retain a single Cummins Variable Geometry Turbocharger (VGT), avoiding the complexity of needing two turbochargers to achieve this level of power output.
The QSX engines continue to offer an installation advantage with a smaller envelope space claim than many equivalent-output engines. The need for machine integration flexibility at Tier 4 Final is also recognized, with the CPF-SCR aftertreatment system available in multiple configurations, including switchback, horizontal and vertical. Optimization work will continue to refine aftertreatment packaging and evaluate innovative solutions to further enhance installation flexibility.
Cummins Direct Flow air cleaner technology brings a further installation advantage with a smaller profile than typical cylindrical cleaners, together with the benefit of extended service change intervals.