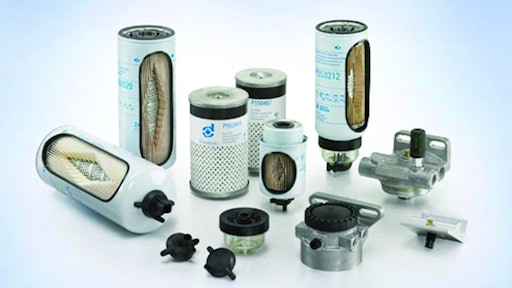 Building upon existing technology, Donaldson Co., a global manufacturer of filtration systems and parts, has enhanced and expanded its product line of fuel filters to help engine systems last longer. The expanded product line now includes replacement filters for off-highway Cummins engines, Racor fuel systems, Stanadyne Fuel Manager FM100 fuel systems and DAVCO Fuel Pro 380/382/482 on-road fuel processors.
"Looking at the product line on a higher level, we were able to see we could offer people additional flexibility," says Brian Tucker, engine liquid product manager at Donaldson. "We took technology we already had and built upon it with additional accessories and components."
Removing unwanted elements
A common problem in fuel and engine systems is the presence of contaminants such as water or particulates. To combat this, many Donaldson fuel filters utilize Synteq media, "a composite media which provides our end users with optimum filtration performance and life," says Tucker. Used in replacement filters such as those for Cummins and Davco, Synteq features a multi-layered composite media of cellulose and synthetic meltblown fibers to separate water and capture large amounts of particulates.
The Synteq media provides high water separation capabilities to keep the fuel system dry. The dual layers are also engineered to capture the finest of particulates, enabling the fuel filters to be used on both the suction and pressure sides of fuel systems. Use of Synteq media in the fuel filters can help lengthen the lifespan of some filters ensuring the filters will meet customers' application requirements.
Water in the system can reduce lubricity, which is necessary for proper operation of the pumps and injectors in the fuel system. Water can also generate wear in the fuel system such as corrosion and rust, further decreasing the lifespan of the system and its components.
To make water removal easy and mess-free, the Twist&Drain valves on many Donaldson fuel filters have a self-venting design that provides a quick, steady stream of water. Larger thumb and finger handles offer an easier grip while twisting the valve, reducing the number of turns necessary for draining.
As part of the enhanced product line, Donaldson offers fuel filters with valves that include a water-in-fuel sensor. "We had a standard valve version for draining water," says Tucker. By adding the sensor, Donaldson made it easier for operators to know when water was present in the fuel system. Many filters, like those for Cummins engines, have the water-in-fuel sensor already integrated into them.
Tier regulations
As many engine systems move toward meeting Tier 4 emission regulations fuel filters have had more demands placed on them. Fuel filters for the latest emission engines need to provide a higher level of filtration performance under increased pressure conditions. "As we've moved into Tier 4 fuel filters have had higher requirements being placed on them," says Tucker.
To meet Tier 4 regulations many OEMs are developing systems that use alternative fuels such as ultra low sulfur diesel and bio-diesels. Increased use of these fuel types has caused a rise in the amount of contaminants found in the fuel, requiring filters to work even harder to keep systems running smoothly. With this need to remove more contaminants in mind, Donaldson's expanded fuel filter line includes high efficiency filters able to remove larger amounts of unwanted materials from the fuel.
Donaldson also offers longer lasting fuel filters, reducing the number of replacement filters customers will have to purchase during the lifespan of the engine.
"We have filter offerings for many pieces of equipment and many different engines in the marketplace," says Tucker. "We have extensive experience understanding those applications, and we've designed a broad family of technologies to meet a wide variety of application requirements."
Companies in this article