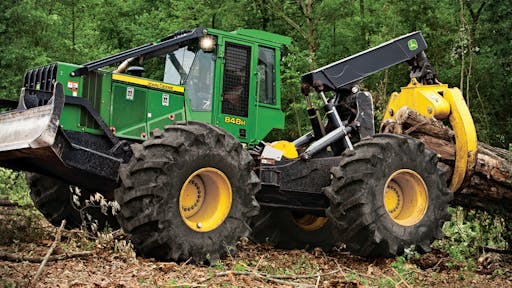 Emissions regulations have been driving product development for many equipment manufacturers, including those in the forestry industry. With Tier 4 Final set to take effect January 2014, NOx (nitrogen oxides) emissions will have to be reduced another 90% over Tier 4 Interim levels.
Designing emissions-compliant forestry equipment is especially challenging, though, because working in the middle of the woods means there is a lot of flammable debris lying around. And because Tier 4 engines tend to generate a lot of heat, the potential for fires is increased.
This is one of the many reasons forestry equipment manufacturers are still determining what technologies they will use to meet emissions regulations. Forestry equipment's use in harsh working conditions poses design challenges, as well.
Nate Clark, Manager of Forestry Tactical Marketing at John Deere Construction and Forestry, Moline, IL, says the company will be announcing its Tier 4 Final technology in the spring of 2012. He says John Deere wants to take the time to ensure the emissions solution it chooses will bring benefits to customers in all market segments, including forestry.
According to Rob Brittain, Product Manager at Link-Belt Excavators, Lexington, KY, many companies have taken exemptions from the Environmental Protection Agency (EPA) to continue offering Tier 3 equipment while determining their Tier 4 Final solutions. He says the three years between Tier 4 Interim and Tier 4 Final doesn't provide much product development time, and using the EPA concessions enables companies to focus their efforts on meeting just one regulation, Tier 4 Final.
EGR or SCR
As a part of Komatsu America Corp., Rolling Meadows, IL, Kurt Moncini, Marketing Director for the Forest Machine Business Department, works with both SCR and EGR. He says what ultimately determines the use of exhaust gas recirculation (EGR) versus selective catalytic reduction (SCR) is the engine Komatsu has chosen to employ and the type of machine on which it will be implemented.
Link-Belt's Brittain says many North American manufacturers originally leaned towards EGR in part because of the infrastructure needed for SCR's diesel emissions fluid (DEF). When SCR was first developed, DEF wasn't as readily available in North America like it was in Europe. Operators couldn't just stop at their local gas station to pick up another 5 gallon jug of DEF, which is typically consumed at a 1:25 ratio to diesel fuel. "If you had a 100 gallon fuel tank on your truck, and you burned through all that fuel, then you'd burn about 3 to 5 gallons of the urea," says Brittain. DEF has since become more readily available in North America, allowing operators to refill DEF tanks while refueling vehicles.
The caustic properties of DEF may also cause hesitation towards SCR, says Brittain. It can cause rust as well as freeze at -11 C, requiring special containers to be added to vehicles which can handle the DEF. Sensors are also needed to ensure the appropriate amount of DEF is being released.
SCR systems have been shown to offer up to 15% better fuel economy because the emissions are treated after combustion. Roland Lundqvist, General Manager of Marketing and Information at Komatsu Forest AB located in Sweden, says with the continuous rise in diesel fuel costs, fuel economy is especially important when choosing which system to utilize.
Engines using SCR offer smaller engine packages, notes Moncini, because they don't require extra cooling packages or diesel particulate filters (DPF) like EGR systems.
With EGR, the risk of fire can be increased due to the system's regeneration process which builds up a large amount of heat, upwards of 900 F, to burn particulate matter off of the DPF. If fine particles such as sawdust or pine needles make their way into the system, the heat created during regeneration could cause the particles to catch on fire.
Brittain says some manufacturers have placed debris screens on their machines to capture fine particles from getting into the emissions system. Other manufacturers have left dead air space around the DPF to help keep it insulated, says Moncini, but this adds to the size of the total engine package.
Tier 4 solutions
Both Brittain and Moncini note that in order to meet Tier 4 Final, hybrid systems containing SCR and EGR technologies could be implemented. "Because of this next big jump in NOx emissions reductions, we may end up with a hybrid that is a bit of each and we may no longer see 100% EGR or 100% SCR," says Moncini.
While many are focusing on Tier 4 Final products, there have been some product launches, such as Komatsu's Tier 4 Interim harvester (search 10633071 at www.oemoffhighway.com), which uses SCR. "We will also have EGR in the woods when we do another product update on a North American crawler track-type vehicle," says Moncini.
Ultimately, the final solution must benefit customers, as well as reduce emissions. "Our customers have told us that the emissions solution we develop for Tier 4 Final has to be durable, with the right payback for them in terms of fuel efficiency, productivity, uptime and low daily operating costs," says John Deere's Clark.