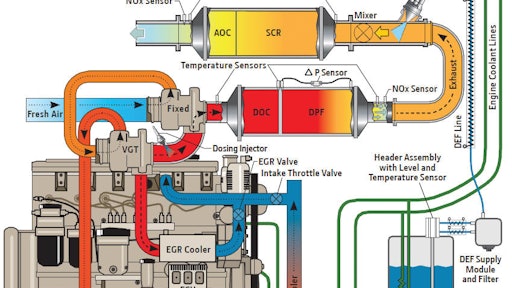 John Deere Power Systems
To meet Tier 4 Final and Stage IV emissions regulations, John Deere, Waterloo, IA, has developed an integrated emissions control system which incorporates cooled exhaust gas recirculation (EGR) and selective catalytic reduction (SCR) technologies.
The integrated emissions control system will typically integrate cooled EGR, a diesel oxidation catalyst (DOC), diesel particulate filter (DPF), SCR system and other emissions control components. Geoff Stigler, Manager of Worldwide Marketing for John Deere Power Systems, says the company chose to use both EGR and SCR because of the fluid economy and performance benefits, as well as emissions reduction capabilities, the combined systems provide. He says that with just SCR, a lot of diesel exhaust fluid (DEF) is used due to the majority of the nitrogen oxides (NOx) being cleaned up in the aftertreatment system. "You're essentially attempting a 95% plus NOx reduction with the SCR catalyst if you don't have cooled EGR," says Stigler. "That requires a high DEF dosing rate." Stigler notes that some Tier 4 Interim (Tier 4I) SCR systems use 6 to 9% DEF compared to fuel burn, and that percentage will increase for Tier 4 Final (Tier 4F).
Using cooled EGR in conjunction with SCR, however, enables John Deere's emissions system to use less DEF and thus improve fluid economy and transient performance. Because NOx is first reduced via the cooled EGR portion of the system, the SCR catalyst has less NOx to clean up in the aftertreatment system. Stigler says the integrated emissions control system will use 1 to 3% DEF. "Our system is optimized to the point where we truly are confident it will use less DEF," says John Piasecki, Director of Marketing, Sales and Customer Support for John Deere Power Systems, "and balances all of the technologies for effective and efficient NOx and particulate control."
Piasecki says the company has followed a building-block strategy by adopting the best available technologies to meet each regulatory tier through Tier 4F. "We all knew where the emissions regulations were going for Tier 4F," he says. "We started with a basic Tier 2 engine platform, and then laid out a long term plan on how we were going to get to Tier 4F over a series of emissions tiers."
With the introduction of each new tier level, he says the company built upon the engine technologies it already had to offer further improvements. Piasecki says adding electronics and cooled EGR with a variable-geometry turbocharger (VGT) to its Tier 2 engine platform, as well as improving combustion and fuel injection, enabled John Deere to create a Tier 3 engine that met emissions regulations while also maintaining performance, durability and power density for customers. For Tier 4I, the company started with its Tier 3 engine and made further combustion and fuel injection improvements. A DPF was added to the cooled EGR and VGT system, which was validated during the previous engine design and thus carried over to the Tier 4I engine. John Deere chose not to use SCR for Tier 4I because the company did not feel the technology was proven for off-highway applications yet, and the infrastructure for DEF was still lacking. "Our plan was to introduce SCR when we needed to introduce it," says Piasecki. "We always knew SCR was a very effective NOx reducing technology, but we always targeted it for Tier 4F," he says.
Again, using a previous tier engine for its base, John Deere added SCR to the cooled EGR and DPF system as well as made combustion and fuel injection changes to create its Tier 4F engine. Stigler says oil level sensors and fuel condition sensors are also being added to the engine, along with a higher pressure fuel system that will provide lower fuel consumption. There will be changes to the cooled EGR system, as well, he says, "that allow us to balance and optimize emissions control and focus on delivering performance to the end user."
Nate Clark, Manager of Forestry Tactical Marketing for John Deere Construction and Forestry, says the company believes it has found a solution that can be used across applications. He says because John Deere has its own engine group which designs for a variety of John Deere equipment, the engineers know features, such as fluid efficiency, are important to all of the industries John Deere serves, and design them accordingly. "When we chose the solutions here we tried to find something that would be in many ways universal and that could be efficiently, safely and effectively used across applications," says Clark.