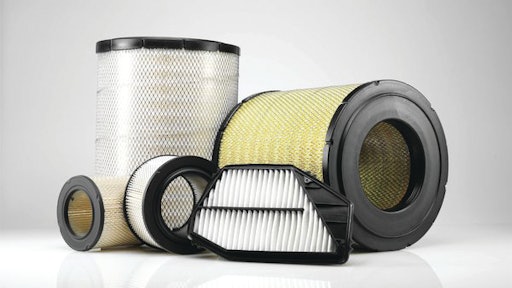 Proper air filtration is an integral part of ensuring proper functionality of a vehicle's engine. Removing particles—dust, dirt, leaves, etc.—from the air which flows through the engine prevents premature wear and fouling of components such as turbo chargers, charged air coolers, cylinder walls, piston rings and bearings, to name a few. Air filter manufacturers continue to research and develop new technologies to increase dirt-holding capacity, particle-removal efficiency, and reduce air flow restriction for improved engine performance.
Most diesel engine manufacturers require air filters to be at least 99.9% efficient at removing particulate, says Jon Wake, Global Business Development Manager for Air and CCV Filtration Systems at Parker Hannifin Corp.'s Racor Division (10055895), Modesto, CA. To determine efficiency, ISO 5011 and SAE J726C state manufacturers measure how much particulate the filter collects (see sidebar, pg. xx).
The type of filtration media used in an air filter is the first step to ensuring an efficient filter design. One method for improving filter efficiency is through the use of nanofiber technology (see sidebar, pg. xx). Nanofiber has an ultra-fine fiber diameter that can be added to filtration media, typically made from paper-like materials, to enhance efficiency of the media while still keeping it open for higher air flow. The fibers used in Baldwin Filters' ProTura nanofiber technology, for example, have an average physical size of 90 nanometers (nm). Utilized in many of the company's heavy-duty air filters (product information, 10826024), the nanofibers enable the filtration media to capture contaminants in the submicron level. "The advantage [of nanofiber technology] is a higher initial efficiency and a lower pressure drop which equates to a more efficient filter and a longer service life," says Rich Palmer, Vice President of Original Equipment Sales at Baldwin Filters (10055073), Kearney, NE.
New filtration media developments have also been brought about by the implementation of Tier 4 engines. Palmer says two of the most significant changes are increased air flow and higher operating temperatures. "For air flow, requirements of most engines have increased significantly, some by 20% or more," he says. Meanwhile, increased underhood temperatures have necessitated the use of new materials for filtration media that can withstand the higher temperatures.
Andrew Shepard, Director of Global Market Management at Hollingsworth & Vose (H&V, 1088376), East Walpole, MA, says the heavy-duty equipment industry has begun adopting some of the European standards for media smolder resistance (SR) and flame retardency (FR) to improve vehicle safety. Shepard notes that not all FR and SR industry additives are the same. It is important to ensure the additives used in the media will continue to function after getting wet, especially for air filters that typically ingest rain or snow. Palmer adds that this type of media is typically found in forklifts operating in warehouses because of the potential backfiring that could occur and cause an air filter element to catch on fire. Underground mining applications benefit from the use of this type of media, as well, when working in hazardous environments where there is the potential for combustion and ignition of gases in an enclosed area.
Pre-cleaners
As an additional means of removing contaminants from air flow, many filters will utilize pre-cleaners. While air filters physically filter and trap incoming contaminants in the air, pre-cleaners separate and eject harmful contaminants from the air using inertial separation. A series of vanes within the pre-cleaner cause the air flow to spin as it passes through the vanes. While the air spins, dust particles and other contaminants are forced to the outer edges of a vane and ejected into the environment. The cleaner air then flows on to the air filter where any remaining particulate will be filtered out. "As a result, pre-cleaners require little to no servicing as they do not collect and store [contaminants]," says Mike Anderson, Product Director in the Air Business Unit at Donaldson Company (1005530), Minneapolis, MN. Typically placed at the beginning of an air induction system, a pre-cleaner can be integrated into an air filter or be a separate component.
According to John Gaither, Director of Heavy-Duty Engineering at Luber-finer (10055740), Albion, IL, pre-cleaners are able to remove the majority of the bigger particles, usually 30 micron or larger, found in the air flow. "In conditions with high airborne dust concentrations a pre-cleaner will remove the most massive particles before they have a chance to build up on the air filter," says Gaither. "Keeping [larger particles] away from the air filter increases service intervals and overall system efficiency."
Pre-cleaners are able to separate and remove 75 to 96% of incoming dust and debris from the air, says Anderson. Because they can remove so much of the initial particulate that can get trapped in airflows, pre-cleaners have been shown to increase filter life up to 20 times. A pre-cleaner's ability to capture higher amounts of large particulate pieces makes it well suited for use in off-highway equipment working in high-dust environments. Anderson adds that the greater a pre-cleaner's efficiency, the smaller an air filter can be, which is especially important for vehicles with space limitations.
Space constraints
One of the biggest challenges for air filter manufacturers is creating a filter which will fit into the ever-tightening space allotments of vehicles. In the past, the air filter was simply mounted to the top of the hood or close to where the engine was located. However, with the more streamlined design of today's vehicles, which provides better visibility for operators, filters are being placed underneath the hood where space is a premium. "It's always a challenge to be able to make an air cleaner smaller yet still accommodate the high air flow rates required by the engines," says Wake.
The implementation of Tier 4 engine systems has reduced available space for air filters due to the larger cooling and exhaust aftertreatment systems the engines require. The ever tightening space constraints within vehicles have prompted air filter manufacturers to focus their research and development efforts on creating technologies which can fit into the smaller machine footprints while still providing the same—if not better—filtration performance. For its PowerCore filtration technology (learn more, 10797425), Donaldson was able to design compact yet efficient air filters which "can reduce the air intake system size by 60%," says Anderson.
Working together upfront with an OEM or engine manufacturer, however, can help overcome these design challenges. Luber-finer's Gaither says early input from an OEM is always beneficial to the design process to ensure filters will meet performance criteria and space requirements. He notes that the company will begin working with powertrain engineers early in the design process, often three to four years out, to determine preliminary performance and dimensional specs for the air filtration system. "However, these nearly always change as available area changes due to conflicts with other components as they fight for space."
Future trends
The use of plastic housings for filters is becoming more prominent within the filtration industry. Both Wake and Anderson say the shift away from metal housings toward plastic ones is due to the weight and cost savings they can provide. However, before deciding whether to use a plastic or metal housing for a filter, the application in which it will be used must be considered. While a plastic housing can offer weight savings, a metal housing can be more beneficial for severe-duty applications where there is a lot of vibration which could affect the performance of the filter if it's not protected by a more durable housing.
Filtration media and how it's packaged will also be a focus for future research and development efforts. Wake says some companies are moving away from traditional pleated filter media packaging—designed to provide more filter media area—to a fluted arrangement. A fluted design looks similar to a honeycomb and allows air to flow straight through the filter from one end to the other. "It's [a] way [to] package the filter media into the housing to optimize the air flow and optimize the collection of dust, and try to reduce the filter restriction itself…in the smallest package possible," says Wake.
Overall, improved efficiency and dirt-holding capacity will continue to be the key drivers for engine air filter design now, and far into the future, to ensure optimal engine and vehicle performance.
Companies in this article