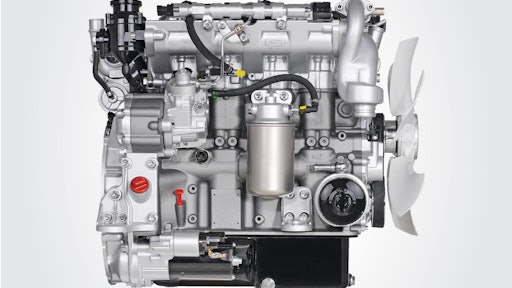 Emissions compliance continues to be a key driver for new engine designs, particularly as Tier 4 Final in the U.S. and Stage IV in the European Union goes into full effect. With the addition of aftertreatment systems and componentry to meet these regulations, the engine package often increases in size which has made integrating them into machinery more challenging for OEMs.
However, as engine manufacturers have been developing new emissions-compliant engines, they have used it as an opportunity to address other features, as well, including package size.
For its new FARMotion engine introduced at EIMA 2014 (learn more, 12021268), SAME DEUTZ-FAHR wanted to create an engine that did more than just meet Tier 4 Final emissions regulations. It was also looking to address the need of the agricultural industry to provide a single engine platform that could be used in tractors ranging from 50 to 100 kW and meet emissions regulations from Tier 1 to Tier 4 Final. "This facilitates a tractor manufacturer to offer the same vehicle platform worldwide, across a wide span of emission regulations, with the same under-bonnet concept and with a high degree of component standardization," says Manlio Mattei, R&D Engine Systems, FARMotion Operations Platform Group Manager, at SAME DEUTZ-FAHR.
SAME DEUTZ-FAHR was able to achieve a more compactly designed engine due in part to its simple exhaust gas aftertreatment system which does not require a diesel particulate filter (DPF). Mattei says innovations regarding valve train and exhaust gas recirculation (EGR) system design also helped the company create a more compact engine.
In addition to its size, the engine's modular design concept also helps ease integration. The engine shares the same vehicle interfaces as its predecessor 1000 Series, a Tier 1 to Tier 3 engine that is currently used in tractors for lesser regulated markets, Mattei says. Having the same interface ensures an easy transition to Tier 4 Final when necessary.
Emissions compliance now, and in the future
Released early last year, Hatz developed its 4H50TIC engine (product information, 11298319) specifically to meet future, as well as current, emissions regulations. Fabian Ottmann, Public Relations and Marketing Manager at Hatz Diesel, says the company chose to develop water-cooled technology for the engine because as emissions regulations become more stringent in the future, it will be difficult to meet compliance levels with the current air-cooled technology.
In addition, Ottmann says the company was looking to develop a groundbreaking engine concept that would set a new benchmark in the up to 56 kW (74 hp) power class. He explains that the company's predecessor 2 to 4 cylinder engines, which were introduced in 1978, were not comparable in weight and size to other engines on the market, and the company wanted to create an engine that could be competitive with others in its power class.
"We wanted to have an engine which is smaller and lighter compared to the engines of our competitors," says Ottmann. To do this the company chose to use a downsizing concept which has made the engine 90 kg lighter compared to competitive engines. Along with the weight savings, the downsizing provides a smaller, easier engine for OEMs to integrate into their machines. "As a positive side effect of the downsizing, a considerable amount of CO2 emissions and energy is already saved due to the fact that fewer raw materials need to be melted, casted and machined," adds Ottmann.
Downsizing, as well as combining a turbocharger with a highly precise injection system, helped eliminate the need for a DPF. In addition, Hatz used an efficient intercooler and optimized the EGR path and mixing nozzle for even distribution of exhaust gas to all four cylinders on the engine. Ottmann says using all of these technologies made it possible to reduce particulate matter to a minimum during the combustion process. They also make it possible for the engine to provide fuel efficiency benefits; Ottmann says the engine has been found to consume no more than 240 gal/kW over a wide load and speed range while consumption at the best point is 210 gal/kW.
For its downsizing and fuel efficiency benefits, the 4H50TIC engine has been nominated for a 2015 GreenTec Award in Europe (learn more, 12020954). It is currently among the top three finalists for the award, with the winner being announced in May.
Using technology only when it's needed
Designed for compact equipment, Perkins' 404F-E22TA (product information, 12027880) features a high pressure common rail system to meet Tier 4 Final emissions regulations. Oliver Lythgoe, Marketing Manager at Perkins Engines Co. Ltd., says this is the first time the company has used the common rail technology for an engine of this size because it was not necessary to meet previous emissions levels. Perkins has used the technology on a number of larger engine models, and thus is already experienced in how to use and apply it, which Lythgoe says is important to ensure performance and durability. "It's not the ingredients that matter, it's how you mix the recipe," he says.
While beneficial for emissions compliance, the common rail system also helps users get the best performance out of the engine. "When installed in a machine, we've seen up to a 20% fuel consumption improvement over the current model," explains David Kidder, 400 Series Product Manager at Perkins Engines Co. Ltd. Additionally, he says the common rail system enabled Perkins to simplify the aftertreatment system so only a diesel oxidation catalyst (DOC) is used and the need for a particulate filter requiring regular servicing is eliminated. "This is particularly important for compact equipment," says Kidder.
Removing the particulate filter makes the engine much more compact in size, and therefore easier to integrate into machinery. The smaller package size enables machine designs with good sightlines for safety and tight turning capabilities. And despite its smaller size, Kidder says the engine is capable of providing a power rating up to 50 kW.
Integration is also aided by the fact that the engine has the same connection points as engines for the rest of the world. "Our customers can have one machine design even though it has a different engine in it for the different territories," says Kidder.
Perkins will manufacture the 404F-E22TA at its facility in Griffin, GA. Kidder says the company's strategy is to build where its customers are located, providing customers with the advantage of shorter logistics routes and a more stable currency base for purchasing which they might not get if the engine were built elsewhere.
Currently, North America is the key market for the engine due to the emissions requirements it is designed to meet. Lythgoe says that while Europe's regulations are similar, the power range in which the emissions reduction technology is needed is much narrower—50 to 75 hp in Europe compared to 25 to 75 hp in the U.S. He says more markets for the engine, including Europe and China, will emerge within the next 5 to 10 years as they near the same emissions levels as the U.S. "But right now America is really important for us."
Companies in this article