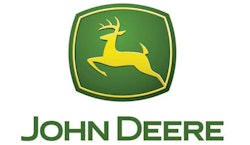 The John Deere 550K, 650K and 700K Crawler Dozers not only meet Tier 4 Final emissions standards, but also incorporate value-enhancing features such as Eco mode and an updated electro-hydraulic (EH) control system. The K-Series dozers provide contractors a Tier 4 Final product that affords higher productivity, increased uptime and lower daily operating costs in earth moving and grading applications.
"The 550K, 650K and 700K crawlers are built on the success of the K-Series lineup and boast many new updated features like their 850K and 1050K cousins," says Mark Oliver, Crawler Dozers Product Marketing Manager, John Deere Construction & Forestry. "In addition to engine updates, John Deere added some new features customers will appreciate, including the electro-hydraulic system, Eco mode, blade shake, push button throttle and courtesy lighting."
The 550K and 650K incorporate a PowerTech 4.5L Tier 4 Final diesel engine with 92 and 104 hp respectively. The 700K boasts a PowerTech 6.8L Tier 4 Final diesel engine with 130 hp, a 5 hp increase over its Tier 4 Interim predecessor.
All three models incorporate John Deere's new Eco Mode feature that optimizes fuel economy while maintaining ground speed by automatically adjusting engine speed and transmission settings based on load. This new feature has the potential to save customers upwards of 20% in fuel with no loss in productivity in many applications. A new push button throttle controls engine RPM, as opposed to a rotary dial. Speed increase and decrease buttons will cause engine RPM to either go to wide open throttle or to low idle. Pushing and holding the button will allow the operator to find the desired speed range.
Operators don't have to worry about diesel particulate filter (DPF) cleaning as it still occurs automatically with no impact to machine operation. Extensive testing allowed John Deere's DPF to go up to 15,000 hours before ash removal. Additionally, all models feature excellent total fluid economy (diesel fuel and DEF).
The new crawler models continue to utilize hydrostatic transmissions, a feature John Deere pioneered in crawler dozers in North America in 1976. Updates were made to the electronic control system for improved response and controllability, increasing productivity and enhancing the operator experience. The motors were also upgraded from a two-speed design to a variable displacement design to optimize pushing power and drawbar pull.
Machine hydraulics were updated for improved performance and response, and offer new features when optional electro-hydraulic controls are ordered. A larger hydraulic pump is now available as standard equipment with the 550K and 650K for both mechanical controls and the updated electro-hydraulic system. The EH system on the 550K, 650K as well as the 700K is more responsive to operator inputs and the machine will significantly grade better when equipped with a grade control system.
The new blade shake feature with EH controls helps make every operator more productive. At the push of a button, blade shake causes the blade to shake in a quick, repeated motion that helps shed material from the blade. This is particularly useful in sticky soil conditions where the operator would otherwise have to repeatedly manually shake the blade to clean it.
When the dozers are ordered with the new electro-hydraulic controls, they are grade control ready to accept the system of the customer's choice. John Deere's "open-architecture" design lets customers easily employ their favorite brand of grade-control system – Trimble, Topcon, or Leica. For Topcon customers, all models can be factory-installed with a Topcon 3D-MC2 grade control system for faster availability and the ability to finance the system with the dozer purchaser.
The 700K has two additional blade size options that were previously not available to help match machine performance and increase productivity in grading/spreading applications. A new 126-inch blade is available in addition to the 120-inch blade on an XLT frame and a new 144-inch blade is available along with a 132-inch blade on an LGP frame.
To keep operators up and running, the 700K comes equipped with John Deere's exclusive V-Cool package. This system incorporates a cool-on-demand hydraulically driven fan that isolates coolers from dust and engine heat for increased efficiency and durability. An automatic hydraulic reversing fan is optional for all models. A ground level courtesy lighting switch was added near the battery disconnect switch in the left rear service door and provides light for safe machine entry and egress.
Operators looking to get the most out of their 550K/650K/700K can rely on Ultimate Uptime featuring John Deere WorkSight. With Ultimate Uptime, operators receive pre-delivery and follow-up inspections; three years of JD Link telematics, machine heath prognostics and remote diagnostics and programming capability; and the ability to add additional dealer-provided uptime solutions to customize the package to individual needs.