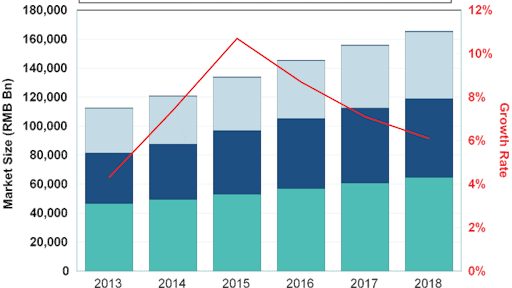 Over the last few years, the growth of China's industrial diesel engines market (which covers diesel engines for engineering machinery like construction, mining, and oil and gas equipment; marine; gensets; and downhole engines) has experienced a marked decline. According to a recent report from GCiS China Strategic Research, overall market growth was just 4.3% in 2013 to RMB 112.7 billion (USD 18 billion). Industry insiders report that the recent slow growth is largely a result of difficulties in the shipbuilding and construction sectors, although none of the key end user industries are experiencing impressive growth from a target product sales standpoint.
Growth rates are not expected to rise dramatically in the foreseeable future, and while overall growth is expected to level off after peaking in late 2015, growth is expected to remain at a higher equilibrium than 2013 levels. This trend will largely be shaped by the shipbuilding industry, which is expected to make a brief resurgence, as well as sluggish but steady development across the majority of end user industries.
The market by product type
Within the engineering machinery product segment market, foreign suppliers such as Caterpillar and Cummins account for two thirds of revenue, despite selling a total of 400,000 fewer units. Engines within engineering machineries are primarily used within the construction sector, although mining and oil and gas companies also rely on them for new project development. As a result of the slowdown within the construction and mining sectors, sales of engineering machinery diesel engines will take a smaller portion of total industrial diesel engine sales, but will remain the largest product segment within the market throughout the 2014-18 period.
While engineering machinery will continue to be the dominant demand for diesel engines in terms of value, the marine diesel engine market will see the strongest growth within the market over the 2014-18 period. This is due to the sudden influx of new purchase orders within this segment, particularly for transport vessels, followed by engineering vessels, oil and gas development vessels, and offshore drilling platforms. Similar to the engineering machinery product segment, multinational corporation (MNC) products are more highly regarded within this segment, and current growth figures show that overall foreign companies are growing twice as fast as their domestic counterparts. Main participants in this market, such as Wartsila and MAN, primarily offer more powerful low speed marine engines, serving as the ship's primary engine. Foreign suppliers participate in this market in a variety ways, including through local manufacturing, imports, licensing their technology to local companies or entering into joint partnerships with domestic companies. Diesel engines as auxiliary power generator sources account for the remaining 25% of revenue within the shipbuilding sector.
Diesel engines used in land-based generator sets are usually used as backup power sources, primarily for industries which require a steady supply of power, as well as institutions which require reliable backup power. The size of this market is much smaller compared with the previous two segments and is shared by both MNC and domestic suppliers. Sales of land-based generator sets are expected to grow slightly better relative to the overall market due to the fact that there are currently few alternatives for alternative power sources which can match the durability and fuel efficiency of diesel generator sets in China.
Tepid growth in the largest end-user industries
While China's power and petrochemicals sectors have experienced healthy growth over the past several years and are not expected to slow down, these two industries account for only 15% of total diesel engine sales in China, and larger industries such as shipbuilding, construction and mining are experiencing much slower growth.
In terms of construction, housing construction projects—particularly residential complexes—have already slowed down significantly in most cities in recent years, which has had a magnified effect on demand of engineering machinery. Although there is still a significant level of investment for real estate projects (with overall investment growth as high as 18 to 20% in 2013 according to different sources) this does not translate over directly to sales of new diesel-powered construction machinery since much of this investment is for ongoing projects, and the number of new construction projects actually contracted in 2014.
Similarly, sales to the mining sector are also expected to be fairly modest. China has shut down over 300 million tons of old coal capacity over the past decade, and while fixed asset investment in non-coal mining enterprises is significantly higher than that of coal-mining operations—with investment in non-metal mining leading the way in the first half of 2014 at a 13% YoY increase—open pit mining practices, which require less downhole equipment, are more widespread within this area. Sales of engineering diesel engines to mining equipment OEMs and diesel generators for on-site use will continue to plod along, but in large part the widespread mine closures mean that existing equipment will be freed up and transferred to new sites, which undermines diesel engine sales growth.
Growth will be led by shipbuilding, followed by oil & gas and industrial power
For many years, the most important market for industrial diesel engines in China has undeniably been the shipping industry. Sales within this industry consist mainly of marine diesel engines but also a significant number of diesel generator sets which accounted for over RMB 47 billion in revenues in 2013. Although the shipbuilding sector has recently seen a steep decline in China and globally, adversely affecting this market to a deeper extent than any other end user segment, recovering growth within this industry will be the primary driver behind the gradual rebound in industrial diesel engine sales. Still, although this industry is expected to have a strong positive effect on target product sales, the industry recovery will be short-lived, and market saturation and government-mandated consolidation will bring shipbuilding capacity to a new low after the next 1 to 2 years.
Industry observers blame the situation on an overcapacity in the global shipping fleet, a condition which traces its origin back to the 2008 financial crisis. The length of time it takes to construct a large oceangoing vessel means that there is a lag between changing industrial output and the production of new ships. Furthermore, in an attempt to crack down on overcapacity-plagued heavy industries such as shipbuilding, a change in Chinese lending policies towards shipyards has also had an effect, and loans are now more difficult to obtain, which has hit small- to medium-sized shipyards the hardest.
Still, new ship orders have increased significantly since early 2013. According to China's Association of the National Shipbuilding Industry, total orders on hand increased to 131 million dwt by the end of December 2013, a 22.5% increase compared with a year ago. This growth has continued through most of 2014, and between January and November of 2014 orders on hand have already increased 27% compared with same period last year. However, GCiS expects that there will be a marked slowdown in demand coming from this end user industry. With global shipping overcapacity and weak global shipping demand, continuous growth of over 20% seems very unlikely. These factors will obviously have a very clear effect on demands for primary power marine diesel engines, as well as marine-based diesel generators.
While significantly smaller than the marine industry within this market, the oil and gas, petrochemicals and power sectors are currently experiencing the highest levels of growth and are fueled by stable domestic demand and government sponsorship. With the International Energy Agency predicting that China's gas demand will quadruple by 2035, there is an enormous financial incentive to find an economical way of tapping into and processing China's enormous shale gas reserve. This will require expanded extraction operations, as well as a concentrated effort to modernize existing facilities, many of which have been operating for half a century.
In terms of China's power industry, most of the development within this sector has been and will continue to be infrastructure-centered, and the ambitious timeline of these power infrastructure projects necessitates the purchase of new construction machinery and equipment. What we can expect to see is a focus on renewable energy and creation of more efficient power transmission networks, and a continuing reliance on emergency power sources and off-grid generating sets to mitigate power flux and localized shortages in the absence of a unified grid.
In sum, as the decade draws to a close, growth within the market is expected to slow down in tandem with China's deliberate economic cooldown, following a growth rate spike over the next year. However, the projected 2018 equilibrium growth rate is expected to be higher than overall GDP growth as well as target market growth rates over the past few years. Given cheap diesel fuel costs and diesel engines' robust and fuel efficient nature, even with a high degree of downstream industry consolidation, this industry is unlikely to be negatively disrupted within the near future.
About GCiS China Strategic Research
GCiS is a China-based market research and advisory firm focused on business to business markets. Since 1997, GCiS has been working with leading multinationals in sectors including industrial products, chemicals, resources, building and constructions and a few others. This article is based on a recent research report that GCiS published on China's Industrial Diesel Engine Market in 2014.
For more information, email: [email protected] or visit www.GCiS.com.cn