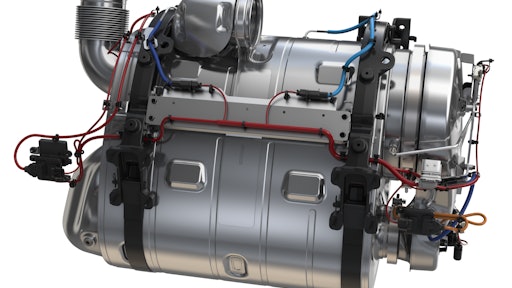 Since the initial implementation of emissions regulations over 10 years ago, equipment manufacturers have been challenged with integrating large aftertreatment systems into often space-constrained engine compartments. As the emissions technology has evolved, however, so has its size. Within the past year, several companies have introduced smaller, single unit systems to help reduce space claims while still meeting emissions regulations. 
Cummins' Single Module aftertreatment system, for instance, features up to a 30% reduction in weight and up to 50% reduction in size. When paired with the company's new 2017 X Series engines, space claim is reduced 60% and weight 40%. "We heard clearly from our customers that they wanted a smaller, lighter and more reliable aftertreatment system," says Simon Guest, Marketing and Product Leader at Cummins Emission Solutions. "From the beginning, the focus of the Single Module was to address those voices from the customer."
Smaller, more efficient systems  
The Single Module system has a single cylinder design which Guest says was achieved through the implementation of new substrate and catalyst technologies, as well as use of the company's UL2 Urea Dosing System and an optimized urea mixing chamber. "We also spent a significant amount of time on the system packaging in areas such as the inlet, with the DOC now being housed in the inlet, and outlet in order to keep the system as small as possible," he says.
In addition to helping reduce overall system package size, the optimized urea mixing chamber also reduces the risk of urea deposits occurring throughout the system. This is achieved in part through improved thermal management.  
Further benefits were achieved by redesigning the way exhaust flows through the system. Whereas many aftertreatment systems require exhaust to travel in several directions, Guest says Cummins' Single Module uses a straight flow-through design that does not require any change in direction and simplifies airflow for improved efficiency.
Scott Barraclough, Mack Trucks Technology Product Manager, says the use of sophisticated design software enabled the company's engineers to design its Mack ClearTech One aftertreatment system. "We did a lot of work with the internal exhaust stream flow using CFD (computational fluid dynamics) so that we had smooth flow and excellent mixing of DEF in the exhaust stream," he explains. "All of this helps to keep regens to a minimum, as well as addresses issues like crystallization of DEF in the unit." 
The system combines all of the components from Mack's two-unit exhaust aftertreatment system—diesel particulate filter (DPF), selective catalyitic reduction (SCR) and diesel exhaust fluid (DEF) dosing system—into a single unit. Mack ClearTech One is 15 lbs. (6.80 kg) lighter than the two-unit system and provides up to 11 in. (27.94 cm) of additional frame rail space.
"Development of Mack's ClearTech One single-unit exhaust aftertreatment system focused on four goals: improving efficiency, reducing weight, improving chassis packaging and simplifying serviceability," says Barraclough.
Besides the packaging benefits, the system's design also enables improved heat management for better overall system performance. Mack ClearTech One uses heat from the internal exhaust stream to keep the DPF unit hot, helping with the unit's slow speed and low temperature performance. "We are actually recovering some energy from what would have been wasted heat," says Barraclough.
The company says Mack ClearTech One is optimized for passive regeneration and SCR performance. The SCR catalyst is mounted downstream of the DPF, preventing hydrocarbon, ash or soot from entering the system. There is also no need for a second Diesel Oxidation Catalyst (DOC) to be located before the SCR system. This is all possible through the combination of software calibrations and Mack's integrated powertrain platform combined with the use of waste exhaust flow heat, says Barraclough.
Additionally, Mack chose to use a copper-zeolite substrate on the SCR catalyst instead of the iron-zeolite used previously because it performs better in low temperatures. "This provides better emission performance as the unit ages and at low temperatures," he says. "When we put it all together as a system in ClearTech One – the coatings, the flow characteristics, the heat management and the control software – they all work together for the best possible performance."  
Mack ClearTech One will be used in most of the company's conventional trucks, while the two-unit system will still be used in certain applications such as those with tandem steering.
For off-highway applications, Guest says the Cummins Single Module is currently geared toward use with light- and medium-duty engines, and has potential for use with heavier duty engines as well. The system is available in various sizes with options for different inlet and outlet configurations to meet varying customer needs, and meets all current emissions regulations, including the recently finalized Stage V emissions standard. 
Read more about these and other recently introduced single-unit aftertreatment systems.
Cummins introduces EcoFit Single Stage aftertreatment system at INTERMAT 2015
Cummins Single Module Meets Stage V Regulations in Midrange Engines
Mack Trucks Introduces Single Unit ClearTech One Exhaust Aftertreatment System
Volvo Trucks to Now Offer One-Box Exhaust Aftertreatment System
Liebherr introduces SCRFilter technology to meet impending Stage V regulations
Companies in this article