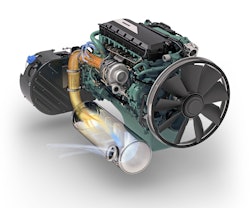 Volvo Penta
Find the reasons why organizations should consider Volvo Penta's trusted Tier 4 Final solution for power generation.
Background on Tier 4 Final EPA Emission Regulations for Power Generation Stationary diesel engines are used by a variety of facilities. These include data centers, hospitals, retailers and more. These generators can protect crucial operations during power outages.
The need for Tier 4 Final
The reasons for selecting a Tier 4 Final engine for power generation extend beyond just the regulatory requirements. Users will see a significant impact on their bottom line with enhanced productivity and uptime and lowered maintenance costs. Volvo Penta customer PowerSecure recently published a report about the power of EPA Tier 4 stationary engines. It cites that "a scalable generator keeps capital requirements low, provides room for future growth and ensures a reliable and easily maintainable system."
The technology of choice behind Volvo Penta's Tier 4 Final solution for diesel engines is Selective Catalytic Reduction (SCR). This technology has been thoroughly proven in other diesel applications from across Volvo Group. Volvo Penta opted to keep the solution simple with only two parts instead of complex installations. Those parts are SCR and light EGR.
Overhead Reduction
The catalytic converter is designed to last the life of the engine with SCR. This reduces costs for maintenance and downtime. Volvo Penta's Tier 4 Final solution offers unsurpassed fuel efficiency. The rigorously tested engine system meets both the demanding Tier 4 Final environmental emission reduction requirements through use of proven, smart technology. It also improves fuel efficiency by up to 5%.
In addition, the need for large, expensive and high-maintenance diesel particulate filters (DPF) and diesel oxidation catalyst (DOC) subsystems are eliminated. This removes the lengthy process of regeneration.
Powerful Performance
One benefit of stationary Tier 4 Final engines is the ability to quickly attain full horsepower. Diesel engines rotating mass and power output deliver the ability to handle loads faster than natural gas engines. They can provide full power within 7 to 8 seconds. Those precious seconds can help prevent voltage drop and other issues that could severely damage mission critical operations.
Volvo Penta designed its Tier 4 Final power generation solution for maximized power output. The combination of the Volvo Advanced Combustion Technology and the SCR system turns more fuel energy into mechanical power. This leads to less heat rejection which ultimately means that the power output can be maximized for any given engine displacement. The end result is smaller engine sizes, lowered costs and simpler installation.
Why you should consider Volvo Penta's diesel engine solution for power generation
Volvo Penta offers power generation solutions for both prime power and standby power. The company's genset engines are constructed to fit a wide range of power generation setups.
The systems are designed for the most demanding needs thinkable. The company's main focus is to keep your business running at full capacity. We strive to ensure versatility and reliability in our genset engines, maximizing uptime and reliability.
In addition to all of the technology benefits mentioned above, it's important to note that Volvo Penta is an independent supplier of diesel engines. The company is not in the business of building gensets. This means the company does not compete with its partners who are selling gensets to the market. We focus optimizing functionality of the diesel engines so that partners can focus on their own bottom line