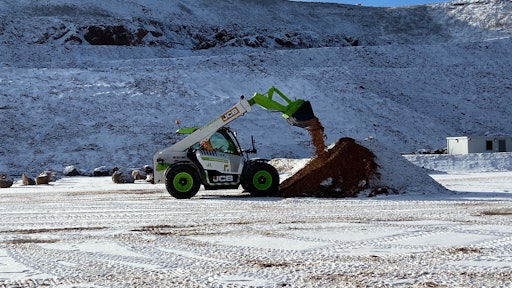 Many manufacturers have decided that their journeys to zero emission off-highway equipment will require multiple power sources. Fossil fuels are not the future. For assets with sizes and requirements that work well with electric power, battery-electric is the solution. However, the materials required to manufacture batteries are not readily available and access may become an issue.
Others have begun with renewable biofuels for larger, more power-consuming assets. However, while biofuels produce lower carbon and other emissions than diesel, they do not drive equipment to the magic number zero. So, what are manufacturers to do? The team at JCB believe they have the solution: An engine designed and optimized to combust hydrogen, which we learned about and got to see at the end of the tours.
The Journey and Tours in England
During three chilly days in January, the JCB North America team brought media members to their North England manufacturing and test facilities. We toured the museum at the main headquarters, which presented a full history of the JCB brand and growth since its beginnings 75 years ago.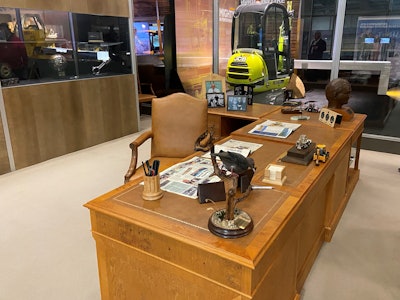 The family and leadership team were on display in pictures, including Joseph Cyril Bamford's private office, which is typically closed during museum visits. We were honored to be allowed inside. In addition, we saw several historic pieces of equipment, including the backhoe loader and a backhoe loader drivetrain.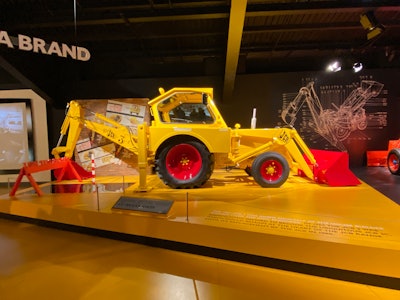 As we moved to the next stop, we began the journey to zero emissions.
Battery-Electric Equipment
At Kevin Quarry, the team presented their 100% electric, zero emission equipment that operates on batteries and was launched in 2019. During the presentation, we saw the:
19C-1E Electric Compact Excavator
505-20E Telehandler
66-40E Electric Teletruk/Forklift
HTD-5E Electric Dumpster
Each asset's compact design allows it to operate well in small or tight spaces, including indoors. Its smaller footprint is also what allows the equipment to be powered by a lithium-ion battery that requires no maintenance. All these machines' batteries can use the JCB Universal Fast Charger which decreases the different machine charging times to around 1 hour and 40 minutes (charging can take more or less time depending on the piece of equipment).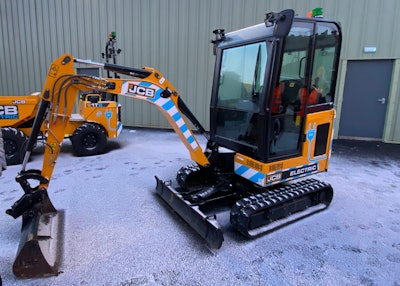 While these machines provide adequate work using electric power, larger machines for JCB's end users will not have the needed performance using electricity. The team had already decreased carbon dioxide of their diesel engines by 50% from 2010 to 2020. What needed to be the next step on the road to zero?
Fuel-Cell Hydrogen Excavator
The JCB team decided on an excavator because it has high energy demand and is required to work many hours. To operate these machines using battery power, end users would need to produce huge amounts of power with diesel generators, defeating the benefit of the zero-emission electricity. They considered all future fuels—including E-fuels, ammonia and hydrogen—and decided hydrogen was their fuel. It is plentiful, has three times more energy than diesel and can be transported as a gas under high pressure or liquified in refrigerated trucks.
The JCB designed, built and tested a fuel-cell powered excavator. Prototype I was a 30-kilowatt-hour (kWh) fuel cell. Then they built Prototype II, a 20-ton, 70-kWh fuel cell. The architecture included:
Fuel Cell
Large cooling pack (much larger and more complicated because the coils are tiny and can be blocked by dust and other particulates from the environment)
Hydrogen tanks
DC-DC converter
Power electronics
Power batteries (one battery pack; starts on the battery then the fuel cell recharges the battery)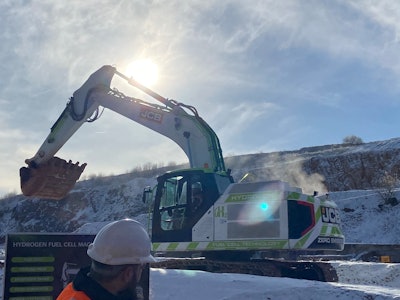 After testing, the team decided that the fuel cell prototype was too complicated, not robust and too expensive. It would work more effectively in smaller vehicles. Even though this technology wasn't chosen, the team still has the 20-ton, fuel-cell excavator operating at Wardlow Quarry in England.
The Hydrogen-Combustion Engine
In 2020 and after the decision regarding the fuel cell technology, Chairman Lord Anthony Bamford challenged the JCB engineering team to decide what they would do to get to zero emission technology. Electric power for smaller equipment was decided. However, larger equipment needed a different direction. They needed a different hydrogen solution. Lord Bamford challenged the team to produce a hydrogen-combustion engine by the end of 2020.
The four major challenges to designing specifically for hydrogen combustion were:
Hydrogen and air mixing—Using a gas as fuel required a uniform mixing of fuel and air.
Air compression—Forcing the air into the mixing/combustion chamber or cylinder required a turbocharger.
Spark ignition—Better sparkplugs were necessary.
Steam management—Since the only emission from the hydrogen combustion was steam, corrosion could occur.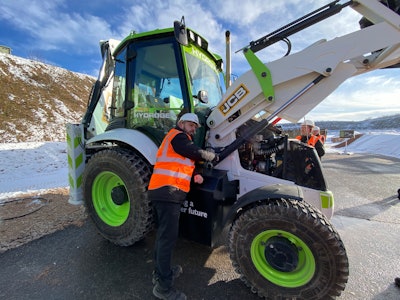 While these were the major challenges, Tom Beamish, principal engineer, JCB, discussed that this engine is not a conversion. The engine was designed from the ground up to be optimized for hydrogen combustion. While it's not rocket science, it uses the same fuel and similar combustion principles as NASA … so maybe it does use a little rocket science.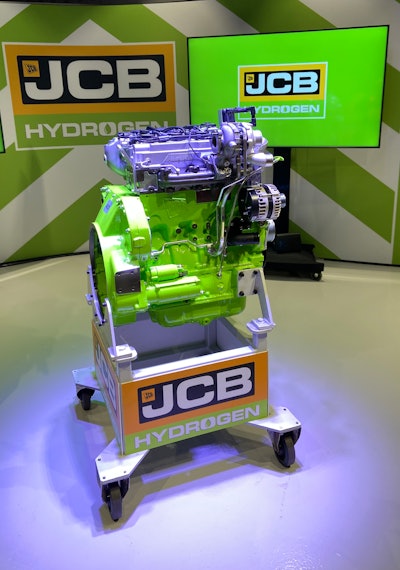 In addition to the four major challenges already mentioned, Beamish mentioned several other engineering factors that had to be overcome:
All materials that contacted hydrogen had to be carefully examined.
A whole new control system for the engine was used.
The spark system is new.
At Wardlow Quarry, we also saw the hydrogen-combustion load all machine in action. The architecture of this machine includes:
Hydrogen tanks
A refueling point
The hydrogen engine
We also got up close to the refueling capability from a portable tank already planned for end users. Refueling seems as simple as adding gasoline or diesel to current equipment.
This hydrogen-combustion engine will make its North American debut during CONEXPO at booth, South Hall, Booth S83751.