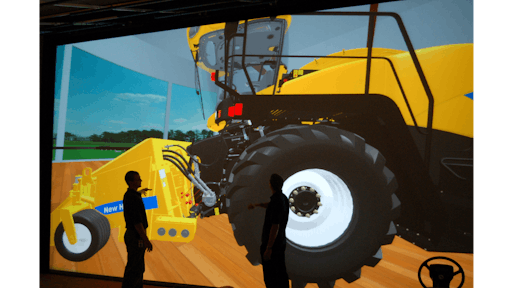 In 2015, New Holland is celebrating 120 years of business in the agricultural and construction equipment markets. As part of its recognition of this milestone, the company has been looking not only at past accomplishments which brought it to where it is today but also how it can advance into the future.
During its recent media event, the company provided a glimpse into the various technologies it will be bringing to market for its model year 2016 machines, many of which have been updated with Tier 4 Final (T4F) engine and aftertreatment systems. With the new T4F technologies there have been improvements in performance and efficiency in addition to emissions reduction. New Holland's TS6 tractor released earlier this year, for example, is capable of offering peak torque increases up to 4.7% due to the use of engines with four valves per cylinder which enable torque to be generated quickly and held longer.
Read about more of New Holland's newest T4F product launches:
New Holland introduces 200 Series skid steers with Tier 4 Final engines
New Holland C Series loaders include Auto Glide Ride control for ease of operation and productivity improvements
New Holland WORKMASTER tractors include new styling and Tier 4 Final engines
Creating a more efficient operator
Beyond emissions compliance, helping improve operator productivity and efficiency is a key part of the updates New Holland has made to its newest machines. As part of this improvements to the operator environment are among the new features of the equipment. The new CX8 Series combines now includes the Harvest Suite Ultra Cab which features more space (increased to 130.5 ft.3) and a quieter working environment for operators. Ergonomic layout of key harvesting controls ensures continued comfort and productivity for operators.
Additionally important to the improved efficiency is the technology advancements New Holland is making on its new machines. The CX8 Series, for example, includes the company's Opti-Clean system designed for improved grain cleanliness, particularly for smaller grains. The system improves cleaning performance by up to 20% by optimizing the sieve stroke and throwing angles together with maximized cascade capacity.
In the new BigBaler Series Large Square Balers, the company is including its IntelliCruise Feed Rate Control System which communicates with the new forthcoming T7 tractor via ISOBUS Class III technology. According to Kurt Hoffman of New Holland, IntelliCruise acts similarly to cruise control in one's personal car by maintaining ground speed of the tractor in order to help operators achieve a constant feed rate while baling. The baler adjusts tractor speed based on thickness of the crop swaths it drives over to ensure operators consistently work at the capacity specified—for thinner swaths the baler signals the tractor's transmission to speed up and conversely tells it to slow down for thicker swaths. With these capabilities, Hoffman notes that even an inexperienced operator can get about the same efficiency as an experienced one.
Read more about the new BigBaler and other Model 2016 advancements for hay and forage equipment.
For the system to work, both the tractor and implement need to have ISOBUS Class III technology; when released, the new T7 tractors will include this technology. Hoffman says operators can upgrade their ISOBUS Class II tractors in order to get the automation capabilities included with the Class III capable baler. The key difference between the two classes of ISOBUS is that Class III now enables two-way communication, whereas Class II really only enabled the tractor to tell the implement what to do. With the two-way communication Class III enables, Hoffman says there are increased automation possibilities.
Enabling innovation in-house
To achieve its many technology goals for the future, New Holland relies on the talent within its Innovation Group to investigate the next wave of advancements. Technologies such as the new IntelliCruise capability on the BigBaler Series and ABS on the T7 tractors are among those which have sprouted from the group. Work in next generation vehicles using alternative fuels and autonomous operation are also among the technologies being investigated by the group.
Aiding the group in its endeavors, and the company in general, is the Engineering Product Development Center located at New Holland's headquarters in New Holland, PA. The center includes on-site testing via test machinery—including full vehicle test cells and a cold room capable of reaching -10 F and up to 80 or 90 F—a test track and a company farm with 120 tillable acres for functional testing. There is also an in-house prototype shop, the largest in the CNH Industrial group, enabling quick part production so the engineering teams can test and validate their designs. The shop makes 30,000 prototypes in a year and is composed of employees who have gone through over 8,000 hours of training, much of it on their own time, to ensure a highly skilled workforce.
The Engineering Product Development Center also makes use of 3D printing with a selective laser sintering machine. It makes what functional prototypes it can with the technology, as well as cutaway models and some tooling for foundries to aid in the creation of prototypes.
Simulation work is a large part of the center's capabilities. David DeChristopher, who works in the development center, says the advancements in simulation technology over the years has enabled the company to reduce the amount of prototypes it makes during the development process. At this point the majority of the work is completed within simulation software and the first round prototype is typically worked out enough that it will work as it should.
Part of the company's simulation capabilities is a virtual reality room it uses to visualize component, system and vehicle designs. The virtual reality technology allows CAD models to be displayed onto a large screen in the room; when wearing special 3D glasses or a virtual reality helmet, viewers can literally step into their designs to see various facets and viewpoints—such as from the seat of the operator cab—to ensure the accuracy of their designs.
DeChristopher says use of such technology is particularly beneficial for a global company like New Holland because it allows for easier collaboration with engineering teams in other locations around the globe. It provides an interactive way for the teams to work together on a project without having to be in the same location. Each team can be in its virtual reality room looking at the same design, same angles and speaking to each other about the model on display.
Learn more about this type of virtual reality technology and its potential use for testing, as well as design, in the article A case for broadening the use of virtual testing.
As New Holland—and other OEMs like it— look forward to the next 120 years of equipment design, technology will clearly continue to play a key role both within the machines themselves and in the development process.
Companies in this article