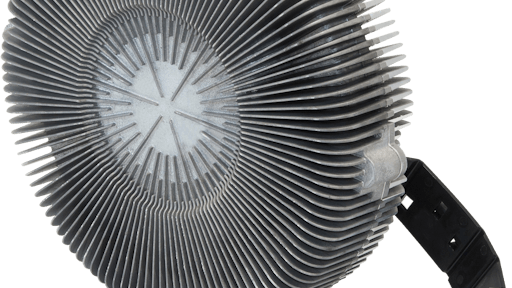 Horton will be showcasing its new LCX Series Fan Drives and HM1400 Fan in Booth 245, Hall A4, at bauma. These innovative new products are part of a larger product portfolio designed to help European off-road customers meet increasingly stringent Stage V emissions regulations.
The LCX Series is based on Horton's proven variable-speed design which rotates the fan at a wider range of speeds to match engine cooling demands more precisely. Additionally, the LCX Series features Horton's proprietary Cold-Start Disengagement (CSD) which disengages the drive much quicker than the closest competitor for faster cab warm-up, making it ideal for construction equipment operating in cold weather. Variable-speed operation, combined with CSD reduces fuel consumption (and thereby reduces emissions), decreases noise and minimizes parasitic draw on the engine for increased working horsepower.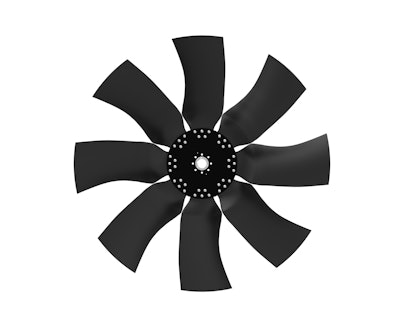 The new Horton HM1400 Fan features a computer-optimized blade design, capable of moving more air with less parasitic draw on the engine than conventional fans. It is available in a variety of blade counts and center-disk diameters and allows virtually any pilot or bolt circle. When combined with LCX Series Fan Drives, these light weight fans can help off-road customers meet Stage 5 emissions requirements.
Horton will also be featuring its robust, heavy-duty RCV1000 and RCV2000 Variable-Speed Drives. Both deliver reduced fuel consumption and emissions, in addition to decreased noise and parasitic engine burden associated with variable operation. Yet, the RCV1000 and RCV2000 were specifically designed for mining haul trucks and related heavy-duty, off-road equipment, wherein high torque levels are required to turn large cooling fans up to 96 inches. Similarly, the HTEC Fan Series was also designed for rigorous off-highway applications and is increasingly more common on mining haul trucks. Molded, thermoset properties allow efficient blade designs and minimum blade deflection for maximum efficiency. It has a higher strength-to-weight ratio than nylon, steel or aluminum but is ideal for harsh conditions where corrosion resistance and anti-spark properties are beneficial.
The RCV250 Variable-Speed Drive will also be shown in the Horton exhibit. The RCV250 is a compact fan drive, suitable for turning fans up to 43 in. It is maintenance-free with no friction liners or wear parts to replace and features Horton's industry-leading, double-row, angular-contact (DRAC) bearing for long life. The variable operation and unique design combine to maximize efficiency, reduce emissions, decrease noise and enhance available engine horsepower.
"These new best-in-class products provide Horton with a meaningful competitive advantage in the market and continue its tradition of innovation," says Manish Virmani, VP Global Market Development at Horton. "Further, they will help our customers meet the escalating requirements and challenges presented by Stage 5 emissions standards for medium- and heavy-duty off-road vehicles."