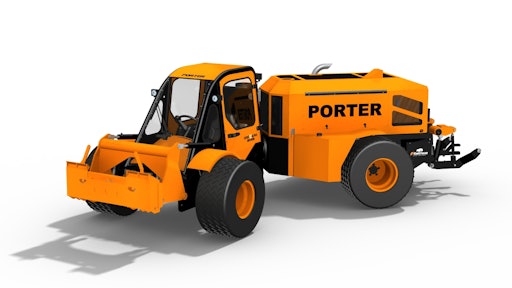 An alliance between Porter ETUV, in Philomath, OR, and power solutions provider Perkins Pacific has helped drive innovation during the design of the newest generation of the Orchard Boss tractor, which is launching in early 2017.
The latest model of Porter's Orchard Boss offers a purpose-built, low profile design for a wide variety of uses such as spraying, sweeping and mowing in the tight operating environments found in most orchards. With a height of just 67 in., this highly specialized tractor is capable of pulling and operating numerous attachments needed for day-to-day orchard harvesting and maintenance.
The second generation Orchard Boss will be powered by a 125 hp Perkins 1100 Series engine from Perkins Pacific. The compact 4.4 L 1100 Series engine provides tractor users with more reliable operation, excellent fuel economy and robust performance needed for long days in the field.
Over the past 5 years, Perkins Pacific worked closely with Porter on application engineering and the design of the power system to achieve the performance needed by growers that use the Orchard Boss. Perkins Pacific's application engineers and sales team worked one-on-one with Porter to meet emissions requirements, operating targets and temperature goals.
"Our team works closely with OEMs from design through production to provide creative solutions to their equipment power system needs," says Andy Machin, Vice President of Perkins Pacific. "This allows us to help OEMs improve performance and emissions outcomes for their equipment."
Perkins Pacific then worked with Porter for onsite testing and adoption of the engine, evaluating its performance prior to production to ensure that the Orchard Boss exceeds operating needs.
"Working with Perkins Pacific been a great experience. We are proud to have Perkins Pacific as our engine provider. When others said 'no' Perkins Pacific stepped up and provided us with a great engine for our needs. Since then, our relationship has grown into a great team and I look forward to a promising future," says Jason Misner, Principal of Porter ETUV.
The new Orchard Boss tractor is launching in the beginning of 2017.
Companies in this article