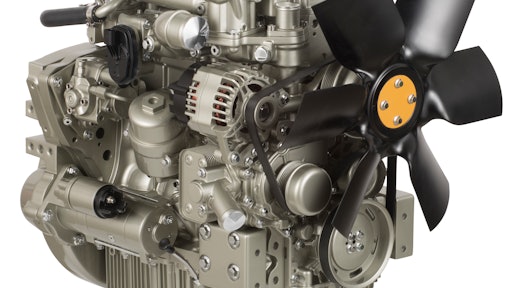 A range of compact engines, the Perkins Syncro 1.7, 2.2, 2.8 and 3.6 L electronic products deliver optimized and reliable performance for construction machines.
The Perkins Syncro range provides great choice and flexibility for compact machine development, helping customers to take advantage of growth market opportunities. Delivering from 29-100 kW (39-134 hp) of power and between 120-500 Nm torque, the 1.7, 2.2, 2.8 and 3.6 L engines are engineered to integrate perfectly with machine designs and deliver the right value and performance to support customers' business growth.
On show at CONEXPO 2017 was the durable 1.7 and 2.8 engines which have been designed and tested to consistently meet the demands faced by today's compact construction machinery.
Performance from the 3-cylinder turbocharged Perkins Syncro 1.7 L is an impressive 29 kW (39 hp) with a maximum torque of 120 Nm at 1,800 rpm, with rated speeds up to 2,800 rpm. The engine, along with the 2.2 L, 4-cylinder variant, features common rail direct injection and full authority electronics and meet EU Stage IIIB, U.S. EPA Tier 4 Final emissions standards.
The compact package size and sleek engine architecture of the 1.7 and 2.2 models features a rear-mounted small diesel oxidation catalyst (DOC), allowing customers to adopt no-compromise machine designs across many compact applications including skid steer loaders, aerial work platforms, lift booms, wheeled loaders, hydraulic excavators and rollers.
Operators and end users will benefit from class-leading torque, better load acceptance and smooth operation from machines equipped with these engines. Ease of servicing is another key benefit, with the DOC-only aftertreatment being service free; along with a standard 500 hour service interval for fuel and oil filters.
"Perkins plays a leading role in construction and rental markets around the world," says Chris Snodgrass, Vice President Global Sales, Marketing, Service and Parts. "Our engines are trusted by equipment manufacturers looking for flexibility, reliability, ease of use and low cost of ownership. The addition of the Perkins Syncro 1.7, 2.2, 2.8 and 3.6 L compact range of engines to our already world-class engine portfolio, further strengthens our offering to the market."
Part of the Perkins Syncro compact range, the 4-cylinder 2.8 L diesel engine delivers 55 kW (74 hp), up to 325 Nm of torque and meets multiple global emissions standards including Stage V, Tier 4 Final.
Engineered to integrate perfectly into more than 80 different machine models, the 2.8 L common rail engine, available as a turbocharged and a turbocharged aftercooled variant, delivers the performance, value and reliability our customers expect to help them access new markets and support their business growth.
The high power and torque density of the 2.8 and 3.6 L models will give equipment manufacturers the opportunity to move to smaller, more compact engines. The great fuel consumption, fast response and electronic integration they need to differentiate their machines is achieved through an increase in power density of 22% when downsizing.
The Perkins Syncro 2.8 L benefits from a suite of technologies including a common rail fuel system, electronic control, advanced air systems and flexible aftertreatment configurations, with an array of engine and off-engine mounted options for optimized packaging in all machines.
The modular design ensures the 2.8 L model's ease of integration into existing – and future – generations of off-highway machines including wheeled loaders, telehandlers and excavators.
"The sheer flexibility of the Perkins Syncro compact engine range in terms of machine integration, performance and ease of service will bring multiple benefits to our customers," explains David Nicoll, Global Marketing Director. "This compact and durable engine range will not only enhance the proud reputation of Perkins in North America, but also the great machines that our engines power.
"Perkins offers comprehensive assistance at every step of the machine development process, ranging from technical integration workshops and prototype solutions to fully validated, tailored hardware."
Manufacturing of the 2.8 and the 3.6 L models will start on a proven production line in Peterborough, UK, while the 1.7 and 2.2 L engines are manufactured at the Griffin, GA, U.S. facility. This multi-region production capability provides equipment manufacturers short, consistent lead times and the business stability they value.
The Perkins Syncro compact engine range, as with all Perkins engines, is supported by the global Perkins distribution network. Perkins distributors provide customers with a consistently high level of service, support and advice, wherever a Perkins engine is in operation around the world.