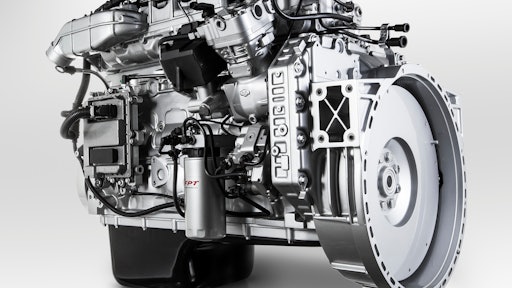 The ceremony for the "Tractor of the Year" (TOTY) 2017, which was held at EIMA International in Bologna, has been a successful one for FPT Industrial. The company, leading powertrain supplier of engines for on- and off-road applications, provides its N67 eVGT engine from its NEF Series to the newly-crowned Case IH Optum 300 CVX, which has won the "Tractor of the Year" accolade at the 2017 TOTY awards. During the same ceremony, New Holland T5.120 tractor, equipped with FPT Industrial's F34 Tier 4 Final/Stage IV, was prized "Best Utility."
Established in 1998 by Italian magazine "Trattori", the TOTY awards recognize European innovations in the tractor segment. The jury consisted of around 20 European journalists representing the most influential agricultural magazines.
"Tractor of the Year 2017" Case IH Optum 300 CVX is powered by FPT Industrial N67 eVGT engine. Compliant with Tier 4 Final/Stage IV emissions regulations, N67 is a 6.7 L, 6-cylinder unit, with 300 hp at a rated speed of 2,100 rpm and a maximum power of 313 hp at 1,800 rpm. The engines feature the Hi-eSCR only aftertreatment solution for maximum combustion efficiency. Recent improvement achieved for Case IH Optum 300 CVX include new valve material and design for the engine head for higher combustion pressure; the major change comes in the lower part of the engine block and oil sump, with a specific design where the sump serves as backbone of the tractor, thus removing stress from the engine block. Whilst the typical weight of the Optum CVX amounts to 11,000 kg, this 'structural sump' allows for a maximum gross vehicle weight of 16,000 kg, providing ballast and payload options for the customer.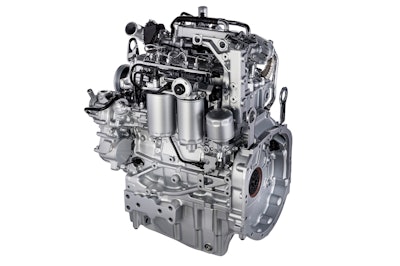 "Best Utility" at TOTY 2017, the New Holland T5.120 tractor is equipped with the F34 Tier 4 Final/Stage IV. It is FPT Industrial's most compact solution for light applications. Thanks to its packaging-optimized design, the F34 is indeed the ideal choice for specialty and compact mid-range tractor applications. At the same time the overall system compactness for easier installation ensures vehicle maneuverability and high visibility. The F34 is a top class torque density engine (8% higher than average competitors in the 3-4 L range) and allows prompt load response for maximum productivity. Top performance and low operating costs in a small size solution: F34 adopts the "Compact HI-eSCR", combining a high efficiency SCR and the lowest EGR rate in the market (10%) and enabling a 20% more compact ATS dimension (compared to HI-eSCR). F34's maintenance-free ATS maximizes vehicle uptime, and, together with a best in class 600-hours oil change interval, minimizes operating costs. The F34 is ideal also for extreme conditions, even in dusty environments: no active regeneration ATS system permits safe operations. And if this is not enough, maintenance steps are easy and fast thanks to the F34's one side serviceability layout.