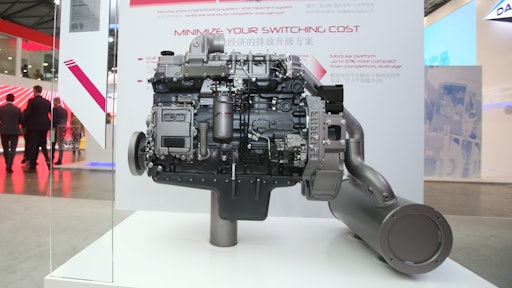 Engine solutions complying with all emission standards, from Stage III to Stage V, in every area of the world: FPT Industrial presents its global modular engine and technology offering dedicated to the off-road segment at bauma China 2016 (Shanghai - November 22-25 - Hall N5 - Stand 110).
FPT Industrial's technologies minimize OEM's switching costs
Technological excellence and product innovation represent the key determining factors and form part of FPT Industrial's primary strategic mission. The company has focused its research and development activities in order to become the innovation leader in the off-road (construction and agriculture) powertrain field and a reference provider of powertrain solutions. FPT Industrial's EGR-free technology guarantees the same cooling package dimensions across emission stages, ensuring no engine installation changes from Stage III to Stage V.
In order to comply with the future Stage V emission standard, FPT Industrial's PM filtration solution is integrated into the same Stage IV package, with no impact on overall dimensions. When considering the engine, its cooling and aftertreatment system, FPT Industrial's solution is 10% smaller than the competitor average (considering 6 L, 6-cylinder engine competitors).
As such, FPT Industrial confirms its long-term SCR-only strategy in order to achieve uprated standards whilst retaining an active regeneration-free solution and avoiding Exhaust Gas Recirculation (EGR) on engines above 4 L. This maintains the competitive advantages achieved from Stage III to Stage IV/Tier 4 Final and beyond, such as best in class fuel economy and power and torque density.
FPT Industrial offers the most advanced solutions for higher emission level compliance: more than 25 years' experience in SCR solutions development, HI-eSCR and HI-eSCR2 exclusive technologies, active regeneration-free particulate filters, an aftertreatment system "for life" and best-in-class engine efficiency. Its presence at bauma China 2016 allows visitors to broaden their knowledge of the global leading engine manufacturer's most advanced solutions for construction applications, for Stage III and future emissions standards.
FPT Industrial provides a full range off-road solutions, from Stage IIIA /Tier 3/GB III to Stage V
FPT Industrial's complete engine range, which complies with forthcoming emission standards, thanks to continuous technical advances allows customers to retain class-leading features, such as minimized total cost of ownership and outstanding performance.
Innovation, performance and constant improvement, these are the drivers for our industrial machinery: earthmoving and construction equipment, agriculture, irrigation and special machines. Each engine is designed to fulfill the needs of each industrial application, adopting the most advanced technologies that are available: multi-valve systems, fixed or variable geometry turbochargers, mechanical injection systems, high pressure Common Rail injection systems. The availability of structural versions for agricultural applications and non-structural ones for earthmoving applications, combined with a wide variety of custom-made engine configurations, helps match the different requirements of every sector.
FPT Industrial's off-road offering consists of five engine families (R, F, NEF, Cursor and Vector), with a power range from 33 kW (46 hp) to 565 kW (768 hp) and displacements from 2.2-20 L. FPT Industrial's Stage IIIA/Tier 3/GB III off-road line-up includes six engine models from 3.2-13 L.
Engines on display at Bauma China 2016
NEF 67 Stage IIIB / Tier 4A
With more than 1.3 million NEF Series engines produced since 2001, the NEF 67 is an EGR-free, SCR-only engine, which is Stage IIIB/Tier 4 Interim emissions level compliant. Furthermore, it does not require DPF forced/parked regeneration: no vehicle stops, no temperature increase and no additional fuel consumption, assuring no downtime and outstanding safety in all working conditions.
NEF 45 Stage IIIA/Tier 3/GB III Mechanical
FPT Industrial provides both Common Rail and mechanical pump solutions for Stage IIIA/Tier 3/GB. The mechanical solution's power output is up to 94 kW.
FPT Industrial's NEF Series is the reference in its category for flexibility, reliability, low fuel consumption and high performance. NEF engines are offered in 4- and 6-cylinder configurations with 4.5 and 6.7 L displacements, suitable for varied applications such as construction, agriculture, road transport, industrial, marine and power generation. A wide range of options and tailor-made solutions are available to meet customer needs. For off-road applications, both structural and non-structural engine versions are offered.
F32 Stage IIIA/Tier 3/GB III
Also showcased is an FPT Industrial F32 engine, complying with Stage IIIA/Tier 3/GB III, mounted on a CASE Construction Equipment Skid Steer Loader SR200. F32 is a 3.2 L engine, part of the F5 Series which includes 4-cylinder 3.2 and 3.4 L, and is featured by a compact configuration and a specific customized design. The F5C Series engines stand for the low operating costs, extremely simple maintenance processes and a very compact design.