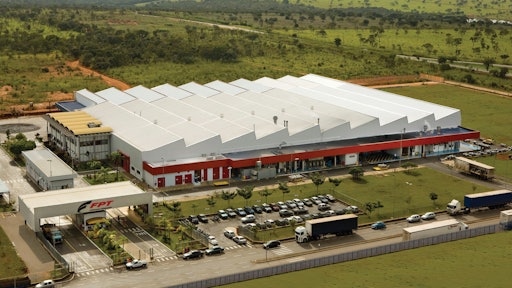 The FPT Industrial engine plant in Sete Lagoas, Brazil, has successfully reached another important milestone in its mission to develop industry leading industrial engines according to the principles of World Class Manufacturing (WCM). Following a recent audit, the global powertrain brand of CNH Industrial N.V. has received a Silver Level WCM designation for its Brazilian facility which produces industrial engines.
Established in 2000, the Sete Lagoas site has quickly grown to operate at a high standard with this latest achievement seeing it reach the same ranks as its European sister sites in Turin and Foggia in Italy and Bourbon Lancy in France. It covers 14,000 sq. m, housing product manufacturing for the F1, NEF and S8000 engine families. The site employs some 270 individuals and exports to national and international markets.
WCM is one of the global manufacturing industry's highest standards for the integrated management of manufacturing plants and processes. It is a pillar-structured system based on continuous improvement, designed to eliminate waste and loss from the production process by identifying objectives such as zero injuries, zero defects, zero breakdowns and zero waste. To certify improvements, a system of periodic audits delivers an overall score for each plant that is the basis for three achievement levels: Gold, Silver and Bronze.
Sete Lagoas counted high scores in a number of different areas set out by WCM including: Motivation of Operators, Professional Maintenance, Safety, Level of Detail and Level of Expansion. FPT Industrial operates two manufacturing sites (Sete Lagoas in Brazil and Cordoba in Argentina) and one R&D center (Betim, Brazil) in Latin America.