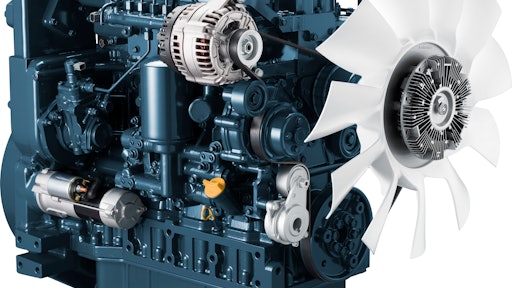 The world's leading engine manufacturer of compact diesel engines below 100 hp has entered a new level of offerings for its end-users, the 200 hp class. Kubota Engine Corp. unveiled its first diesel engine above 200 hp at CONEXPO earlier this month, now serving as a single source supplier for customers with varying size and output needs. The 5 L V5009 is Kubota's first model in its new 09 Series with mass production beginning in 2020, consistent with impending EU Stage V emission regulations. 
"This EU Stage V ready diesel engine has been years in the making, designed by a proactive team of engineers in Japan dedicated to researching and complying with exhaust emissions regulations around the world," says Kevin Keyes, Vice President of Sales and Marketing for Kubota Engine America. "Before they developed the V5009, our customers with larger application needs had to turn to another manufacturer. We received several requests for larger, more powerful engines, and are pleased to now be able to further position Kubota as 'one source, multiple solutions.'  With the new 09 Series, our customers will have a complete lineup of industrial, reliable diesel engines both below 100 hp and above 200 hp."
The compact V5009 has an output of 157.3 kW (210.9 hp) and aftertreatment devices including a Diesel Particulate Filter (DPF) and Selective Catalytic Reduction (SCR). It breaks through conventional technologies by creating a new platform and improving its core technologies. This 4-cylinder engine offers outputs only available previously with 6-cylinders. It also features the world's top class fuel efficiency and output performance in the 5 L class. 
To achieve this high output combined with low fuel consumption, Kubota's team secured the air intake amount through high-pressure supercharging, then used combustion matching to create high in-cylinder pressure. They also designed a ladder frame structure to ensure engine durability, improved the water cooling channel, and added a side power take off option and three ports for accessories such as hydraulic pumps for ease of use.
"The V5009 will not require any major modifications to our customers' current machines because it is compact enough for easy installation," says Keyes. "It should also significantly reduce running and operating costs, saving time, money and energy for our end users."
By unveiling its first solution to looming EU Stage V regulations and strengthening its diesel lineup to include the Kubota 09 Series, ultimately expanding offerings from 100-200 hp, Kubota continues to prove itself as an innovative, reliable answer. The 09 Series will also include a 4.3 L diesel engine using the same next-generation platform, also available in 2020.
"At Kubota, we have dedicated the last 95 years to producing more than 29 million engines," says Keyes. "We have built our reputation on reliability, improving the lives of customers living all over the world. We are confident the 09 Series will only help us do that more and we look forward to better serving them in the years to come."