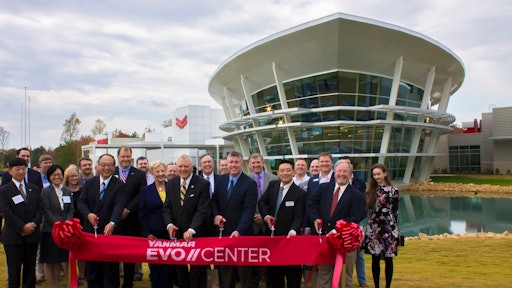 On November 3, 2017, national, state and local officials joined together with Yanmar America and its honored guests to officially open the Yanmar EVO//CENTER located at the corner of Highway 92 and Old Alabama Road in Acworth, GA.
Situated on 50-plus acres of land in Cherokee County, the new 50,000 square foot facility features six state-of-the-art product training labs with classroom and hands-on space, three classrooms, multiple meeting rooms, office space, a 250-seat auditorium, the EVO Commons dining area, concept lab, museum and outdoor product demonstration areas.
The EVO//CENTER strives to evolve the mindsets of Yanmar's customers, dealers, employees, and community by serving as a place of collaboration and education dedicated to sharing solutions for empowering sustainability.
In a statement from Takehito Yamoaoka, President Yanmar Co., Ltd. stated, "The EVO//CENTER is one of the most unique and innovative facilities in the Yanmar portfolio. It represents our long-standing commitment to build close and meaningful relationships with not only global customers, but also local communities. The facility's mission of 'Empowering Sustainability' completely champions our global vision for 'A SUSTAINABLE FUTURE'."
Croft Architects and Engineers based in Kennesaw, GA, and Carroll Daniel Construction from Gainesville, GA, worked together to complete the new facility, which broke ground in November 2016.
"Our investment in this facility and everything it offers is meant to be a catalyst for Yanmar to further pursue our company's mission to enrich the lives of all people by developing sustainable solutions for local and global challenges," comments Tim Fernandez, President of Yanmar America during his opening remarks.
In addition to traditional technical training classes, business management training classes for sales, marketing, service, parts, finance and other business needs will be offered. Yanmar will work closely with industry partners and subsidiary companies to offer a strategic training space for their customers. Yanmar will also pursue partnerships with local schools, colleges and technical schools to expand and enhance educational opportunities for their students. Product demonstration fields will provide customers with an opportunity to try before they buy. These fields will also serve as a venue for safety and operational training courses as well as host community events.
Sr. Manager, Learning & Development, Tim Miller, adds, "It is our hope to become a landmark in the community. In the name, EVO//CENTER, the word 'EVO' was derived from our mission to 'evolve' the mindsets of our customers, dealers, employees and community towards thinking and acting down a path of sustainable living.
The Yanmar Academy is a focal point of the EVO//Center, and the heart of the Academy is our students. The training rooms and instructors are dedicated to providing best-in-class instruction for our students. Well trained and equipped technicians, sales persons, and dealer management means higher customer satisfaction."
The community and others will also benefit from various meeting spaces throughout the building, including the auditorium, classrooms, meeting rooms and a dining area complete with a catering kitchen. These areas will host local association meetings, community gatherings, farm-to-table dinners, regional agricultural fairs, sustainability training courses, guest seminar speakers and more.