The future for diesel technologies in freight transportation is bright, even as new fuels and technologies enter the marketplace, thanks to diesel's improving efficiency, even lower emissions, advanced biofuel capabilities and unique combination of value for moving freight.
This is the insight shared by Diesel Technology Forum Executive Director Allen Schaeffer, speaking on a panel at Fuels2019, the annual meeting of the Fuels Institute. Schaeffer noted the continued overall dominant role of diesel technology in commercial trucking applications, and offered perspective about its role in the future.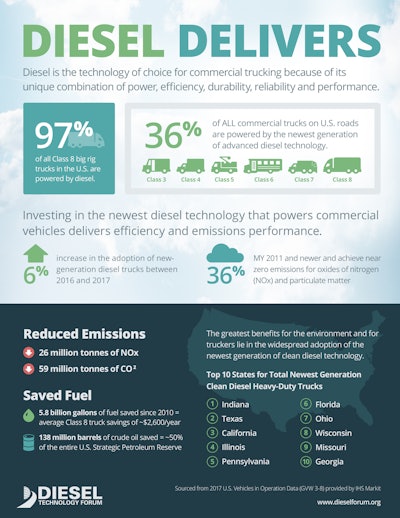 "Forecasters seem to agree that, for the next 5 to 15 years and beyond, diesel will remain the primary technology for commercial trucking, thanks to its unique combination of features," said Schaeffer. "Will there be some inroads made in niche fleets and operations using all electric, hybrid or hydrogen technologies? Yes, of course. Some of these technologies are in development and limited use today, as manufacturers are developing a range of fuels and technologies to best serve their customers. It's safe to say we'll also see an increasing use of biodiesel and renewable diesel fuels, as well as the next-generation of diesel that is even nearer-to-zero emissions."
Research from the Forum, conducted with IHS Markit, shows that numbers of the newest, most advanced and lowest emitting technologies in today's commercial trucking fleet are rapidly on the rise. Today, more than one-third of all the largest heavy-duty trucks in operation use the newest generation of near-zero emissions clean diesel technology. This translates into substantial societal benefits: 26 million tonnes of nitrogen oxides (NOx) and 59 million tonnes of carbon dioxide (CO2) removed from the air; 98% fewer emissions of particulate matter; and an average $2,600 in fuel-cost savings per truck, adding up to 138 million barrels of crude oil saved.
Schaeffer continued, "The real winners in all of this will be truckers who will have more fuel-efficient fuel and technology choices than ever before. We're confident diesel's proven strengths will be challenging to beat:
The diesel engine is the most energy-efficient internal combustion engine, delivering power density, reliability and durability at a low cost of ownership. Diesel technologies retain a high resale value and are able to be remanufactured and rebuilt over and over again.
Truckers have access to a nationwide network of fueling stations, and an unmatched global service and parts network.
Modern diesel engines boast near-zero emissions performance for NOx, CO2 and particulate matter (PM) – and new rules on the horizon from the U.S. Environmental Protection Agency and the California Air Resources Board mean that we'll soon see even further reductions in NOx emissions from heavy-duty commercial trucks.
"Diesel technologies have a proven track-record of continuous improvement. Engine manufacturers are always looking to the horizon, developing new technologies and strategies to deliver more fuel efficiency, further emissions reductions, and more optimized performance. Breakthrough demonstrations of long-haul diesel truck efficiency have proved these technologies capable of nearly doubling the MPG of previous generations of commercial trucks. There are also some very thoughtful discussions about matching technologies with applications, such as dual-fuel battery/electric and diesel drayage trucks for port applications.
"Today's generation of heavy-duty diesel trucks are the cleanest, and most scrutinized, diesel vehicles ever made. Over the last 15 years, truck and engine makers have worked to virtually eliminate emissions from diesel engines. The transition to ultra-low sulfur diesel (ULSD) fuel coupled with advancements in engine combustion, turbocharging and high-pressure fuel injection, and the addition of advanced clean air chemistry achieved by utilizing diesel exhaust fluid (DEF) in selective catalytic reduction (SCR) systems coupled with particulate filters, has enabled today's heavy-duty diesel truck engines to achieve near-zero levels of emissions.
"Five years from now, the new diesel trucks rolling off manufacturing lines will be even more fuel efficient and lower in emissions. We're confident these clean, high-performance vehicles will continue to have a major role to play in ensuring fast, dependable freight delivery in the U.S. and around the world."