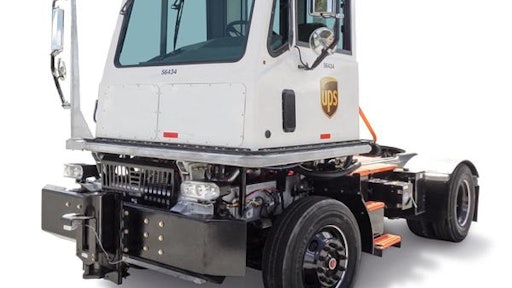 Power Solutions International Inc. (PSI), a leader in the design, engineering and manufacture of emissions-certified, alternative-fuel power systems, and TICO Manufacturing, a pioneer in fleet services, terminal services, and terminal tractor manufacturing, announce that they will display a UPS terminal tractor powered by PSI's 8.8-L on-road propane engine in Booth #635 during the Advanced Clean Transportation (ACT) Expo April 24-26 in the Long Beach Convention Center, Long Beach, CA.
Introduced at a previous ACT Expo, the Pro-Spotter terminal tractor was the first major collaboration between PSI and TICO to integrate custom alternative-fuel engines into TICO's powertrain platform options. TICO Pro-Spotter terminal tractors are widely used in distribution centers, rail terminals and ports to move semi-trailers and shipping containers. Specific fleet customers are moving forward with alternative fuels and run numerous TICO Pro-Spotters with PSI's 8.8L CNG and LPG engines in their facilities nationwide.
TICO Pro-Spotters with PSI's emissions-certified 8.8-L engines provide uncompromised power, performance, fuel efficiency and fuel flexibility to any user. The engine also powers medium-duty bus and truck applications.
"TICO and PSI have an excellent collaboration to provide the marketplace with products that meet demands, whether through gasoline or alternative fuels," PSI CEO John Miller says. "In coupling our propane and gasoline solutions with TICO's applications, we have many opportunities to serve ports that want to replace diesel-powered equipment with cleaner fuels."
TICO and PSI are displaying a UPS propane tractor in conjunction with the Propane Education and Research Council (PERC), which will be located next to TICO during the expo. Funded by the propane industry, the Propane Education and Research Council implements safety and training programs, conducts research and invests in technology development with leading equipment manufacturers to expand adoption of propane as a clean, American-made energy source.
"Port operators need equipment that gets the job done cost-effectively while meeting emissions regulations. Propane-powered equipment checks all those boxes," says Tucker Perkins, President and CEO of PERC. "The propane industry has worked with PSI to develop a line of engines that provide the lowest total cost of ownership with clean emissions, and the TICO port tractor is a great solution using their engine. We're pleased to work with TICO and PSI to show attendees at ACT the value propane can bring to the industry."
In addition to the Pro-Spotter terminal tractor, TICO will promote its recently developed propane pony tank fuel replenishment system during the expo. The patent-pending system, which uses rail-fed forklifts to replenish propane fuel tanks on trucks every eight hours, enables vehicles to operate constantly.