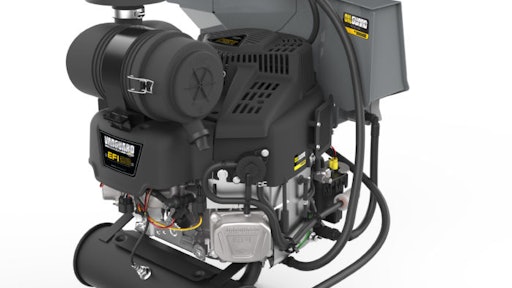 Vanguard introduces the Oil Guard System on its 810cc EFI V-Twin and BIG BLOCK vertical-shaft engines for use in commercial applications. Oil Guard is a first-of-its-kind solution for the commercial engine market, offering major productivity gains and allowing for 500-hour oil change intervals. Originally developed to extend the maintenance intervals of zero-turn commercial mowers, Vanguard has engineered a version of the system specifically for the construction market and will begin testing in 2018.
Vanguard will feature Oil Guard Jan. 23-26 at booth O31421 in the Silver Lots during World of Concrete in Las Vegas. 
"The purpose of Oil Guard, and the driving force behind all Vanguard innovation, is to increase our customers' productivity," says Jim Cross, Marketing Manager, Briggs & Stratton Commercial Power. "Extending oil change intervals to 500 hours reduces the time and money customers spend on scheduled maintenance. Simply put, the system helps to provide more productive and more profitable equipment."
Vanguard's Oil Guard System works by continuously exchanging oil between the engine and a 5-quart external oil reservoir. Its design protects oil from thermal breakdown, which extends oil maintenance intervals and produces a cooler-running engine. Direct access to the oil filter and drain tube results in quicker, easier and mess-free oil changes.
Contractors operating commercial equipment with an engine featuring Oil Guard can extend their recommended oil change intervals from 100 to 500 hours, decreasing the time and costs associated with oil changes and increasing overall productivity.  
As a further commitment to productivity, Vanguard's robust service and support network delivers the parts and technical support customers need. Through a single national distributor with nine locations in the United States, Vanguard provides next-day delivery of more than 50,000 genuine parts and replacement engines to their commercial dealer network. Training resources are available both online and in person, with 11 training centers providing on-demand certifications and advanced EFI training. And with online technical support, a commercial telephone Answer Center and the industry's only global three-year commercial limited warranty, Vanguard delivers the enhanced productivity commercial markets deserve.
The Vanguard Oil Guard System is a factory-integrated technology, not an aftermarket add-on, so Vanguard's 3-year commercial engine limited warranty applies.