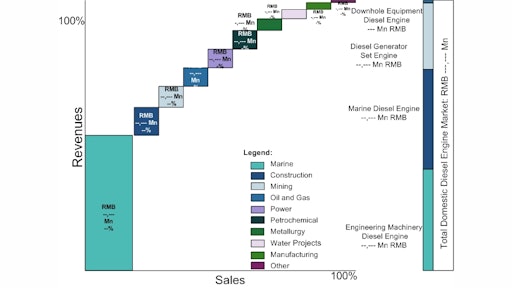 GCiS China Strategic Research estimates that the domestic market for industrial diesel engines, excluding automotive, agricultural machinery and locomotive used engines, in China is valued at RMB 112 Bn, or roughly USD 18 Bn, as of the year end of 2013. The study finds that the market will grow at above GDP growth rate over the next few years, driven largely by China's recovering shipbuilding industry, developments within the oil & gas and petrochemicals sector and water supply projects.
The report features in-depth analysis of the four key industrial diesel engine products—engineering machinery diesel engines, marine diesel engines, diesel generator set engines and downhole equipment diesel engines—and finds that, with the exception of land-based diesel generator set engines, the market is gradually shifting towards higher quality products. The largest end user segment for the target product is the shipbuilding industry, followed by the construction sector, although growth within the latter is expected to slow significantly over the next several years.
Suppliers are generally optimistic about demand for diesel engines in the coming years, although most companies expect more stringent emissions regulations to be imposed within the near future, which would edge out a number of lower-end suppliers. As the decade draws to a close, demand growth rates are expected to slow down in tandem with China's deliberate economic cool down. Given its large variety of applications, this market is unlikely to be disrupted within the near future.
This GCiS market study draws on a three month in-depth primary survey of 91 of the market's suppliers, channel players and experts. It is essential reading for any professional needing accurate and detailed strategic information of this market. Major areas covered include: market size and shares, five-year projections, market structure, pricing trends, distribution, an assessment of key suppliers and more.