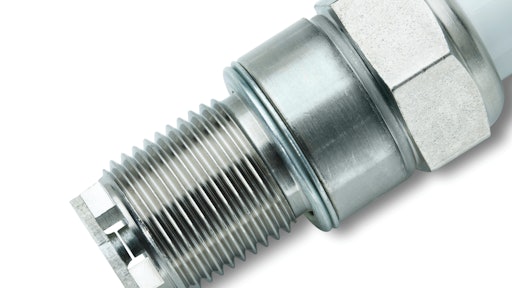 Federal-Mogul Corporation has developed a new, more durable spark plug for use in gas-powered industrial engines. The innovative Champion dual iridium bridge plug design, an industry first, extends electrode life by three times compared to current J-gap spark plugs.
The use of natural gas, bio-gas and other gaseous fuels in internal combustion engines continues to strengthen across the globe, particularly for power generation applications. The engines that utilize these abundant but highly corrosive fuels are designed to operate at higher combustion pressures and with high efficiency.
"The performance requirements and operating conditions of these applications have surpassed the capabilities of conventional J-gap spark plugs, thus creating the need for an innovative ignition technology that offers significantly improved durability and thermal performance," says Richard Llope, Federal-Mogul vice president and business director, Global Ignition, Powertrain Energy. "Champion's dual iridium bridge design is an industry-first. It features large electrodes and a dual-heat path through the bridge to improve heat extraction and reduce electrode wear rates, resulting in a plug life up to three times longer than current J-gap designs."
Federal-Mogul's bridge plug significantly reduces wear by providing more than twice the surface area of a conventional J-electrode and providing two paths for heat extraction. The plug's large center electrode diameter and its ground electrode strap create a gap firing surface area of more than 11 sq. mm, 150% larger than conventional J-gap products. This greater surface area combined with the unique dual iridium/rhodium electrode discs minimize wear often caused by electrical erosion and chemical corrosion.
"A growing number of large stationary engines in the power generation sector are running on compressed natural gas, landfill gas or biogas fuels," says Rainer Jueckstock, CEO, Federal-Mogul OE Division. "The market demand for large stationary engines utilizing alternative fuels in the power generation sector is growing rapidly. Federal-Mogul has applied its world-class ignition development expertise to create a more effective plug that supports the energy sector in reducing its carbon footprint through cleaner power generation and supports our strategy of sustainable global profitable growth."
Federal-Mogul is already receiving orders for the Champion dual iridium bridge plug from manufacturers building engines for the power generation sector. The company produces the new plug at its Burlington, IA, manufacturing facility.