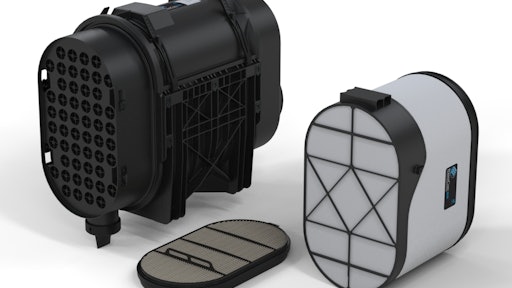 Heavy-duty off-road equipment and truck manufacturers demand compact, high-performance air filtration solutions. Donaldson Company, a leading, worldwide manufacturer of filtration systems and parts, introduces the Donaldson PowerCore PSD14 Air Cleaner.
The new PSD14 Air Cleaner expands the highly successful PSD family of air cleaners into a larger size and airflow range – now up to 1,450 cfm. The PowerCore PSD family – which also includes the PSD08, PSD09, PSD10, PSD12 – offers the trusted features and benefits of two-stage filtration (with a built-in pre-cleaner) in a single, compact unit.
With the addition of the PSD14, the airflow range of the PSD family now extends from 176 to 1,450 cfm – offering unprecedented versatility for heavy-duty equipment that operates in medium-to-heavy dust environments. PSDs deliver superior filtration performance and maximum service life using Donaldson PowerCore Filtration Technology.
When you choose PowerCore Filtration Technology, you gain:
Straight-through airflow technology invented by Donaldson.
Equal or better performance in a small package.
The freedom to design unique configurations to fit tight spots.
Lower shipping and inventory costs – PowerCore filters are lighter and take up less shelf space.
Donaldson reliability – PowerCore has been in use for over a decade, with more than 15 million elements and air cleaners sold. Donaldson has supplied air intake systems to OEMs for nearly 100 years.
PowerCore Options:
Choose either original PowerCore or PowerCore G2 technology. PowerCore G2 offers all of the benefits of original PowerCore – PLUS 30% smaller size and up to 50% more life.
Choose Donaldson Ultra-Web Nanofiber technology for higher efficiency, longer life, higher capacity (holds more dirt) and proven performance.
"Designing customized intake systems requires additional time and resources," says Mike Anderson, Director of Off-Road Applications at Donaldson. "Our premium, two-stage, PowerCore PSDs are designed to help OEMs fit air induction systems into increasingly crowded engine compartments, are readily available and include a built-in pre-cleaner for maximum service life. Best of all, our Donaldson PSD air cleaner can be applied to any engine. It's the ultimate combination of flexibility and performance."
The PSD Air Cleaner family covers initial airflow range of 176 to 1450 cfm. With mounting brackets on three sides of the housing and two separate drop tube orientations, PSDs offer the greatest amount of flexibility for a wide variety of installations.
Features of the PSD Air Cleaner family include:
30 to 60% smaller than standard pleated air filters at given life and efficiency targets
Metal free, lightweight materials
Rugged construction and advanced sealing technology
Improved contaminant encapsulation – dust and dirt stay contained within the filter during service
Improved handling and maintenance – lighter and smaller so changing filters is a snap
Sustained temperature tolerance of -40 to 180 F / -40 to 82 C.