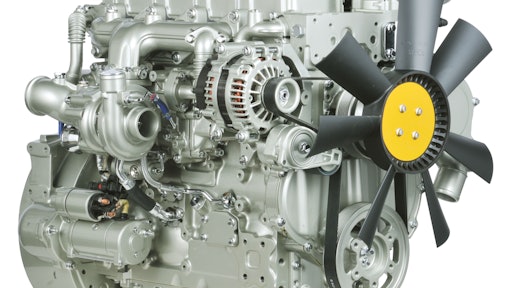 Perkins' latest range of six cylinder U.S. EPA Tier 4 Final/EU Stage IV compliant engines were on display at bauma China 2012. Designed to achieve and deliver the performance required by OEMs while meeting the forthcoming legislative requirements, the new models incorporate specially optimized Selective Catalytic Reduction (SCR) technology.
For OEMs wanting lots of torque at low speeds the new, single turbo, 1206F-E70TA offers up to 151 kW (202 hp) at 2,200 rpm with maximum torque of 870 Nm at 1,400 rpm.
In developing the new range Perkins has sought to minimize the impact of the aftertreatment required to meet Tier 4 Final/Stage IV requirements, in particular the significant reduction in NOx. Perkins has achieved this through packaging the DOC/DPF canister and the SCR system into one integrated module, which can be positioned remotely in a machine chassis or directly on top of the engine.
The lightweight yet compact dimensioned aftertreatment module minimizes space claim in the engine bay and incorporates a number of features to ease installation. These include flexible inlet and outlet options, pre-installed electronics and Diesel Exhaust Fluid (DEF) line hook ups: all contributing to minimal work for the OEM.
For very tight installations a fully insulated aftertreatment module is available that lowers the surface temperature.
The Diesel Particulate Filter (DPF) now uses passive regeneration, which is totally transparent to the operator and service free so reducing maintenance costs over the life of the machine. This also facilitates easier installation in the engine bay since no direct access is required for ash removal.
On site the 1206F delivers an estimated 5% better cycle fluid consumption over previous models, that incorporates the diesel and the DEF necessary for the SCR technology - allowing the end user to get more done, faster and with lower operating cost.
For engines from 3.4 to 7.1 liters Perkins has tailored SCR systems that maximize customer benefits.
"The 1206F range will continue to build on the success of our award winning Tier 4 Interim/Stage IIIB engine range," comments Perkins' Tier 4 Product Marketing Manager, Daniel Clayton. "Today we are using third generation SCR technology which we have proven and validated for the off-highway market. We are effectively meeting legislative requirements without penalising the OEM or end user. In fact we are working to make things more advantageous including better fluid consumption, lower life costs and improved machine productivity while contributing to a cleaner environment."
The 1200 Series provides a variety of options for OEMs who are looking to increase the productivity of their machines while keeping costs down in the long term. Tailored power solutions designed to meet the customer needs for productivity and reliability include the Tier 4 Interim/Stage IIIB 1204E-E44TA, a 4.4 liter, four cylinder engine. The turbo intercooled 1204E-E44TA, produces 110 kW (147 hp) and uses a single turbocharger, delivering improved fuel economy while offering great power and torque.