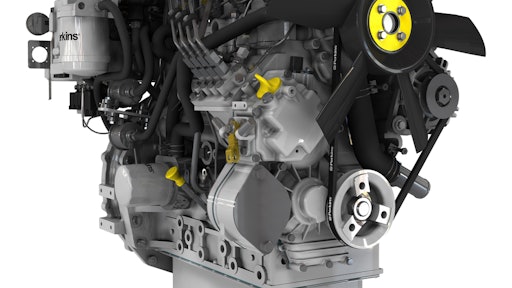 A versatile range of U.S. EPA Tier 4 Interim/EU Stage IIIB and Tier 4 Final diesel engines, which deliver dependable and productive power for original equipment manufacturers (OEMs) in the construction, material handling and concrete industries will be exhibited by Perkins at this year's World of Concrete.
"These engines are the result of an intensive engineering effort focused on providing customers with emission solutions that can be incorporated into their equipment with minimal installation impact," says Karl Vandermyde, Americas Director, Industrial Power Sales and Marketing. He adds, "They deliver improved power density, torque and fuel consumption, making them an ideal choice for OEMs."
The engines being exhibited are:
The 404F-22T, a 2.2 liter, four-cylinder, turbocharged engine with a maximum power of 61 hp (45.5 kW), provides a compact, flexible power solution for OEMs as they look to build small, high-performance yet cost-effective machines.
The 854F-E34T, a 3.4 liter, four-cylinder, turbocharged unit, gives a power range of between 60 hp (45 kW) and 115 hp (86 kW), all from a single engine platform.
The 1204E-E44TTA, is a 4.4 liter, four-cylinder, twin turbo aftercooled engine, which uses a two-stage turbocharger for extra power density and faster response, to produce a power range from 147.6 hp (110.1 kW) to 173.5 hp (129.4 kW).
The 1206E-E70TTA, a 7 liter, six-cylinder twin-turbocharged engine producing between 187 hp (140 kW) and 301 hp (225 kW), giving OEMs who may previously have chosen a larger engine, the choice of the same power from a smaller engine package.
"We've worked hard to ensure that there is minimal impact for equipment manufacturers when they are installing these engines into their machines," Vandermyde says. "Our technology integration workshops have proved to be an invaluable experience for our customers, many of whom have been able to save up to six months in development time on their new machines, while the flexibility provided by the compact package size, multiple engine configurations and the ability to mount the aftertreatment in a variety of locations has meant no significant change to machine size for Perkins customers."
Across the range Perkins has also designed in many features to minimize service needs, so with the emphasis on greater productivity for machines, Perkins Tier 4 engines are the perfect power solutions.