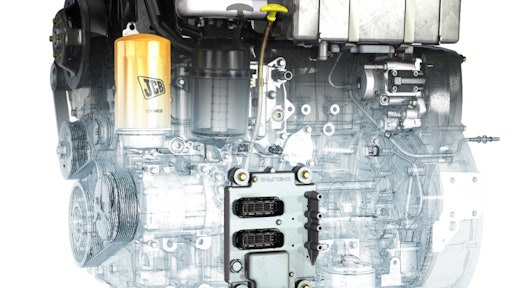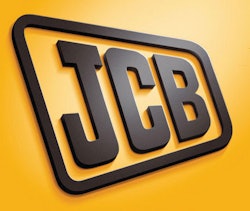 JCB's innovative solution to EU Stage IIIB/U.S. Tier 4 Interim emissions legislation were on show for the first time at bauma 2013 as machines powered by the JCB Ecomax engine made their debut.
JCB, with its award-winning Ecomax engine, is the only leading equipment manufacturer in the world to have met the stringent Stage IIIB/Tier 4 Interim emissions legislation without the use of diesel particulate filter (DPF) or aftertreatment – resulting in the world's cleanest and most efficient off-highway engine.
Instead, JCB has met the legislation through the use of innovative in-cylinder technologies (patent pending) resulting in a cleaner, more efficient combustion process. This has eliminated the need for any external exhaust aftertreatment meaning no DPF or additives such as Ad-Blue, significantly reducing operating costs.
PEDIGREE
The JCB Ecomax builds on the success of the original Dieselmax engine and retains the same key characteristics such as high torque at low engine revs, robustness and reliability as well as low noise and vibration. It has been developed following an £80 million investment program and has undergone over 110,000 hours of testing across a range of diverse applications, machines and environments.
CUSTOMER BENEFITS
As well as the obvious environmental benefit with the reduction in emissions, the JCB Ecomax engine will also offer customers improved torque throughout the rev range coupled with noticeably reduced fuel consumption.
JCB Ecomax engines can run on standard engine oils, unlike engines with aftertreatment, which require a more expensive CJ4 oil to function correctly.
The no-aftertreatment approach also allows the introduction of an innovative recalibration option which makes it possible for JCB dealers to recalibrate the Ecomax engine to lower injection pressures and turn off the exhaust gas recirculation (EGR) function, without any hardware changes. In effect, this recalibration takes the engine out of the emissions tier system, and opens it up for export to less regulated countries that only offer lower quality, higher sulphur content fuels. This maximizes the residual value of the machine for customers, without sacrificing the Ecomax advances.
No DPF and aftertreatment also means that the dimensions of the engine and its space claim on the machine are unchanged. This removes the need for any increase in chassis length or bonnet size maintaining the machine's excellent maneuvrability and visibility.
The Ecomax's new electronic ECU has been fully integrated with JCB LiveLink advanced telematics system, to further enhance its capability. As well as location information, routine service notifications and critical machine health alerts, JCB LiveLink will give customers remote access to full Ecomax engine diagnostics and fuel economy data via the internet or through their mobile phones.
The JCB Ecomax engine range has been extended, both up and down in terms of power output, and will be fitted into machines spanning the 74 hp to 173 hp range, including JCB backhoe loaders, Loadall telescopic handlers, wheeled loading shovels, the TM range of telescopic boom wheeled loaders, JS excavators, rough terrain forklifts and skid steer loaders.
BACKHOE LOADER
On JCB's world number one 3CX and 4CX Backhoe Loader platform, the Ecomax will be available with a 74 hp (55 kW), 91 hp (68 kW) or a 109 hp (81 kW) power rating giving customers a broad choice of engines to perfectly meet their versatile application and sector requirements. All engines offer increased, usable torque over their Stage IIIA/Tier 3 predecessors and offer fuel savings of 5%, 9% and 2% respectively.
The launch of the JCB Ecomax engine coincides with the introduction of a host of other machine improvements that will benefit backhoe loader customers. Machines fitted with the Ecomax engine will now also get, as standard, 165 liters/min variable flow hydraulic pumps.
These pumps are configured to perfectly match hydraulic flow and pressure to the demands placed on the system leading to a further fuel efficiency improvement of up to 6% on top of that achieved by the Ecomax engine itself. The new variable flow pump also results in lower lever efforts, reduced noise levels and rapid control response for up to 30% faster cycle times.
The backhoe loader range also receives an uprated Powerslide system which utilizes a larger hydraulic ram providing increased side shifting capability at lower engine rpm. The Powerslide's previous chain mechanism has been replaced with a new steel wire rope delivering increased durability and reduced wear in harsh operating environments. Other new options that are available on the machine include front shovel street pads, front shovel ram guards, removable rear light guards and a CE marked hydraulic quickhitch.
LOADALL
On JCB's world number one Loadall telescopic handler platform, the JCB Ecomax engine will be available in three power ratings dependant on machine model and target customer, 74 hp (55 kW), 108 hp (81 kW) or 125 hp (93 kW).
The 74 hp (55 kW) engine, expected to prove particularly popular with the plant hire market, produces 6% more torque and 5% more power at low revs than the previous Stage IIIA/Tier 3 engine resulting in comparative performance but with significantly reduced fuel consumption.
Targeted at owner-operators and contractors, customers taking the 108 hp (81 kW) or the 125 hp (93 kW) engines will really see the productivity benefits resulting from an average of 15% increase in torque and 10% boost to low rev power. A variable speed cooling fan is standard on these two engines and will reduce fuel consumption as well as engine warm-up time.
All cabs in the Loadall range will receive a completely new, more ergonomic, dash layout which includes a new instrument cluster complete with a high resolution LCD screen. The ventilation system features a new seven speed fan providing greater cab temperature control for the operator. An operator presence switch on the seat prevents the inadvertent operation of the machine for added safety.
On machines with lift capacities of between 7 and 10.5 meters, high back off power brakes have also been rolled out across the range minimizing drag on the pads when roading for an efficiency gain of up to a 2%.
EXCAVATORS
The 91 hp (68 kW) Ecomax engine will initially be installed on three of JCB's mid-range JS excavators, the JS115, JS130 and JS145. The new engine installation has been coupled with the optimization of the machine's hydraulic circuit and pump configuration which, when combined, has resulted in fuel savings of up to 10% and a 3dB(A) reduction of in cab noise.
The machines all come with a new 4-inch in-cab display which fully is customizable and clear and easy to read in all light conditions. The display can provide a huge range of information including fuel level, coolant temperature, service data, tool selection and fuel economy and can even help drive efficient operation through an 'Eco' meter. Simplified work modes, selectable with a single rotary controller, allow the operator to tailor the machines performance to Lifting, General, Heavy or Heavy Plus settings whilst the new standard-fit Tool Select system adjusts the auxiliary hydraulic flow for specific individual attachments. An optional 7 in. display has also been made available allowing the simultaneous viewing of up to two rear cameras. A new, ergonomic heated seat with air suspension, electro proportional hand controllers and heavy-duty upper structure safety rails can now also be specified.
TELESCOPIC BOOM WHEELED LOADERS – TM320
The introduction of the 125 hp (93 kW) Ecomax engine on JCB's largest telescopic boom wheeled loader has also provided the opportunity to further improve its productivity with a 100 kg increased lift capacity. This has been achieved by repositioning the machines front axle mitigating the need to add any additional counterweight.
The new engine installation has been introduced in line with the standard fitment of a hydraulic variable speed cooling fan along with the introduction of a refined transmission with TorqueLock in fifth and sixth gears. This contributes to a combined fuel saving of up to 4% whilst reducing cycle times and improving operator comfort.
The operation of the updated transmission has been simplified with all shift functions now integrated onto the single right hand control lever. The transmission dump has been moved to the foot brake for superb multi-functioning when loading or rehandling.
The new models are easily identified through their striking, robust exterior with wide opening, single piece bonnet whilst inside the cab a revised instrument cluster provides clear, easy to read information for the operator, including a new display for the auxiliary hydraulic flow rate.