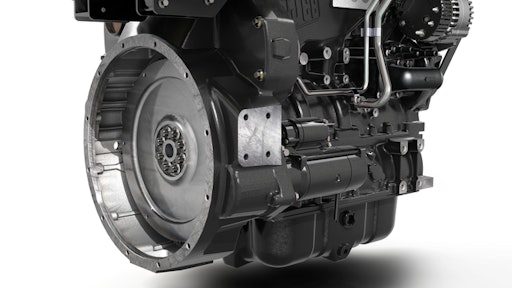 JCB announced its Tier 4 Final engine strategy at bauma 2013, building on the success of the highly efficient JCB Ecomax T4i (Tier 4 Interim) engine that is currently in use in a growing number of JCB machines. The Ecomax T4F range will meet stringent emissions regulations by using a compact, highly efficient SCR system for NOx reduction. The company has achieved this engineering feat through the use of innovative efficient combustion technology, minimizing exhaust emissions within the engine, rather than relying on extensive aftertreatment systems to clean up the exhaust gases.
With JCB's Tier 4 Final solution there will be:
Up to a 5% fuel efficiency improvement
Easy installation into existing machinery
A compact one can exhaust solution
The ability for

JCB

dealers to de-tier for the used equipment market
'One Can' Solution
JCB will recalibrate the Ecomax engine to achieve the reduced emissions requirement, resulting in a further 5% fuel saving over existing models. A compact selective catalytic reduction (SCR) solution with a Urea-based additive will be used on engines above 55 kW (74 hp). This SCR system will be incorporated into a single exhaust muffler, in many cases replacing the existing exhaust and providing a 'one can' solution, delivering the same compact overall dimensions for machine designers.
The SCR system will use just a 2 to 3% ratio of exhaust additive to fuel, as the engine is already providing exceptionally clean exhaust gases. JCB has engineered a space-efficient mixing system for the SCR that offers a reduced exhaust flow distance between the engine and the catalyst. This SCR solution has been specifically designed for off-highway use and has been thoroughly tested over many hours of use on real sites.
With this compact system, the Ecomax T4F engine delivers an engine package that, unlike many competitors, can be installed in existing machinery without bulky alterations to body work. This ensures that JCB machines retain their excellent all-round visibility and ease of serviceability. As with all Tier 4 Final engines, low-ash lubricating oils will be required, along with an exhaust additive filter. However there will be no additional intrusive maintenance required on the JCB Ecomax engine, including no costly cleaning or replacement of exhaust filters.
De-Tier Kit Availability
As with the Stage IIIB/Tier 4 Interim Ecomax engine, it will be possible to de-tier the Tier 4 Final range, to allow customers to sell used equipment in less regulated territories. All JCB dealers worldwide will have the technology to remove the SCR kit, reduce the fuel injection pressures and recalibrate the engine control system to de-tier the Ecomax engines. A lubricity doser may be required in some countries depending on the quality of local fuel.
"We have continued to use innovative in-cylinder technology to reduce exhaust emissions within the JCB Ecomax engine, rather than relying on extensive aftertreatment," says Alan Tolley, Director of Engine Programs at JCB Power Systems. "Through recalibration, and in some cases the addition of our one can SCR solution, we have delivered a range of technologically advanced engines that meet the requirements of Tier 4 Final within existing packaging requirements.
"Our customers will also welcome the fact that these engines deliver up to 5% higher fuel efficiency, reducing running costs and boosting productivity. Plus there will be no concerns in the used equipment market, maintaining the strong residual values enjoyed by all JCB equipment."